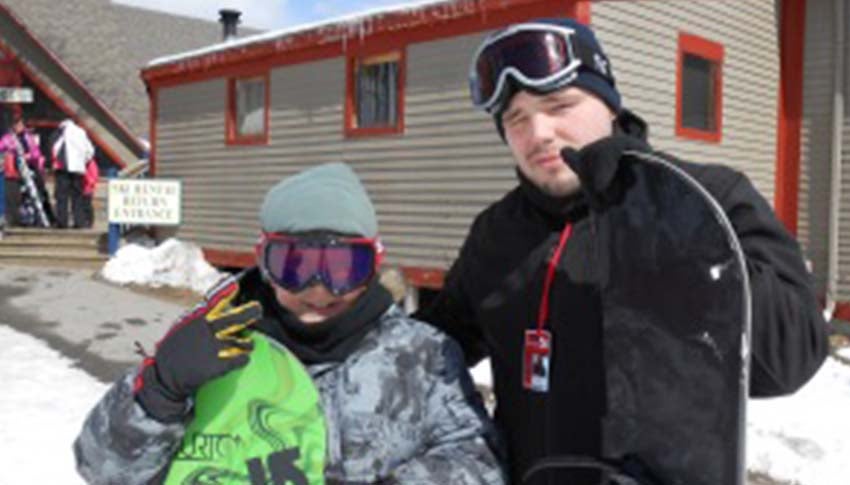 Big Brother Cliff and Little Brother Aiden
Following a yearlong deployment to Afghanistan, Cliff Brown returned home tired, but hopeful and excited about being back. As Cliff searched for a way to fill new time in a productive and meaningful way, he turned to Big Brothers Big Sisters.
Cliff had firsthand knowledge of the program and its value, as he was a Little Brother when he was a child. Difficult childhood circumstances eventually led to Cliff and his siblings to be raised by his grandparents. After that, his grandparents signed each of the siblings up with Big Brothers Big Sisters. Because of Cliff's relationship with his Big Brother, Ed Payne, Cliff was able to overcome serious adversity and hardship in his life.
"They [Cliff's grandparents] worked hard to ensure we had the right guidance and counseling, with everything that was going on," Cliff explained, referring to his unique family situation. "The single biggest contributor to that was Big Brothers Big Sisters."
Cliff and his siblings each benefited from having a caring adult mentor in their lives. It was Cliff's connection with his Big Brother Ed that helped him to successfully navigate, and even thrive, during his difficult formative years. They are still in touch after all these years, sharing in special occasions together, enjoying meals and attending Big Brothers Big Sisters events.
Cliff remembers reflecting on lessons from his Big Brother during trying times while serving with the Army. Cliff points to Ed's ability to convey lessons in everything the pair did together as a large part in how he carries himself today.
Today, Cliff studies sociology and serves in the Army National Guard. After his return from Afghanistan, Cliff was matched with his Little Brother, Aiden, thanks to Big Brothers Big Sisters of Central Mass/Metrowest in Worcester, MA. Cliff enjoys the opportunity to have fun and be a kid for a couple of hours a week, as the two both enjoy sports and outdoor activities like kayaking or snowboarding.
Cliff appreciates the opportunity to be a Big Brother to Aiden because it gives him the chance to experience mentoring from both sides, seeing all aspects of Big Brothers Big Sisters. He is excited for the chance to draw on the lessons he learned from his Big Brother, teaching Aiden to take on challenging activities and to strive to succeed and persevere.