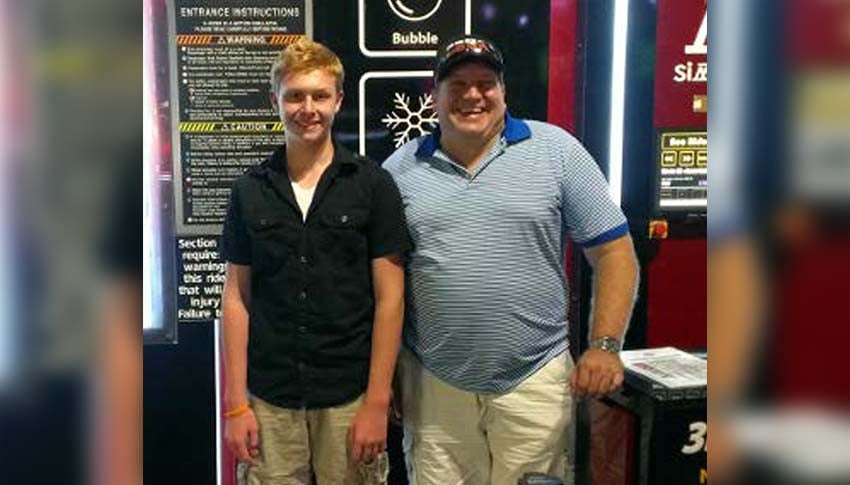 Big Brother David and Little Brother Griffin
Big Brother David was looking to give back to his new home of Dayton, Ohio. David signed up to be a Big Brother in 2004 and was matched with Little Brother Griffin. Griffin was a normal six-year-old boy who was very energetic, outspoken and had a great sense of humor. His mom had always been there for him, but she found that Griffin wanted someone to do "guy stuff" with who wasn't his mom. Griffin wanted someone to teach him about sports, play video games, go on adventures, and build Legos. What Griffin found through his Big Brother was a role model, friend and brother.
Early in their match, Big Brother David brought his new Little Brother to an event that Senator John Kerry was hosting. They had the opportunity to meet the Senator and even take a picture. Shortly after the event was over, Little Brother Griffin looked to his Big Brother and said, "It was great meeting John Kerry, but I'm still voting for George Bush." Here David saw that his new Little Brother was not afraid to speak his mind and this proved to be a key moment as their relationship grew stronger. Big Brother David also makes sure that he is working closely with Griffin's mom in supporting and encouraging Griffin.
Their outings often include baseball games, theater and concerts, go-kart racing, whitewater rafting, but on top of all, they really enjoy simply spending time together. Their relationship has not come without its challenges, as Little Brother Griffin is a loyal Ohio State fan and Big Brother David is from Michigan. However, they have found some middle ground in supporting the University of Dayton's men's basketball team. One day, they are hoping to visit the Big House in Ann Arbor or the Horseshoe in Columbus to experience a University of Michigan vs. Ohio State football game.
Through all of their adventures these past 11 years, Big Brother David mentioned that he has seen his Little Brother grow in "his willingness to take responsibility for his actions, his ability to not accept the status quo, his learning good decision-making practices, and his talent for continuing to seek out the most appropriate course of action." They share a mutual respect and admiration based on trust, confidence and constantly growing the friendship. The experience of being a Big Brother has brought David closer to his own family, especially his daughters, as he is gaining a new perspective of new pressures and impact the changes of technology has had on young individuals. Griffin's mom has been very appreciative of what David has provided his son. "David has not only been a tremendous mentor to my son, but he has become an incredible friend to me and an extended member of our family."