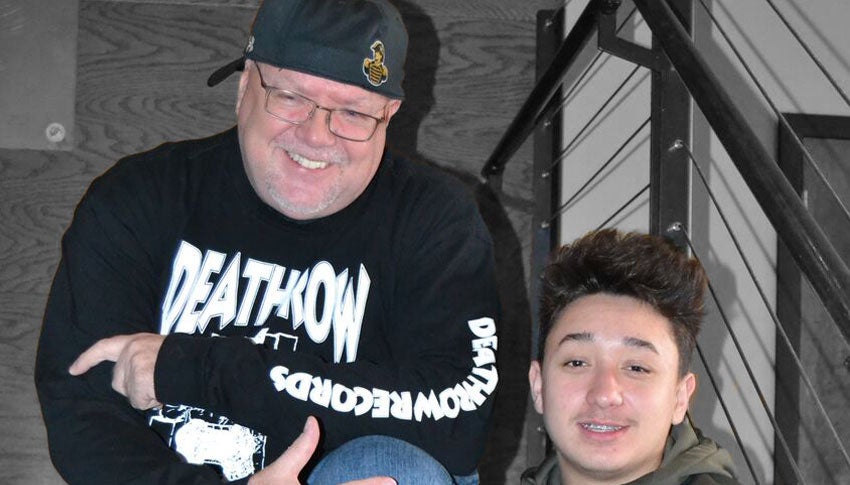 Big Brother Steve and Little Brother Cesar
Nearly every Saturday morning for the last nine years, Big Brother Steve has knocked on Little Brother Cesar's door to pick him up for an outing. Sometimes they go kayaking or biking, sometimes they work in the yard, and often they go to a sporting event. Consistency is one of the keys to mentorship, Steve says. "So many 'Littles' have dealt with so much disappointment in their lives and need someone that is truly dependable, keeps their word, and follows through on their promises," he says.
Keeping with that consistency, Big Brother Steve has tried to attend as many of Cesar's games as possible over the years, despite traveling heavily for work. One of his goals is to help Cesar prepare for and deconstruct his performances on the football field and basketball court when he can.
"I feel like he's one of the few people who believe in me."

– Little Brother Cesar
One Saturday, Steve knocked on Cesar's door as usual, and they headed out to a soccer game. "My neighbor's son, who is autistic, was playing in a soccer match, and Cesar and I were going to be cheering him on," Steve says. Many of the players had physical challenges, including the goalie, who used a wheelchair. Steve and Cesar spent the morning supporting the players and praising them after the game.
On the way home, Steve told Cesar he was proud of him for enthusiastically supporting all the players. Steve remembers Cesar saying, "Steve, when I hear you cheer for me, it makes me feel famous. So today, I wanted your neighbor and all his friends to feel famous, too."
"At that moment, I realized the importance of my relationship with Cesar and his relationship with me," Steve says.
Cesar's mom says she knows that Steve has had a positive impact on Cesar and guided him to a bigger future. "Steve gives Cesar advice and helps him understand things in life better," she says. "It's nice that Cesar has someone else to give him advice other than myself."
Cesar is happy for that extra advice and guidance, seeing Steve as both a best friend and role model. He says his Big Brother has helped him not only improve with sports but also get better grades and make progress towards his future goals. "His encouragement is one of the things that inspires me to try harder," Little Brother Cesar says. "I want to make him proud."
Steve is already nothing short of proud, so much so that's he confident that Cesar will one day "become a Big Brother, and change the life of his 'Little.'"