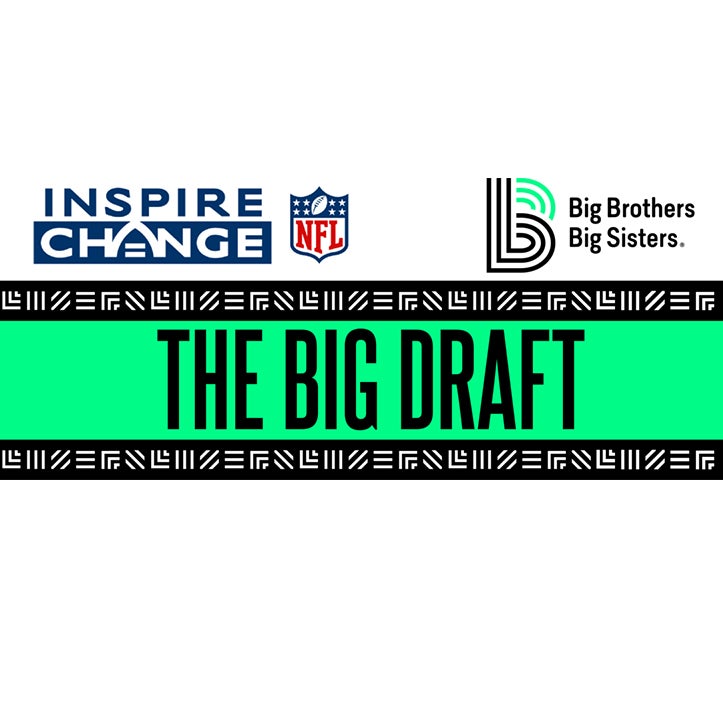 Ahead of the NFL's Virtual Draft on Thursday, April 23, Big Brothers Big Sisters of America was proud to support the first ever Virtual BIG Draft to celebrate newly recruited mentors, hosted by Big Brothers Big Sisters of Miami, in partnership with the NFL Inspire Change initiative, the Miami Dolphins FOOTBALL UNITES™ program and Nike. The event was an opportunity to recognize 100 volunteers (called 'Bigs') who have answered the call to become mentors to youth in Miami. Previously scheduled to take place at Hard Rock Stadium, the organizations moved to a virtual format to follow COVID-19 pandemic restrictions to help reduce the spread of the disease.
Earlier this year, Big Brothers Big Sisters of America and the NFL Inspire Change initiative teamed up to launch The BIG Draft, a football-themed volunteer recruitment campaign aimed at inspiring positive adult role models to become mentors to young people (called 'Littles'). This spring, while NFL teams prepared to select their next generation of players for the NFL Draft, Big Brothers Big Sisters agencies in communities across the country set out to recruit the next generation of mentors.
The 'pre-show' featured the NFL's Anna Isaacson, SVP, Social Responsibility, along with players sharing their support of the one-to-one mentoring program, including:
Lavonte David (Tampa Bay Buccaneers)
Rodney McLeod (Philadelphia Eagles)
Ronnie Harrison (Jacksonville Jaguars)
Roy Robertson-Harris (Chicago Bears)
Tim Grunhard (retired Kansas City Chiefs)
To commence The BIG Draft, viewers had the opportunity to hear first-hand draft experiences from Miami Dolphins alumni including Channing Crowder, OJ McDuffie, Dan Marino and Pat Surtain.
Following the stories, Miami Dolphins players including Terrill Hanks, alumni, cheerleaders and staff shared words of motivation as they formally introduced and recognized each Big as a new 'recruit' of the Big Brothers Big Sisters team. Although social distancing won't allow the newest class of Bigs and Littles to meet in person just yet, they will still have the chance to connect virtually and the importance of having a caring adult mentor in their lives, is more important than ever.
In preparation for The Virtual BIG Draft, Big Brothers Big Sisters of Miami, in partnership with the NFL Inspire Change initiative and the Miami Dolphins FOOTBALL UNITES™ also hosted a virtual combine which featured workouts with Fuel Up to Play60 and Q&A's as an opportunity for communities across the country to interact, connect and learn about healthy lifestyles in a healthy and safe environment with Miami Dolphins players including Walt Aikens, Davon Godchaux and Terrill Hanks, Dolphins alumnus Twan Russell and cheerleaders.
"We are so proud to congratulate these new Bigs for volunteering to mentor a child in their community, especially in light of what our country is facing right now," said Pam Iorio, President and CEO of Big Brothers Big Sisters of America. "It is wonderful to know their support and friendship will be there, long after this crisis ends. A big thank you to BBBS Miami for finding a way to keep kids connected, and we appreciate the continued support from the Miami Dolphins and the NFL."
"We knew we couldn't let the opportunity go by and not find a way to celebrate our new Bigs," said Gale Nelson, President and CEO of Big Brothers Big Sisters of Miami. "Our staff will ensure that the Bigs and Littles will keep in touch through technology. And we look forward to the time when they will have a chance to meet and enjoy spending time together, whether it's playing catch or watching their favorite team on the field."
"Year-round NFL clubs, players, and social justice grant partners like Big Brothers Big Sisters of America work to inspire change in communities nationwide, reducing barriers to opportunity and uniting people from all walks of life," said Anna Isaacson, NFL SVP, Social Responsibility. "It is important to continue this critical message during this time of uncertainty and we are excited to join in celebrating the new volunteers who've made the decision to become a Big in Miami."
"The Miami Dolphins in support of Big Brothers Big Sisters celebrated the virtual BIG Draft and Combine to unify and recognize those at the forefront of providing children the tools to realize their potential," Miami Dolphins Senior Vice President of Communications & Community Affairs Jason Jenkins said. "We believe that football unites, and these activities connect with our goal to make South Florida healthier, educated and united."