Bigs in Blue
 Connecting Youth and Police Through Mentoring
What is Bigs in BlueSM?
Bigs in BlueSM is a one-to-one mentoring program that connects youth with police in communities throughout our nation, building strong, trusting, lasting relationships. These relationships can help children develop into confident adults and help build stronger bonds between law enforcement and the families they serve. We are pleased to roll out this initiative across the nation and looking for your support. Learn more or give a gift to support Bigs in BlueSM by selecting one of the options below. Thank you for your support.
Bigs in Blue Today Show Segment
Why You Should Get Involved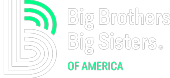 BBBS of Central Texas
Austin, TX
BBBS of Lone Star
Dallas, TX
BBBS of the Independence Region
Philadelphia, PA
BBBS of Greater Los Angeles
Los Angeles, CA
BBBS of Southwest Virginia
Roanoke, VA
BBBS of Vermont
Windham County, VT
BBBS of San Diego
San Diego, CA
BBBS of Central Arizona
Phoenix, AZ
BBBS of the Upstate
Greenville, SC
Kansas BBBS, Inc.
Wichita, KS
BBBS of the Ohio Valley, Inc.
Evansville, OH
Gulfcoast BB & BS, Inc.
Galveston, TX
BBBS of Mercer County
Trenton, NJ
BBBS of El Paso
El Paso, TX

BBBS of Kentuckiana
Louisville, KY
BBBS of the Midlands
Omaha, NE
BBBS of Central Florida
Orlando, FL
BBBS of Greater Columbia
Columbia, SC
BBBS of Metropolitan Chicago
Chicago, IL
BBBS of New York
New York City, NY
BBBS of Tampa Bay
Tampa Bay, FL

BBBS of Central Carolinas
Greater Charlotte, NC
Meet Big Brother Ryan and Little Brother Robert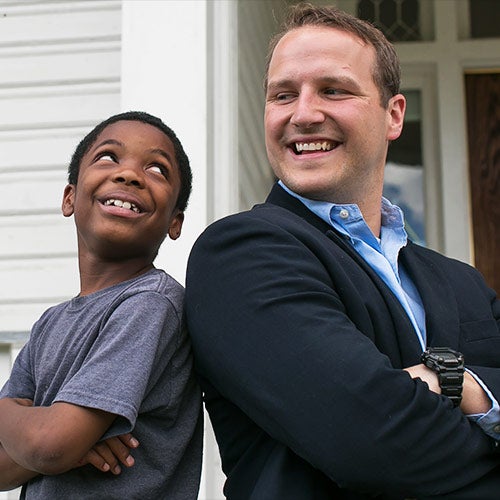 When Big Brother Ryan lost his house, and his dog, to an electrical fire, his Little Brother, Robert, was worried and scared. Matched for nearly two years, Ryan, who works as a detective with the Roanoke Police Department, and Robert, have formed a close bond. When Robert and his family first heard about the fire, they immediately called their BBBS Match Support Specialist. How could they support Ryan? Was he safe? Ryan jumped back into his weekly meetings with his Little Brother and reminded him that they are always brothers and are there to support one another in hard times.

Read Their Story
Meet Big Brother Myrone and Little Brother Sidd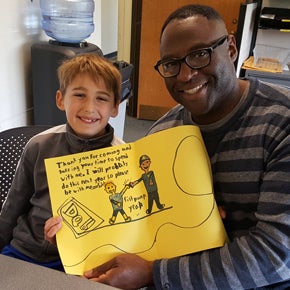 Myrone got into trouble a lot when he was growing up, but he says there was always somebody there for him. A football coach. A basketball coach. An uncle. Someone who talked to him and shifted his course. With their positive influence, he stayed focus in school and eventually became a patrol officer and then a school resource officer. Now, he's a sergeant. He knew he wanted to have that same influence on kids like him, so he studied social work in college. And now his list of titles includes "Big Brother."
Media Inquiries
Please contact BigsInBlue@bbbsa.org or call 813-720-8778 for all immediate press or media inquiries.