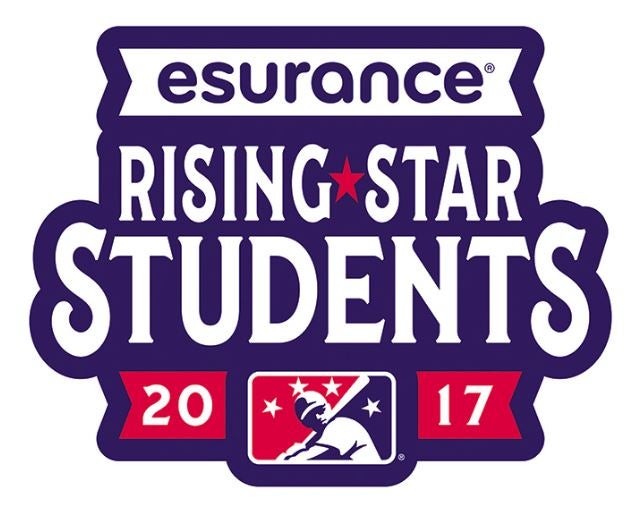 Fourteen 'Rising Star Students' to be presented with college stipends
SAN FRANCISCO and ST. PETERSBURG, Florida — Esurance and Minor League Baseball™ (MiLB™) today revealed the 2017 Rising Star Students program award recipients as part of their national #CallUpWorthy platform. The Rising Star Students program, which highlights and celebrates Big Brothers Big Sisters of America (BBBSA) participants for their outstanding service to their local communities, awards select high school students a $5,000 college stipend each, courtesy of Esurance.
Each 2017 recipient will be presented with a check at his or her local Minor League Baseball ballpark this month during an on-field ceremony. This year's winners, their nominating Big Brothers Big Sisters agencies and the local Minor League Baseball teams that will recognize them, are as follows:
2017 Rising Star Students Winners
Addam Ray, Big Brothers Big Sisters of Northeast Indiana, Fort Wayne TinCaps
Ambar Lizbeth Espinoza Angeles, Big Brothers Big Sisters of Central New Mexico, Albuquerque Isotopes
Arrielle Kitenge, Big Brothers Big Sisters of Middle Tennessee, Nashville Sounds
Asma Ali Dahir, Big Brothers Big Sisters of Utah, Salt Lake Bees
Austin Tolson, Big Brothers Big Sisters of Central Iowa, Iowa Cubs
Hannah Duvall, Big Brothers Big Sisters of Kentuckiana, Louisville Bats
Mattie Mae Hanlan, Big Brothers Big Sisters of Midland, Midland RockHounds
Alexander Mitchell, Big Brothers Big Sisters of Birmingham, Birmingham Barons
Natasha Wood, Big Brothers Big Sisters of Berks County, Reading Fightin' Phils
Nate Peters, Big Brothers Big Sisters of Oklahoma, Oklahoma City Dodgers
Sam Walker, Big Brothers Big Sisters of Greater Sacramento, Sacramento River Cats
Serenia Martin, Big Brothers Big Sisters of Northwestern Ohio, Toledo Mud Hens
Stephanie Medina, Big Brothers Big Sisters of El Paso, El Paso Chihuahuas
Zachariah Akinnola, Big Brothers Big Sisters of Central Texas, Round Rock Express
Rising Star Students program submissions included unique and inspirational stories, academic accolades, college and career plans and more, emphasizing why each individual was a "Rising Star" in his or her community. To be eligible, nominees were required to be "Bigs" or "Littles" in Big Brother Big Sisters.
"This year's group of Rising Star Students has a lot in common with the Call-Up Worthy players in Minor League Baseball, as they are all making a significant impact on their respective communities and teams in their own way," said David Wright, Chief Marketing & Commercial Officer for Minor League Baseball. "It's exciting to see these students rewarded for their hard work and contributions, and watch them as they embark on their next stage in life, college."
Jaylon Vaugh, a "Little" in Big Brothers Big Sisters of Central Texas and a 2016 Rising Star Students honoree, used the funds received from Esurance last year to advance his college career.
"The stipend assisted me with purchasing a new computer, as well as books and supplies," shared Vaugh. "I used the remainder of the funds to help eliminate some of the student loans that I am currently receiving to assist with my college tuition. Thank you to the organizations and individuals that made this possible and are helping me achieve my dreams of becoming a veterinarian."
"Congratulations to the Rising Star Students winners! This year's nominees are truly inspirational and we're excited to see them pursue their dreams as they prepare for their next level of education," said Nancy Abraham, Vice President, Integrated Marketing Communications at Esurance. "We're honored to recognize and celebrate these future stars for their outstanding contributions in their local communities."
Last June, Esurance and Minor League Baseball announced a multi-year partnership making it the exclusive home and auto insurance partner of Minor League Baseball. Together, they created the Esurance Call-Up Worthy platform, which launched exclusively on MiLB.com and MiLB team websites. The platform celebrates the iconic moment in Minor League Baseball when a player is called up to Major League Baseball®, highlighting his journey through shareable digital and social content, such as virtual trading cards, video highlights and the Esurance Farm Report.
About Minor League Baseball
Minor League Baseball, headquartered in St. Petersburg, Florida, is the governing body for all professional baseball teams in the United States, Canada and the Dominican Republic that are affiliated with Major League Baseball® clubs through their farm systems. Fans are coming out in unprecedented numbers to this one-of-a-kind experience that can only be found at Minor League Baseball ballparks. In 2016, Minor League Baseball attracted 41.3 million fans to its ballparks to see the future stars of the sport hone their skills. From the electricity in the stands to the excitement on the field, Minor League Baseball has provided affordable family-friendly entertainment to people of all ages since its founding in 1901. For more information, visit www.MiLB.com.
Follow Minor League Baseball on Facebook, Instagram and Twitter.
About Esurance®
Esurance, insurance for the modern world®, provides auto, homeowners, motorcycle, and renters insurance direct to consumers online and over the phone. With an easy-to-use mobile app, helpful online tools like photo claims and Coverage Counselor®, and knowledgeable experts, Esurance is the smart choice for today's web-savvy consumer. And as a member of the Allstate family, Esurance offers auto and home insurance with just a click, call, or tap away. For more information, visit esurance.com or call 1-800-ESURANCE (1-800-378-7262).
Follow Esurance on the Esurance Blog, Facebook, Twitter, and YouTube.
About Big Brothers Big Sisters of America
Big Brothers Big Sisters provides children facing adversity with strong, enduring, professionally supported one-to-one mentoring relationships that change their lives for the better, forever. Big Brothers Big Sisters ensures that the children in its program achieve measurable outcomes, including educational success, avoidance of risky behaviors, higher aspirations, greater confidence, and better relationships. This mission has been the cornerstone of the organization's 113-year history. With over 300 affiliates across the country, Big Brothers Big Sisters has served more than 2 million children ("Littles") in the past 10 years. Learn more at www.bbbs.org.