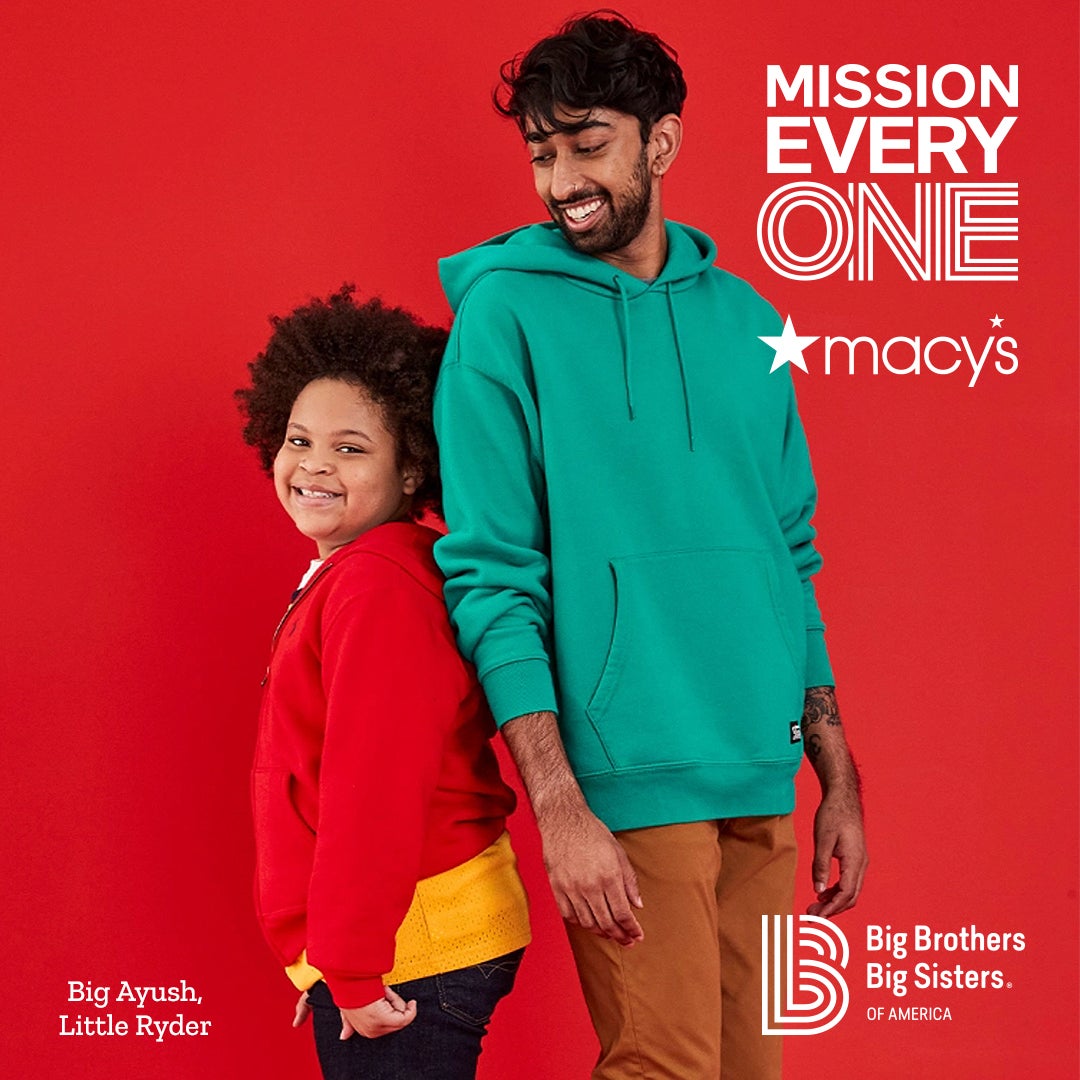 The inaugural fundraising and awareness campaign of the new multi-year partnership connects the power of mentorship to more youth across the nation
---
TAMPA, FL – January 10, 2023– In celebration of National Mentoring Month, Big Brothers Big Sisters of America (BBBSA), the nation's preeminent one-to-one youth mentoring organization, is thrilled to announce fundraising results from Macy's holiday campaign. Under its social purpose platform Mission Every One, committed to creating brighter futures with bold representation for all, Macy's customers raised $4.8 million to help fuel life-changing mentoring experiences. The campaign marked the launch of a multi-year partnership between BBBSA and Macy's.
Throughout the months of November and December 2022, Macy's customers donated online at macys.com and by rounding up in-store purchases. The funds raised will expand the reach of BBBSA's mentoring model, connecting more young people with the transformative mentors and mentorship experiences they need to reach their full potential. Fundraising efforts engaged all 230+ Big Brothers Big Sisters agencies, reaching 5,000 communities in all 50 states.
Last year, Macy's, Inc. introduced its social purpose platform – a purpose-driven strategy called Mission Every One – developed to build on the company's heritage of corporate citizenship and to achieve positive societal change. Mission Every One aims to create a brighter future with bold representation for all. Through this work, the company will strengthen communities by empowering the curiosity and confidence of young people on their journey to become the leaders of tomorrow. By 2025, Macy's, Inc. will give more than $125 million to nonprofit organizations whose work is aligned with Mission Every One.
"Through Mission Every One, Macy's is committed to creating a brighter future for all, and to breaking down barriers to equity and representation barriers. Our new holiday fundraising and awareness campaign with BBBSA, along with their mission to empower young people through mentorship, has resonated so profoundly with our customers and colleagues," said Bobby Amirshahi, senior vice president of Macy's, Inc. Corporate Communications and head of Macy's community and social impact work. "We are eager to see the fruits of this holiday season's campaign in action, and for this relationship to grow, continuing to inspire our communities."
"Together with Macy's, we have raised critical funds and awareness for the important mentoring relationships that ignite the power and promise of young people," said Artis Stevens, president and CEO, BBBSA. "We look forward to continuing this partnership in 2023 and beyond, creating further opportunities for youth, mentors, families and their communities across the country to experience the impact of mentorship."
In addition to the round up and giving campaign, to raise funds for BBBSA, Macy's also launched a Macy's Thanksgiving Day Parade® metaverse and NFT project experience, inviting the web3 community to make a difference in the lives of others. The initiative saw NFT collectors minting virtual gallery passes to receive an OnCyber NFT gallery space. Fans who minted the virtual gallery pass helped raise funds for BBBSA with 100 percent of the $50 purchase price benefitting the organization.
Macy's also raised awareness for BBBSA's mission through a series of customer, colleague and community engagement initiatives during the holiday season:
Macy's Best Mentor, a nationwide BBBSA agency and Macy's colleague-engagement program collected and highlighted stories of workplace mentorship, including peer-to-peer guidance or reverse mentorship. The program recognized inspiring colleagues and volunteers for their positive impact in the workplace.
Macy's x BBBSA Coffee Talk randomly matched participating Macy's colleagues and Big Brothers Big Sisters mentees ("Littles") for impactful micro-mentorship moments, which provided opportunities for one-on-one conversations around career readiness, as well as personal and professional growth.
Select Macy's stores hosted customized holiday events for Big Brothers Big Sisters Littles and volunteer mentors ("Bigs") in their communities, including tree lightings, shopping and holiday breakfast events, where participants were presented with holiday gifts.
For more information about Macy's Mission Every One, please visit macys.com/purpose. Join the conversation on social by tagging @macys and @bbbsamerica.
# # #
About Big Brothers Big Sisters of America
Founded in 1904, Big Brothers Big Sisters of America is the largest and most experienced youth mentoring organization in the United States. The mission of Big Brothers Big Sisters of America is to create and support one-to-one mentoring relationships that ignite the power and promise of youth. Big Brothers Big Sisters' evidence-based approach is designed to create positive youth outcomes, including educational success, avoidance of risky behaviors, higher aspirations, greater confidence, and improved relationships. Big Brothers Big Sisters has over 230 local agencies serving more than 5,000 communities across all 50 states. For more information, visit: www.bigbrothersbigsisters.org.
About Macy's
Macy's, the largest retail brand of Macy's, Inc. (NYSE: M), serves as the style source for generations of customers. With one of the nation's largest e-commerce platforms powered by macys.com and mobile app, paired with a nationwide network of stores, Macy's delivers the most convenient and seamless shopping experience, offering great values in apparel, home, beauty, accessories and more. Macy's gives customers even more ways to shop and own their style through an off-price assortment at Macy's Backstage and at our highly curated and smaller store format, Market by Macy's. Each year, Macy's provides millions with unforgettable experiences through Macy's 4th of July Fireworks® and Macy's Thanksgiving Day Parade® and helps our customers celebrate special moments, big and small. We're guided by our purpose—to create a brighter future with bold representation—that empowers more voice, choice and ownership for our colleagues, customers and communities.
CONTACTS:    
BBBSA Communications
Dvon Williams
---
Macy's External Communications
Christine Nealon / Ryan Gannon