Arby's Scholarship Winners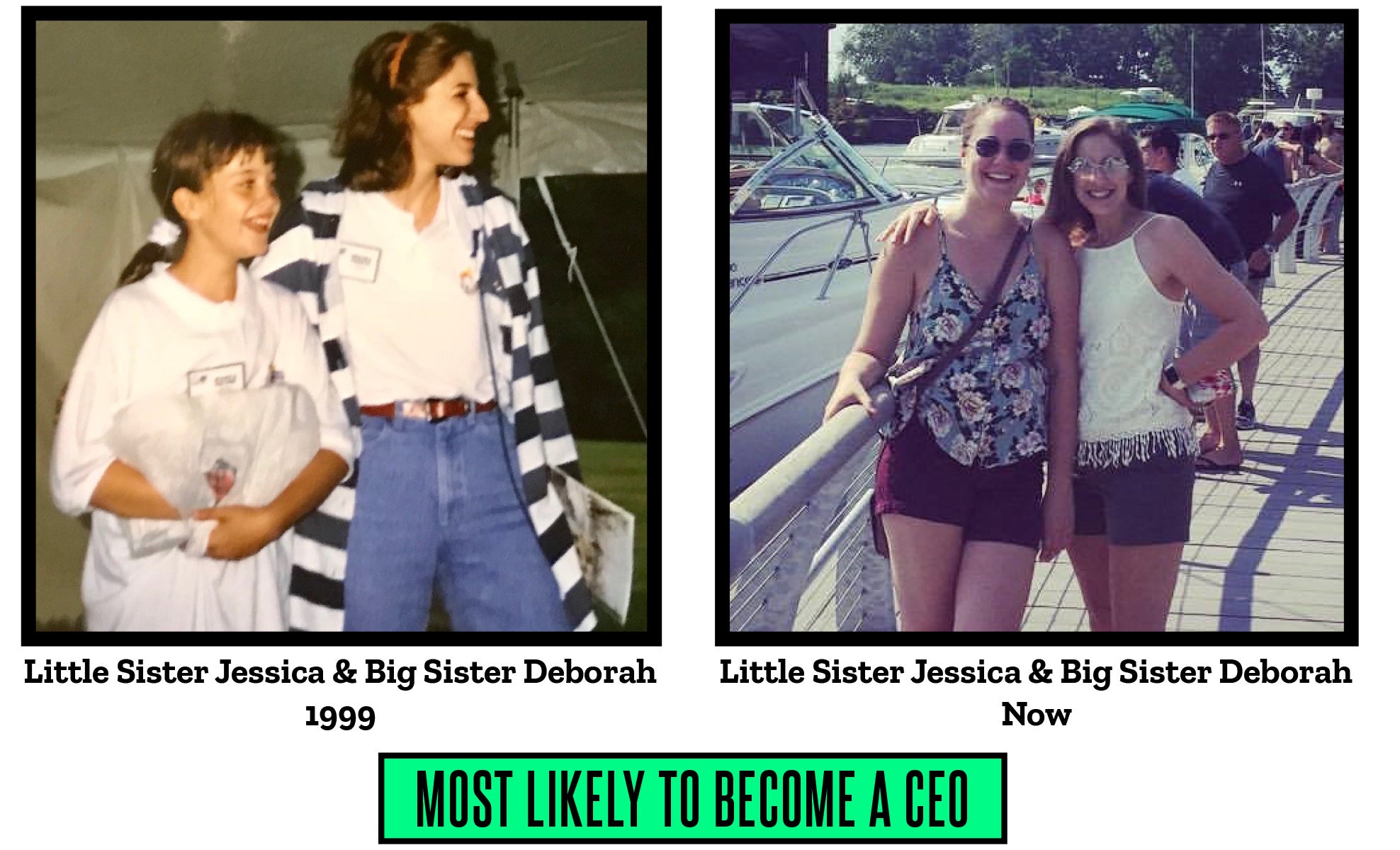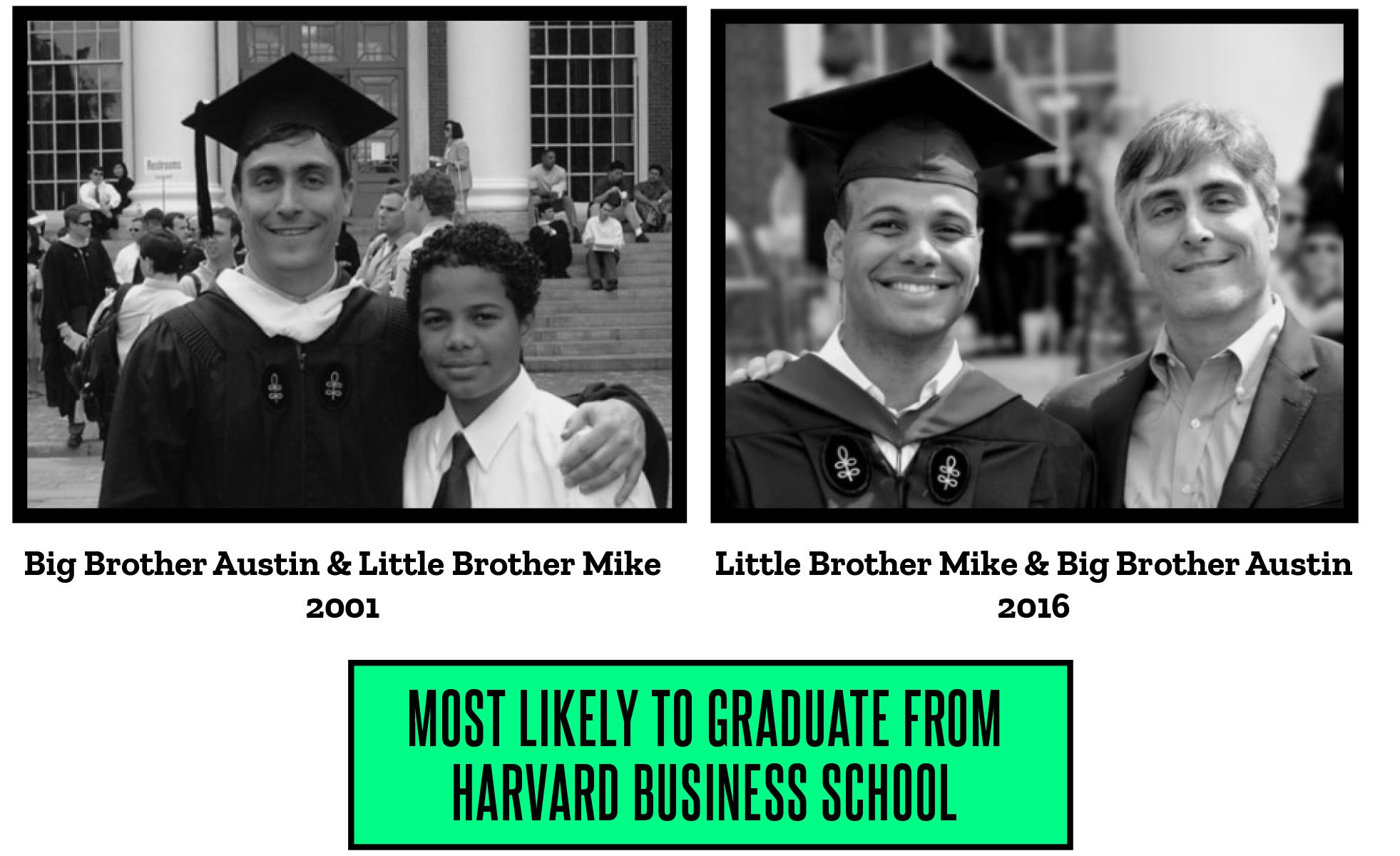 I am a former Little.
I was 8-years old, growing up in Cleveland. Actually, my mother was signing up my brother so he could have a mentor, he was surrounded by girls. But I kept bugging my mother that I wanted a Big, too—she says I basically enrolled myself! And that's when I met Deborah. She was 24 years old at the time. I remember enjoying just hanging out, but one of my favorite memories was going to the camp put on by Arby's—I loved spending time with the horses. Deborah was the one who heard about the Arby's scholarship and she made me complete the application. I'm so glad I did! The $5,000 scholarship made a big difference, and that experience also helped me grow as a person. Deborah and I traveled the circuit, doing interviews, even speaking in front of a huge crowd at the National Big Brothers Big Sisters 100th anniversary conference. And by the end of it, I wasn't afraid for public speaking. Fast forward to today, Deborah and I are still in touch, and we don't live very far from one another. And I'm proud to say I'm now the CEO for Big Brothers Big Sisters of Greater Cleveland. At last year's Big Brothers Big Sisters National Conference, I had a chance to meet Stuart Brown with the Arby's Foundation. I wanted to let him know, I loved my time as a Little; Big Brothers Big Sisters is part of my life.
Big Sister Ashley and Little Sister Brianna
BBBS of Central Texas
By nature, Brianna is quiet, but it's her artwork and smile that light up the room. Brianna's mother knew her daughter had potential, but in middle school, Brianna would often close herself off, not wanting to talk to anyone. When she met her Big Sister Ashley, they realized they had two main things in common: a love of frozen yogurt and they are not big fans of being outdoors! Even though they started to connect, Ashley knew her Little Sister still had walls up.
What she didn't know, was that when Brianna's serious relationship with her girlfriend ended, severe bullying intensified. "I didn't tell anyone about it, I had never experienced that before," said Brianna. "I was in a very dark place and didn't want to be here anymore."
But it was during her lowest time that Brianna realized that she did have a strong support system in her family—and her Big Sister Ashley—who were there for her, not to judge, but to listen.
The past four years have been a long journey of healing and building trust.  Ashley admires Brianna's resiliency and courageous spirit. Brianna graduated this year, and hopes to pursue a career in art therapy, to help other young people know, no matter what they're going through, they're not alone.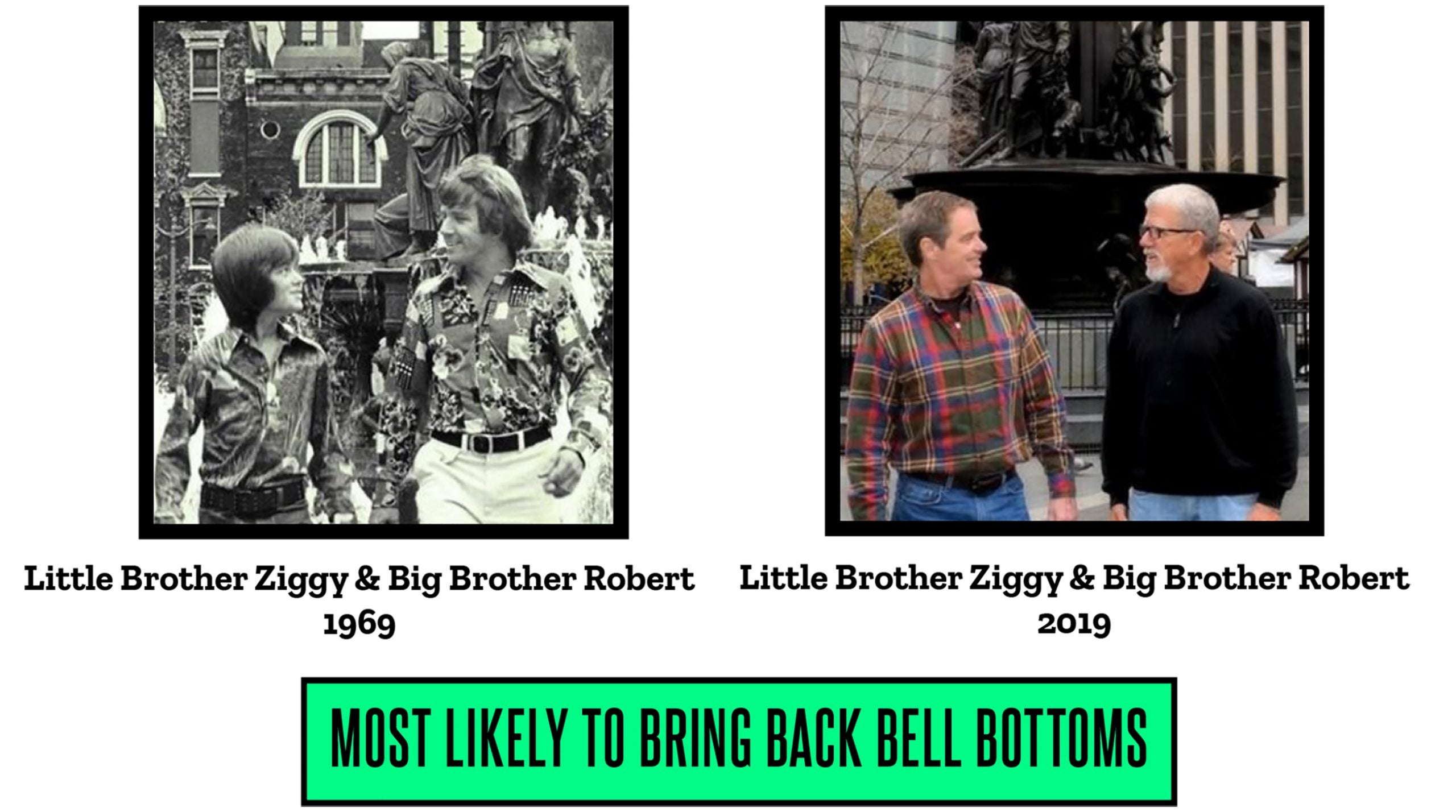 Big Brother Hugo and Little Brother Luis
Big Brothers Big Sisters of Miami
Florida
When Luis was very young, his mother decided to move with her children from Colombia to the United States. Their arrival was difficult because her law degree wasn't valid in the United States, meaning she couldn't practice law., Additionally, the family was forced to relocate to a shelter after a break-in at their home. "I remember one of the women in the shelter mentioned the Big Brothers Big Sisters program," Luis's mom says. "I decided to put my son in the program because I wanted him to have a positive male role model in his life."
In some ways, the match happened just in time. Luis's eighth birthday had just passed, and his one wish was for his dad to call him so they could talk. But the call never came. "Instead, something even better happened," Luis says. "Hugo came into my life."
"My role, at first, was to help out by taking Luis to do fun things on a regular basis," Hugo says. "What ended up happening is that I became invested in Luis's well-being."
That investment has paid off. "Luis excelled in school because he wanted to make Hugo proud," Luis's mom says. Hugo has also helped Luis develop self-confidence and navigate the difficult school years when he experienced bullying. "He had to deal with fear and safety issues, where I was able to provide him some words of support," Hugo says.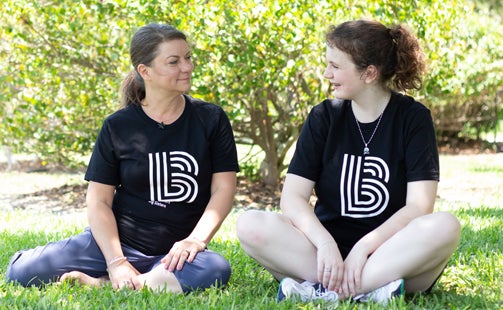 Big Sister Jeanne and Little Sister Emily
Big Brothers Big Sisters of Atlantic & Cape May Counties
New Jersey
Big Sister Jeanne is an ER nurse, and she has passed her love of medicine and commitment to helping others onto her Little Sister, Emily.
Jeanne has made sure that Emily has all the opportunities available to her so she can reach her potential. She encouraged Emily to enroll at a special high school for kids interested in medicine and technology, and she has helped her get accepted to a program at the hospital where she works.
"I get lots of hands-on experience through this program, and it's really cool to see all the different ways you can work in a hospital," Emily says.
Jeanne has also tried to share with Emily her approach to life: "My job is intense, so I live every day to the fullest," she says. Jeanne shows Emily through example that trying new things builds your confidence and helps you enjoy life.
"There are many things I wouldn't have done without her by my side," Emily says. "Jeanne knows how to give me a push to be my best."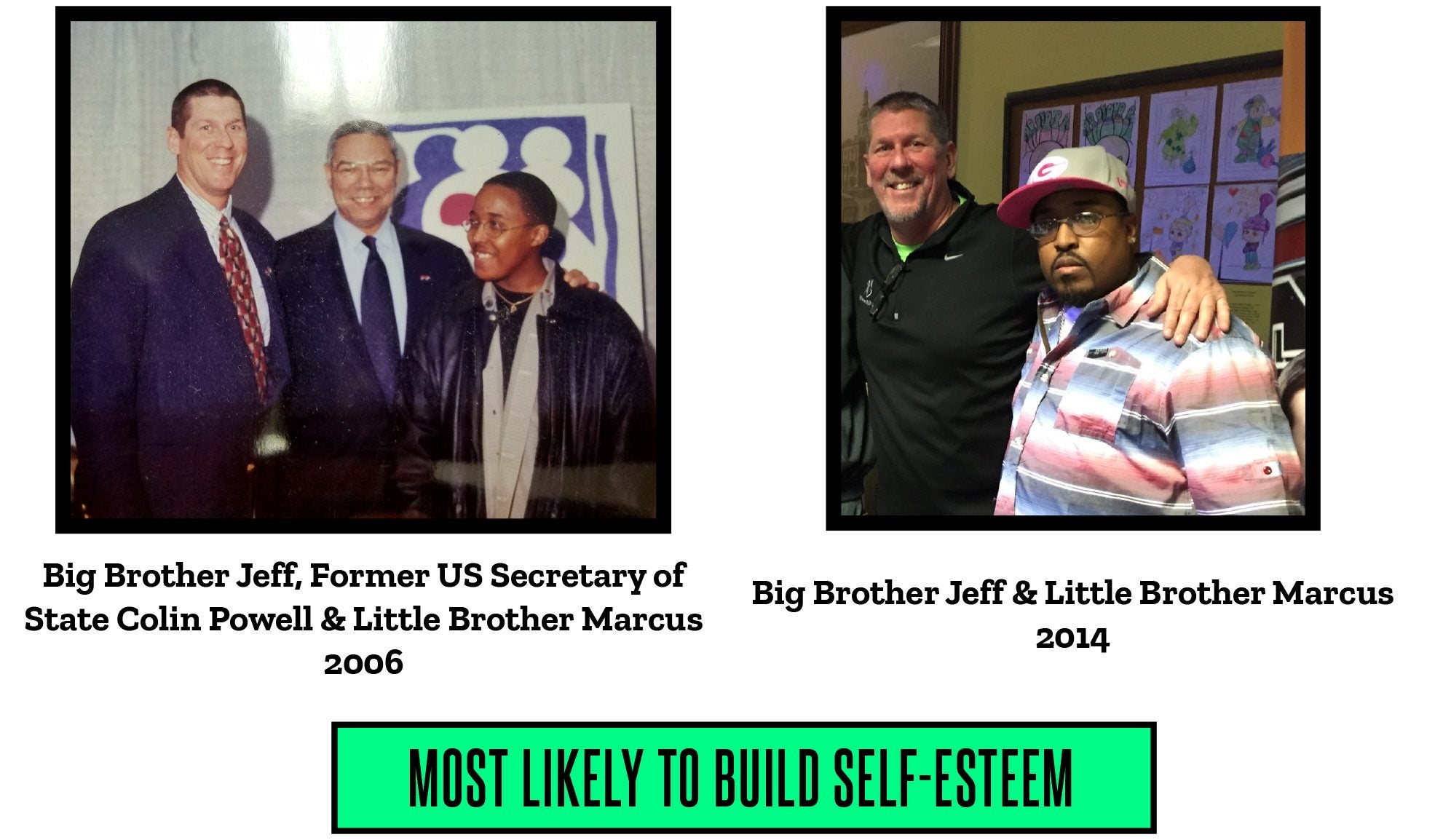 I am a Big.
Marcus and I were matched in February of 1994. Marcus was 12 years old. We had arranged to have a local TV station do a story about our program at our match meeting to raise awareness. Marcus was extremely nervous and froze on camera and never said a word. Afterwards we attended a Bradley University basketball game and Marcus talked non-stop until I brought him back home. At that point I realized why my staff stated that he would be a perfect match for me….he talks more than I do! 
Our next outing, I introduced Marcus to my family and we went to eat at a local pizza buffet. We all got in line and filled up our plates. When we sat down, Marcus had slices of pizza piled up on his plate at least a foot high. I asked, you must be really hungry and he said that he was going to make it worth it!  I explained that you can go back as many times as you want and we all laughed.
Marcus was a good kid who just didn't have any responsibility for himself or others. He was struggling in school and didn't do much except play Nintendo. With the help of his mother, we put together a plan for him to complete his chores and homework daily, and begin to take more responsibility around the house. Marcus began to focus more and made decent progress everyday until this routine became a habit. His grades improved and his self-esteem grew and grew.
When Marcus turned 16, he asked if I could help him find a job. We worked on his resume and interviewing skills. He decided he wanted to work at Taco Bell. It just so happened that one of their locations was looking for help. I took Marcus for an interview and he was hired! Marcus really matured at this time. He would babysit his niece and nephew after school Monday – Friday and work at Taco Bell on the weekends. He graduated high school in 2000 and continued to work at Taco Bell.  He worked hard and was promoted to Assistant Manager.  After five years, Marcus began working at a Caterpillar plant as a welder, a job that he still holds today.