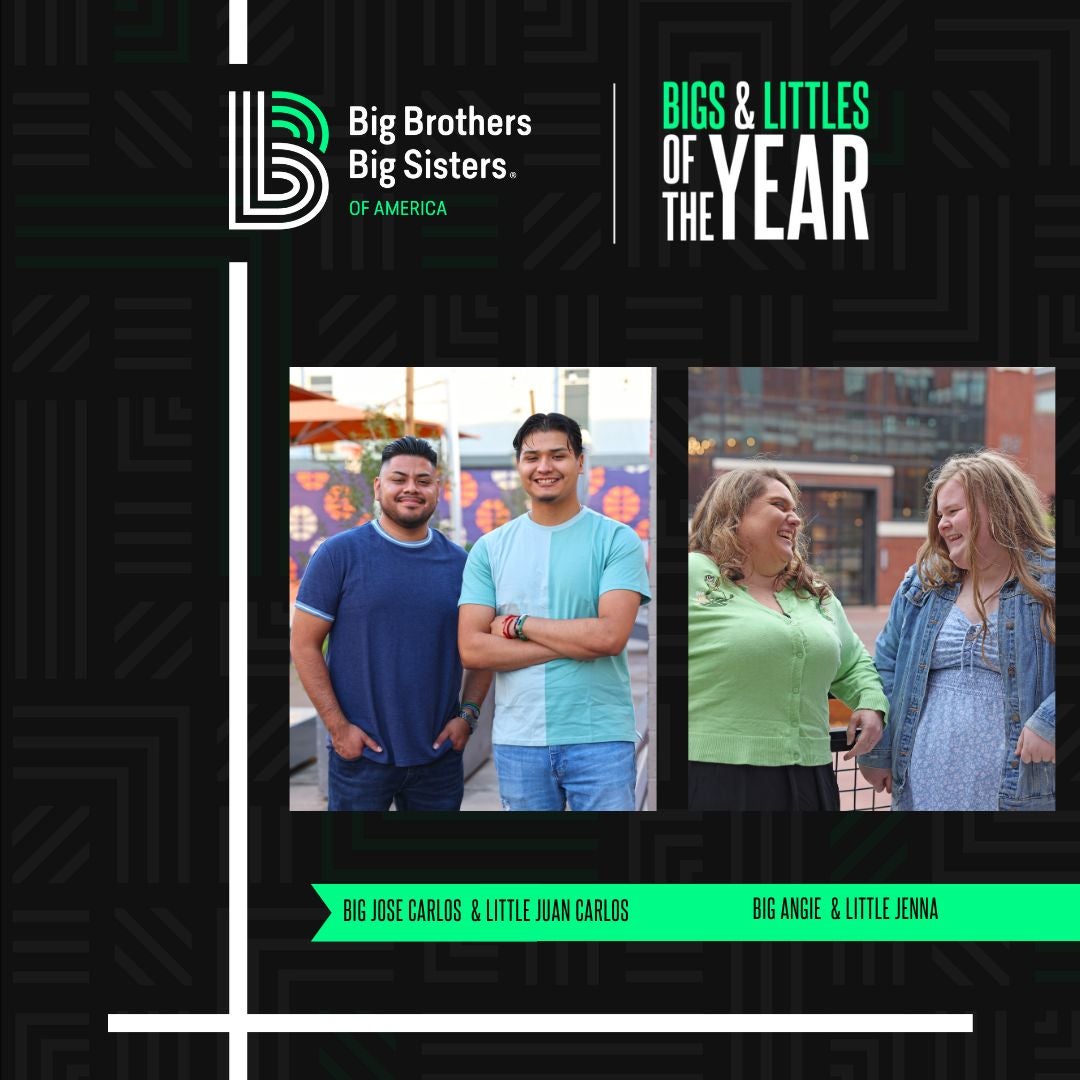 Honorees Recognized at 2023 Bigger Together Celebration in Anaheim, California
---
TAMPA, Fla., June 30, 2023 — Big Brothers Big Sisters of America (BBBSA), the preeminent one-to-one youth mentoring organization in the United States, announced the Bigs and Littles of the Year at the 2023 Bigger Together celebration, part of the organization's four-day national conference in Anaheim. Two volunteer mentors ("Bigs") and two youth ("Littles") were selected to represent the over 400,000 Bigs, Littles, and families participating annually.
"It's a privilege to celebrate the transformative connections and personal growth we witness between our Bigs and Littles as they build life-long relationships. We are thrilled to honor Jose Carlos and Juan Carlos, and Angela and Jenna as our Bigs and Littles of the Year," said Artis Stevens, President and CEO, BBBSA. "These matches exemplify the profound impact of mentorship and connection, illustrating the extraordinary bonds formed daily through Big Brothers Big Sisters."
Big Brothers Big Sisters of America celebrates two incredible matches each year, nominated by their local agencies, to serve as the national representatives of Big Brothers Big Sisters. These matches demonstrate the influence that a mentoring relationship has on empowering Littles to pursue their goals in a 'big' way while creating a long-lasting impact on both the young person and the Big.
Big Jose Carlos and Little Juan Carlos, Big Brothers Big Sisters of Central Arizona
"His family makes me feel welcome. They have taken me on their family vacations. I even went to my Big Brother's wedding. I see my Big Brother as family."
Jose Carlos and Juan Carlos first matched in May 2014. Sharing similarly challenging upbringings, their relatability of lived experiences fostered a genuine understanding and natural bond, which still holds strong after ten years.
Throughout Jose Carlos and Juan Carlos's tenure as a match, the two have supported each other and grown exponentially. From teaching Juan Carlos how to drive, to giving much-needed time and attention, and modeling the importance of education, Jose Carlos has been instrumental in Juan Carlos's growth – all while pursuing his own collegiate education and working two jobs.
Juan Carlos witnessed how bright his future could be with Jose Carlos as his role model – with Jose Carlos's positive example setting, emotional support, and advice, Juan Carlos is now a first-generation high school graduate. To Littles entering the mentorship program, Juan Carlos says: "I would say that the program has changed my life for the better. I would recommend the program to any kid that is in need. I would also say to be yourself with your Big. Don't try to be someone you are not. You and your Big will get closer if you be yourself."
Big Angela and Little Jenna, Big Brothers Big Sisters of Northeast Indiana
"Angi is always going to be one of my closest friends. She's always going to be there for me."
When Jenna and Angi were matched in 2015, Jenna was struggling with low self-esteem, difficulties in school, and turbulent family trauma. Despite the challenges Jenna faced, Angi loved her from the moment they met, and made it her mission to support Jenna in reaching her fullest potential.
The pair regularly visited bookstores to pick out books to read together and after just a few months, Jenna's reading comprehension and vocabulary improved significantly. Jenna and Angi are continuing this academic momentum by researching college programs and creating a plan of action for the future. Angi also makes an effort to model self-confidence and inner beauty for Jenna, regularly planning photo shoots and fashion shows to show that every person, any size, is beautiful.
Jenna is thankful for her thriving relationship with Angi, and credits Angi with her transformation into a more confident individual who embraces her uniqueness. To those considering joining the program, Jenna says: "If I could say anything to other kids who might want to be part of BBBS, I would tell them to go for it! To Bigs, I would say, just talk to your Little!"