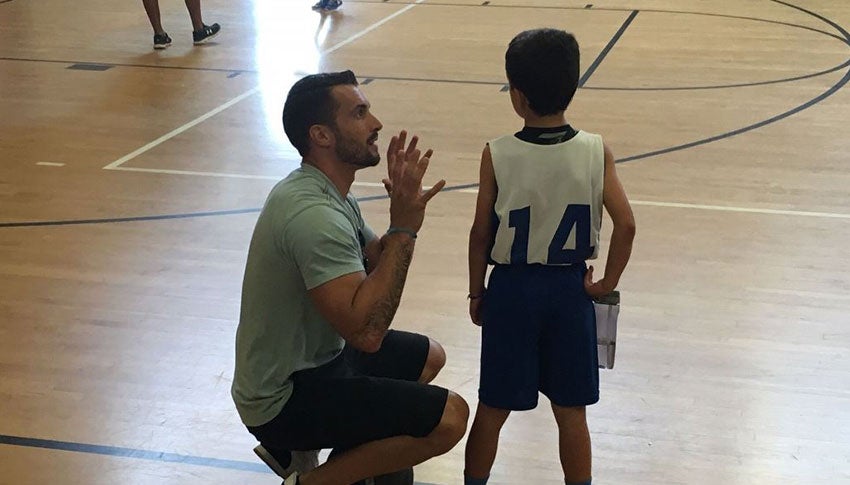 Big Brother Joel and Little Brother Maddox
Beachbody Super Trainer Joel Freeman cannot sit still. You won't catch him lounging in front of the television. He does not play video games. When he was searching for ways to give back to his community, he decided to become a Big Brother. His enrollment specialist asked what kind of kid he wanted to mentor, and his only stipulation was that the child had to be active and curious.
"Maddox is like an 8-year-old me, very active, always ready to go, ready to do something, very inquisitive," Big Brother Joel says.
The collaboration between Beachbody and Big Brothers Big Sisters of America, which netted the organization a $250,000 donation, began in October with a one-day event during which Beachbody users could stream a preview of the new Beachbody workout CORE DE FORCE. For each user who streamed the new MMA-style workout, Beachbody donated $10 to BBBSA. The event and campaign came about partly because of Big Brother Joel's involvement as a Big Brother with BBBS of Greater Los Angeles.
Working with BBBSA seemed natural, Joel said, because the fitness world has a similar mindset to the mentoring organization. Joel first got involved in Big Brothers Big Sisters to be a positive influence in the life of a child, and he got involved with the fitness industry for a similar reason. "I liked it at as a career choice because it's so positive," he says. "People don't go into a gym to get worse. It's very positive."
At one point after they'd been matched, Little Brother Maddox pointed out to Joel that he always seemed to be smiling. "Dude," Joel said, "there's no reason not to."
Maddox is the younger of his single mom's two children, and he thrives with individual attention. "Little boys between 8 and 12, they're finding themselves, figuring out who they are," Joel says. "I'm excited to be part of his life at this time."
Big Brother Joel and Little Brother Maddox did the CORE DE FORCE workout together with other matches to promote Beachbody's campaign in support of BBBSA, and they often find new, active things to do together. Soon, Maddox hopes to tag along with Joel to the gym for boxing workouts.
Working hard and staying active are important, but the two most important things Joel wants to impart on Maddox are positivity and respect. "I want to teach him that things may not go your way, but being an eternal optimist helps you wake up every day and keep moving in the right direction," he says. Growing up in West Texas helped Big Brother Joel develop manners and respect, and he hopes to teach Maddox to have respect as well. "Ultimately, I want people to meet him and be like, 'Maddox. I like him. He's a good guy.'"
Check out some of our Bigs and Littles having fun and getting fit.
For every person who streams @CoreDeForce, @Beachbody Foundation will donate $10 (up to $250K) https://t.co/XL9xxhhZLa #BeAPositiveForce pic.twitter.com/FnVhnbs1ST

— BBBS (@BBBSA) October 24, 2016
*Note: The name of Joel's Little has been changed to protect his privacy.