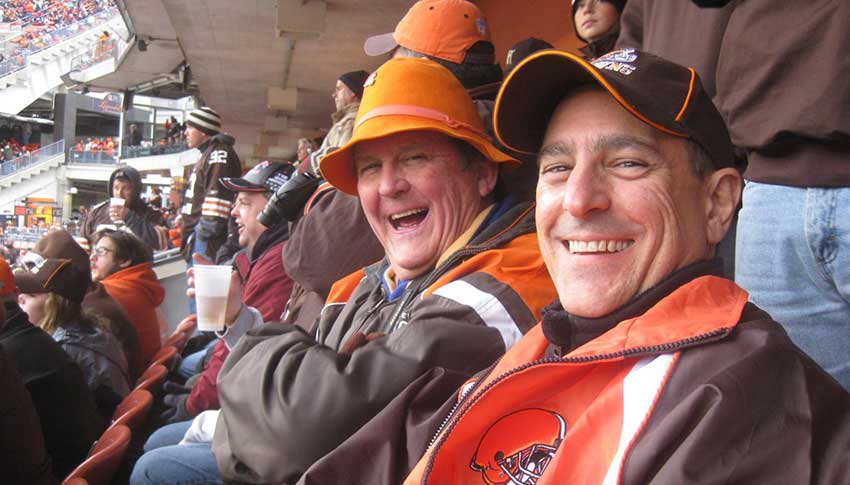 Big Brother Doug and Little Brother Mike, who were matched in the 1970s, take in a Cleveland Browns game in 2012.
January 1 is not only the start of the New Year, it is also the start of National Mentoring Month, when organizations around the country honor mentors and bring awareness to mentoring. Thank Your Mentor Day is January 19, and mentees and former mentees are encouraged to reach out personally or to take to social media to thank their mentors for the influence they have had on their lives. Recently, former Little Brother Mike reached out to Big Brothers Big Sisters of America to thank his mentor, Big Brother Doug.
In 1973, Little Brother Mike was 11. He describes himself at that time as having long, stringy, "hippie" hair, and almost no adult supervision. His parents were divorced, and his mom was working hard as a nurse to provide for all five of her kids. Left on their own much of the time, Mike and his siblings skipped school and found mischief around every corner of their Cleveland Heights neighborhood.
"We smoked cigarettes and drank beer or wine," Mike says. "We were turning into little criminals – terrorizing the neighborhood." Mike's mom knew her boys needed an adult role model, so she signed up Mike and his twin brother, Mark, to be Little Brothers through Big Brothers of Greater Cleveland.
Mike was matched with Big Brother Doug, a lawyer. Doug had volunteered to become a Big Brother after talking with a friend. They reflected on how lucky they had been to enjoy good education, stable families, and safe, happy childhoods. "One of us said to the other, 'why don't we see if we can do something to help somebody else out?'" Doug says. They became Big Brothers to twins Mike and Mark.
"I remember vividly walking into his house in Cleveland Heights," Doug says. He saw Mike, Mark, their siblings and friends staring at a television screen that was flashing a test pattern. "Let's get out of here," Doug remembers saying. "Let's do something."
In the two years they were matched, they went to ball games, had dinner together, and talked about life. Their match ended when Mike's mom moved the family from Ohio to Pueblo, Colorado, but the effect of the match lasted much longer in Mike's life. "Once I started high school, something in my brain just clicked into place," Mike says. "The lessons and advice I learned from Doug followed me to Pueblo. His example as my role model and his continued support through letters helped me mature and realize I was worth something, and that I should make something out of my life."
From then on, Mike focused on school. He sought out positive after-school activities and graduated high school with plans to go to college. He majored in chemistry, earned his MBA, and climbed the corporate ladder. He married his high school sweetheart. They have a son who is now 17 and in the midst of the college application process. Mike says none of his story would be the same if he hadn't had a Big Brother.
Mike attributes his son's success to Doug as well. As a child who grew up with limited guidance and attention, seeing Doug with his family gave Mike a model he could strive for. "The example of a stable family helped," Mike says. "I knew that was something I wanted one day."
Doug is proud of both Mike and his son. They still see each other occasionally, when Mike visits Ohio. Doug says his Little Brother and the friendship they built over more than 40 years has given him more than he gave as a volunteer. Mike insists Doug changed his life for the better, forever.
"I've told Doug how much I attribute my success in life back to what he did for me as a Big Brother, but he always tells me the same thing – he says I did it on my own," Mike says. "He's very humble and wants me to claim the credit, but I already know the truth. I did not get here on my own. None of us ever do."