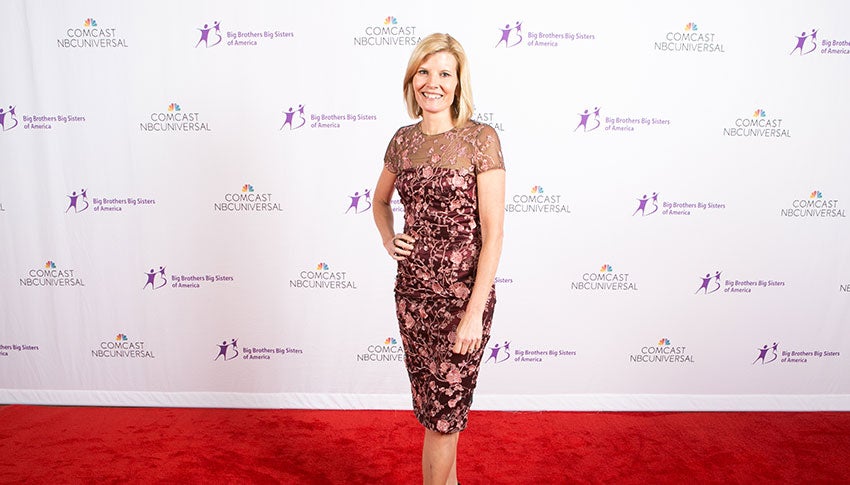 Kate Snow on the red carpet at the BBBSA National Conference's Award Gala
Twenty-one years ago, a young reporter named Kate Snow was trying to make it at a new television station, in a new city, Albuquerque, New Mexico. She didn't know many people, and she wanted to spend her free time getting involved with her new community. So, she stepped into the local Big Brothers Big Sisters affiliate, and signed up to become a Big Sister.
Her Little Sister, Amanda, is now in her 20s, and Snow says that through the years, the impact has gone both ways.
"It started out, with me mentoring her mostly, but I've always learned from her, even in the beginning, when she was little," Snow says.
Wanting to have an impact not just for her Little or her local agency, Snow also served as a BBBSA National Board Member for 10 years, has hosted the National Awards Gala 10 times, and has brought attention to Big Brothers Big Sisters through her platform on television, most recently highlighting the launch of BBBSA's national police mentoring initiative, Bigs in Blue. She is about to take on another key role in the BBBS Network — serving on BBBS of New York City's Board of Trustees.
For all she's done, earlier this summer, Snow was awarded the prestigious Charles G. Berwind Lifetime Achievement Award at the Big Brothers Big Sisters National Awards Gala.
But even on stage at the Gala accepting her award, she talked about her Little Sister. "It's not just that I'm her Big Sister," Snow said. "She's my Little. And she has my back. I have gotten so much out of my match with her, that I never in a million years would have imagined when I signed up."
Snow's relationship with Big Brothers Big Sisters will always be something special, but her own match with own Little may always be the most important.