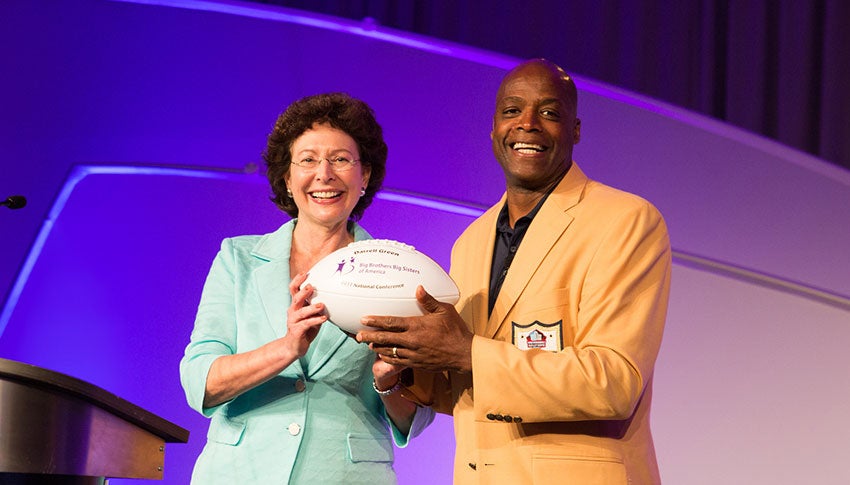 BBBSA President and CEO Pam Iorio handing off the BBBSA ball to Hall of Fame cornerback Darrell Green
The hashtag for the 2017 BBBSA National Conference was #BBBSTogether, and few people know how to better come together than Hall of Fame cornerback Darrell Green. Green played all 20 of his NFL seasons with the Washington Redskins and won two Super Bowls in two different decades with the team.  
He spoke to the crowd at the National Conference, and got everyone fired up in his gold Hall of Fame jacket.
"I just kind of want to be a cheerleader," he came out and said. "I use to play a lot. So, I don't know the cheers, but I know how to cheer. And I want to cheer for you."
He more than cheered though. He motivated.
He told the crowd about when he was a walk-on in college, he wanted to be ready for his "right now moment" to shine.
He said that when he was a seasoned vet in the NFL, that he didn't undermine a new coach in front of young players because he felt like "leadership is always in play."
He related both to the workplace, telling everyone the moment to be ready is always "right now," and reminding everyone that the even when things are tough, that is when it is most important to be a leader.
His many anecdotes and motivational phrases had everyone ready to go out on a football field.  
He ended his speech saying, "We are ready when…" before the crowd responded, "Right now!"
The crowd was ready. And it sounded like a cheer.