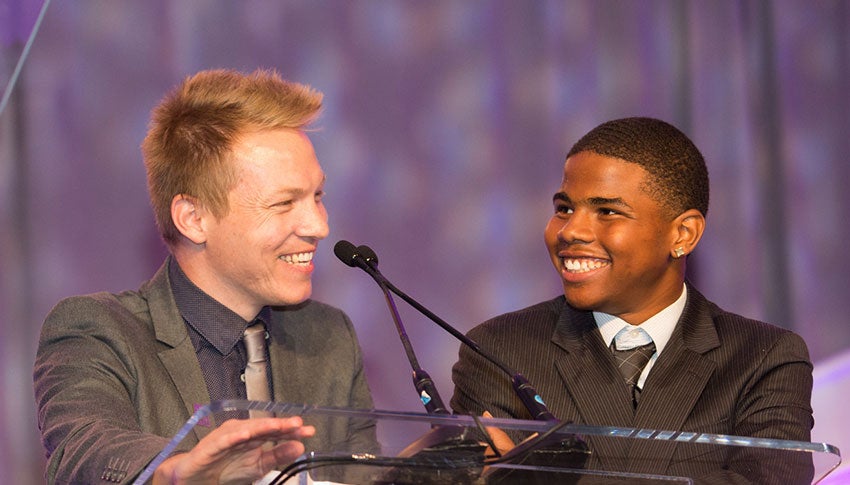 Big Brother Matt and Little Brother Markees at the BBBSA National Conference
The BBBSA National Conference featured a modern-day child star, Markees Christmas, stopping by.
Markees was the star of the movie "Morris from America," which premiered at the Sundance Film Festival last year. The movie won the Walda Salt Screenwriting Award.
But before Markees was making people smile at Sundance, he was a Little Brother exploring his hometown of Los Angeles with Big Brother Matt. At the National Conference, they both took the stage to speak about their match and the home movies they made that paved Markees' road to stardom.
Matt started by making one thing clear.
"I didn't go to them and say 'I need your best child actor,'" he said. "The movies started like three years after we were paired together, and frankly three years, two activities a month, we just sort of ran out of things to do."
He went on to say that the movies proved to be a hit as the two began making short videos with Markees playing himself, an older version of himself, and even his own love interest (dressing in a dress and a wig).
Matt says, that the video were just for them and they sat on his hard drive for months. It wasn't until Markees began having a tough time in school that Matt came up with the idea to submit the videos to a local film festival.
Matt thought, "I'll take him and it'll screen on the big screen and hopefully make him proud of the work he did because he did a great job."
The two went and in the beginning, Markees was buried in his hoodie, nervous about showcasing his talent. But Markees had nothing to worry about, because that night a star was born.
"It got laughs and Markees slowly came out of the hoodie," Matt says.
Markees went on to win "Best Actor" at the Channel 101 Awards, and it wasn't long before he nailed an audition and was in Germany filming "Morris from America" with Matt watching on set.