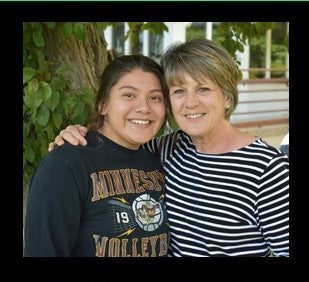 When a parent or guardian picks up the phone to call their local Big Brothers Big Sisters agency to enroll their child in our mentoring program, it's not something they take lightly. Maribel has four children who are matched with Bigs, and friendship doesn't just happen overnight.
"…Because in my culture, letting your kids go out with someone you don't know…it's difficult for us to trust. But when I gave my kids the opportunity to learn from different cultures, different backgrounds, it made a huge impact on them."
Maribel's daughter, Nena, met her Big Sister Janet through Big Brothers Big Sisters of Southern Minnesota a decade ago. Janet was enjoying semi-retirement and was looking for a meaningful way to give back; Nena, a fun-loving little girl, had encountered her share of challenges in her young life. And over the years, their bond became tighter, enjoying the simple things, grabbing a book to read or learning to bake. Follow us on social media to see more of this story and others like it! Nena's mom sees first-hand, it's not about focusing on the outing they may enjoy, but the true friendship the Big and Little are building based on trust.
And to Maribel, that's what defending a child's potential is all about. Do you know someone who could benefit from having an additional positive role model in their life? Or maybe you know someone who would be a great Big? Visit our website, click on Enroll a Child or Become a Big for more information. You'll be glad you did.