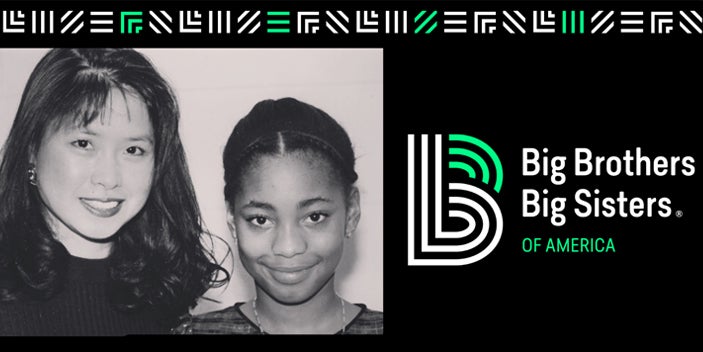 When Big Sister Emily Chen and her Little Sister Denñys connect these days, the conversations revolve around career advice and work-life balance. Today, their friendship has evolved quite a bit since their weekend lunch outings 28 years ago when Emily would flip through flash cards to help Denñys improve her math skills.   Denñys (pronounced Denn-yez) was 8 years old and growing up as an only child in New York City. Having a Big Sister allowed Denñys the opportunity to just be a kid. But the lessons that came through sharing their very different lives, are the moments Denñys valued most with her Big Sister Emily. "Families are not always available and may not be able to give a child another point of reference or view. But Bigs offer objective, unbiased advice and a different perspective. The friendship introduces them to other aspects of life," said Denñys.   Emily's desire to give back is inspired by the caring adults who supported her when she came to the United States at age 5.

The impactful friendship that grew over the years earned Emily and Denñys the opportunity to visit the White House in 1998 when Big Brothers Big Sisters of America recognized Emily as the National Big Sister of the Year. Fast forward to today, and they still laugh about the little things. Growing up Emily stressed to Denñys the importance of being on time—now Denñys is the early one when the pair meets up, and Emily is often late. Big Sister Emily is amazed and inspired at how Little Sister Denñys never gives up and remains calm and level headed no matter what is happening.

As a donor, Treasurer and member of the Big Brothers Big Sisters of America Board of Directors, Emily believes investing in children achieves the best returns. "Through the Littles I've met, I'm able to see first-hand improvements in their confidence, self-worth and grades along with higher rates of high school graduation and attending college while setting career goals. The program fosters strong long-lasting life changing relationships. I've also met kids on the wait list and heard how much they would love to have a mentor. Unfortunately, that list is too long."
 
More than 30,000 young people across the country are waiting for their chance to be matched with a Big. Your financial gift to Big Brothers Big Sisters of America will provide support to the 230+ Big Brothers Big Sisters agencies around the country, that are defending the potential of our nation's youth. Now through December 31, 2020, Nordstrom Rack is matching all donations to Big Brothers Big Sisters of America, up to $100,000! We encourage you to consider making a gift today.
Click here to donate.