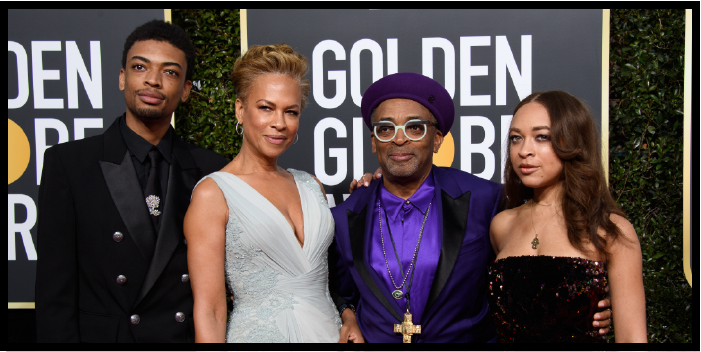 Jackson Lewis Lee and Satchel Lee are the first Black siblings selected to represent "Hollywood's next generation."
Satchel and Jackson Lewis Lee are headed to Hollywood, but not for long, they say.
The siblings are in town this weekend as this year's Golden Globes ambassadors, a largely ceremonial role traditionally reserved for the children of Hollywood's elite.
The progeny of the Oscar-winning director Spike Lee and his wife, Tonya Lewis Lee, they are the first Black siblings selected for the role.
Coincidentally or not, they were chosen the same year that Spike Lee was snubbed, for his Vietnam veteran drama "Da 5 Bloods," alongside other prominent Black creators and actors like Michaela Coel. The siblings say they are used to their father not always being recognized for his work.
"When he was making movies that nobody was responding to or they weren't as big as they have been, it didn't really faze him," Satchel Lee said, adding that he would just move on to his next project.
The Los Angeles Times recently reported that there are no Black members of the Hollywood Foreign Press Association, the group of 87 journalists who choose the Golden Globe nominees and winners.
Earlier this month, the pair, who are both in their 20s, sat in their parents' grayish blue living room on Manhattan's Upper East Side, contemplating what is arguably their public debut.
"We're excited to be the first siblings of color," Ms. Lee said. "We'll do it, so then you don't have to say this again, because there's going to be way more."
The ambassadors each get a $25,000 grant to donate to an organization of their choice. Jackson Lewis Lee, 23, the first Black man to ever be ambassador, has chosen Big Brothers Big Sisters of America, a one-to-one mentoring organization.
Mr. Lee studied film and television at New York University, where his father is a tenured professor, and recently started a creative agency, Indigo212. He also has a director's credit for "Thompson Farm," a short film about a son who stands up to his bootlegger father, and filmed a short video for Coach that featured his father and sister, as well as the actor Michael B. Jordan.
"I want to have my hand in everything," Mr. Lee said.
That certainly applies to Big Brothers Big Sisters. In addition to the grant, Mr. Lee has helped connect the nonprofit to his friends at Gucci.
"Through him, we got introduced to the Gucci scholarship impact line and now our Littles are having opportunities to apply for scholarships in the fashion industry and fashion schools because he made an introduction," said Artis Stevens, the first Black president and chief executive of the 160-year-old organization.
Mr. Lee said he learned the importance of mentorship through his father, whom he closely resembles save for an extra few feet of height. "It shows you what the totality of a career really is, because obviously you're able to have a front-row seat to the ups and downs and how things function," he said.
His sister, Satchel Lee, 26, is the first openly queer ambassador. She studied film and television at N.Y.U.'s Tisch School of the Arts, and was the creative director of Drome, which she described as a "queer, art and culture, fashion magazine."
"I am a photographer, filmmaker, writer, creative director and producer," Ms. Lee said. "I want to be the Gertrude Stein of this generation."
She donated her grant to Callen-Lorde, an organization in New York City that provides medical care to the L.G.B.T. community regardless of ability to pay.
"We are so incredibly touched and glad that she chose us," Wendy Stark, the executive director at Callen-Lorde, said in an interview. "In just a few weeks that we've known her, she has showed such a great commitment to our mission and to the advocacy work, as well as the health care services that we provide."
Ms. Lee participated in virtual sessions where she talked about how the power of personal storytelling can change policy. "It was such an incredible presentation and conversation," Ms. Stark said. "It's a beautiful new friendship."
Ms. Lee is passionate about expanding medical care to those who lack access, especially people who have faced discrimination. "Everybody knows, going to the doctor can be really scary," Ms. Lee said. "It's even scarier when the doctors don't even understand what you're trying to tell them or make assumptions about you as a person because of your orientation or your gender presentation."
Also important to Ms. Lee? Giving back to New York City. "I'm not a Hollywood person," she said, as she petted her puppy, Otis. "L.A. is nice to visit, but this is my home."
See the full article here – https://www.nytimes.com/2021/02/28/style/spike-lee-children-satchel-jackson-golden-globe-ambassadors.html