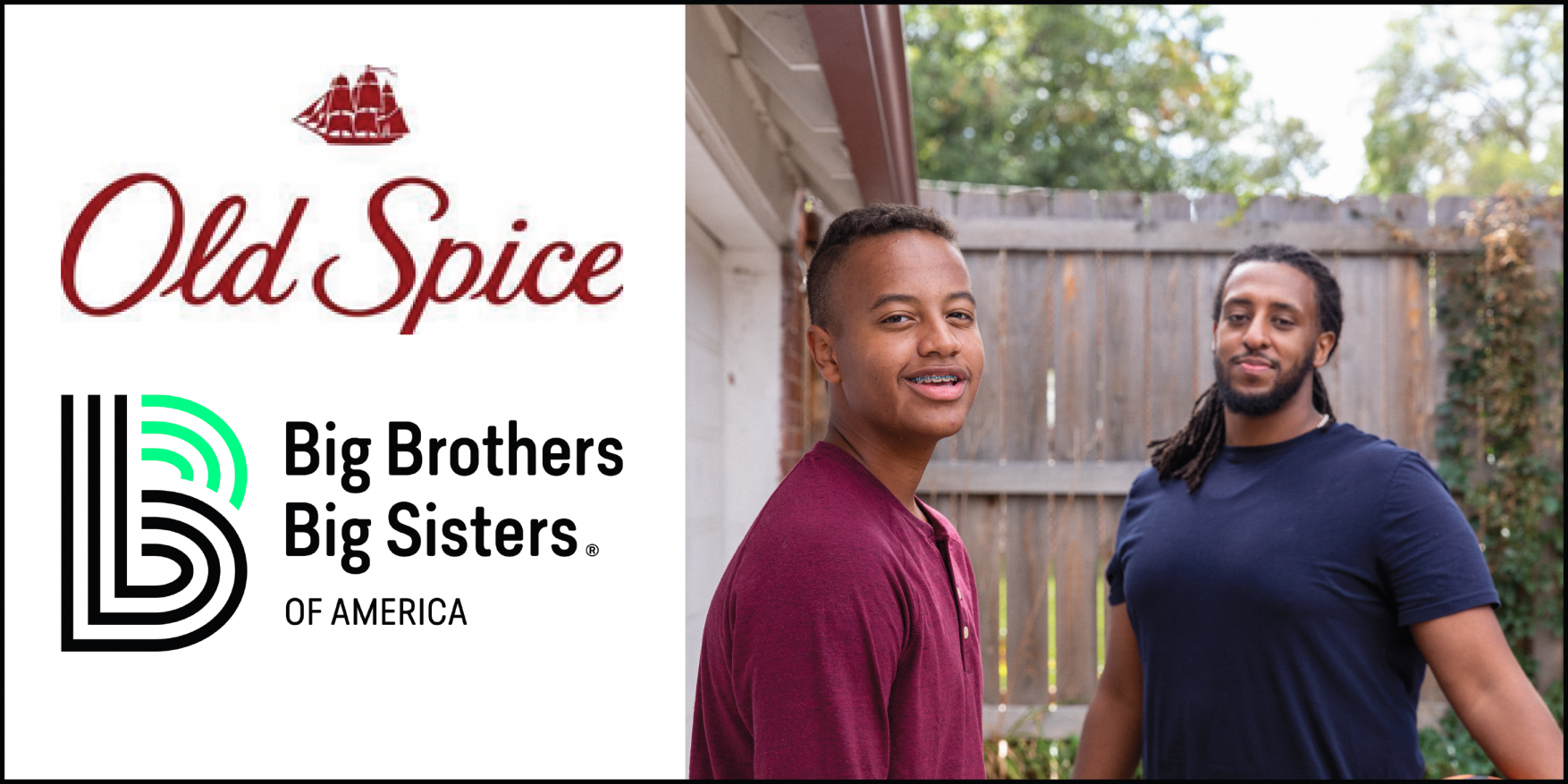 With More Than 30,000 Youth Waiting for a Mentor, Top NFL Draft Prospects Share their Stories to Encourage Volunteers to Get Involved
Old Spice today announces its latest initiative furthering a 10-year commitment to help increase high school graduation rates by 10 percent by 2030. Through confidence and empowerment programs, Old Spice is reaching guys in underserved communities to help nurture and build confidence in their potential. As the next class of future NFL stars commence their careers at the 2021 NFL Draft, Old Spice is partnering with top NFL Draft prospects and Big Brothers Big Sisters of America, as part of the NFL's Inspire Change Initiative, to spotlight the importance of mentorship in the lives and success of young people and to increase mentors in communities nationwide.
Studies show mentorship can impact academic, social, and economic outcomes, yet one in three young people do not have a mentor. An estimated 16 million young people will reach adulthood without ever having a mentor in their lives, and more than 50% of those young people face adverse risk factors. On the other hand, 95% of young adults with formal mentoring relationships and consistent support say the experiences helped them stay on track in school and make good choices. [1]
As part of Old Spice's long-standing relationship with the NFL, the two are pairing up again to highlight real-life mentoring stories from some of this year's top NFL Draft prospects including, DeVonta Smith [VIDEO LINK] (University of Alabama) and his mentor Vincent Smith, and Kyle Pitts (University of Florida), who is paired with NFL star Travis Kelce (Kansas City Chiefs) [VIDEO LINK]. Old Spice is creating a series of videos in which the players share their personal stories: how mentorship has impacted their educational journeys, the foundational principles that have helped them achieve their goals, and personal passion for getting more people from diverse backgrounds involved in mentoring. The series lives on Old Spice's YouTube page as well as on players' social channels during NFL Draft week, starting Tuesday April 27, 2021.
In addition to Smith and Pitts, former North Dakota State quarterback Trey Lance will also share his experiences though national media tours and social media content, emphasizing to young people that seeking guidance is normal, while providing them and potential mentors with details on how to connect with Big Brothers Big Sisters.
In partnership with Big Brothers and Big Sisters, Old Spice is offering fans and potential volunteers (called 'Bigs') with an easy way to make a difference in the lives of a student to help level the playing field for youth in communities nationwide. While the NFL is drafting the next generation of players, Big Brothers Big Sisters is drafting the next generation of Bigs. Right now, there are more than 30,000 youth waiting to be matched with a Big and the organization is calling for more volunteers – especially men – to get in the game to inspire change so more kids can reach their potential. Old Spice and the NFL are encouraging volunteers to visit www.bigdraft21.com to learn more – you can volunteer virtually or at a safe distance.
"Old Spice is thrilled to leverage our NFL partnership to find new ways to support and enable youth. We're excited to collaborate with another NFL partner, Big Brothers Big Sisters, to help drive direct community impact," said Matt Krehbiel, vice president of the Old Spice brand. "Our common goal is to create more formal mentor/mentee relationships that help empower youth to confidently graduate high school."
"Mentoring stories–on and off the field–are what inspire us every day," said Artis Stevens, President and CEO of Big Brothers Big Sisters of America. "We appreciate the opportunity to work with Old Spice to share this important message: mentoring not only impacts the life of a young person, but as the mentor, you get as much out of the friendship, if not more."
Old Spice has long helped young men and boys transition into young adulthood. With this latest installment of the brand's 10-year commitment to help increase high school graduation rates, the focus on mentorship helps drive Old Spice closer to its goal and overall mission of helping guys build true confidence so they can reach their education goals. With the help of Big Brothers Big Sisters and the NFL, the brand is taking one step closer to achieving the 10-year goal.
About Old Spice
Procter & Gamble's Old Spice is the quintessential grooming brand. With more than 80 years as an American icon, Old Spice is the authority on grooming experience and has leveraged this heritage to become the No.1 selling anti-perspirant and deodorant brand for guys in the United States. Old Spice offers a complete product portfolio for today's evolving needs, including anti-perspirants, deodorants, body washes, body sprays, shampoos and hair stylers. Check Old Spice out at www.oldspice.com, Facebook (http://www.facebook.com/OldSpice), Twitter (@OldSpice) and Instagram (oldspice).
---