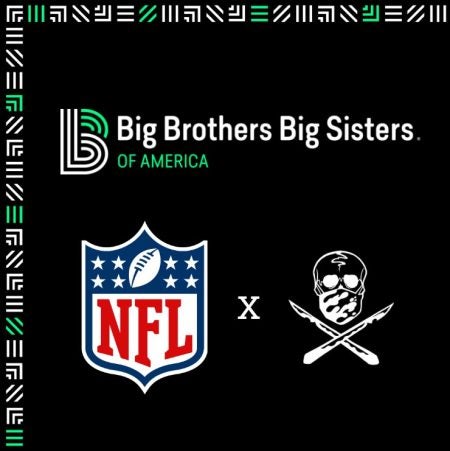 Collaboration features SRGN Academy youth clinics in partnership with Big Brothers Big Sisters of America, along with design activation for My Cause My Cleats
NEW YORK, October 25, 2022 – The National Football League announced today a partnership with pioneering shoe customizer Dominic Ciambrone, aka 'The Shoe Surgeon'. Recognized for his bespoke one-of-a-kind creations, Ciambrone is the founder and creative director of The Surgeon, a household name synonymous with luxury custom footwear. He has continuously transformed the high-end fashion customization and sports landscape by offering his made-to-order services for top football athletes such as Odell Beckham Jr and Jalen Ramsey. The collaboration, consisting of two key initiatives, will empower the local community and youth through fashion, football, and philanthropy.
The first initiative will be a monthly series of SRGN Academy clinics in partnership with Big Brother Big Sisters of America, a longstanding partner of the NFL and through its "Inspire Change" social justice initiative. Each SRGN Academy Workshop will teach fifteen Littles and their Bigs from local Big Brothers Big Sisters agencies about creativity and customization, as they transform a blank cleat canvas into works of art with NFL Clubs and players. These workshops will take place in Las Vegas, Miami, Los Angeles and New York.
"I'm excited to partner with the NFL and Big Brothers Big Sisters to be able to give back and empower the youth with these creative workshops," said Ciambrone. "Without my mentor, I wouldn't be where I am today, so it's important to me that we provide an outlet for our children to create and be inspired."
"At Big Brothers Big Sisters, we know when kids are provided exposure to diverse experiences and opportunities, it shows them what's possible and can be game-changing to their trajectory in life," said Artis Stevens, president and CEO, Big Brothers Big Sisters of America. "Partnering with the NFL, Dominic, and the SRGN Academy is such a fun, unique experience to engage our youth and showcase the village of mentors who support and empower them."
For the second part of the partnership, Ciambrone will creative direct a special My Cause My Cleats activation, where he will hand select eight local sneaker customizers and pair them with NFL players in their market. Designers will create one-of-one cleats for each player, creatively displaying the non-profit organization of their choosing. With social content reveals that debut the works of art, the custom cleats will be auctioned off with 100% of proceeds from NFL Auction going to the players' designated charities via NFL Foundation.
"Philanthropy and community are integral to our organization, and we are incredibly excited to work with a pioneering, creative talent like Dominic to spotlight these pillars," said Tim Ellis, NFL Chief Marketing Officer. "Our collaboration with The Shoe Surgeon and Big Brothers Big Sisters allows us give back to the local community, inspire future generations through fashion and the game of football."
My Cause My Cleats, the player-led campaign now in its seventh season, gives players the opportunity to bring causes to the forefront on gameday, as they choose causes that are important to them and highlight organizations on custom-designed cleats. Causes have included tackling social injustice, supporting youth, addressing mental health, raising awareness for disability research and empowering veterans.
ABOUT THE SHOE SURGEON
Dominic Ciambrone, Creative Director and Founder of the Shoe Surgeon is a pioneer in luxury footwear and customization. Widely recognized for his bespoke one-of-one creations for celebrities such as LeBron James, Justin Bieber, Drake, and more, Ciambrone is transforming the high-end fashion space by offering his made-to-order services to his elite network of clientele –reimagining the product he works on into a one-of-a-kind design. His passion for storytelling and attention to detail elevates every project, making each piece a true, personalized work of art.
From a young age, Dominic always had a desire to create. From backyard forts to Lego sets, he was overwhelmingly drawn to his ability to construct – a creative outlet that later evolved into a flourishing business. Today, The Shoe Surgeon continues to push creative boundaries by teaching the skill and process to aspiring artists and creators at his SRGN Academy, passing along his craft to the next generation.
ABOUT BIG BROTHERS BIG SISTERS OF AMERICA
Founded in 1904, Big Brothers Big Sisters of America is the largest and most experienced youth mentoring organization in the United States. The mission of Big Brothers Big Sisters of America is to create and support one-to-one mentoring relationships that ignite the power and promise of youth. Big Brothers Big Sisters' evidence-based approach is designed to create positive youth outcomes, including educational success, avoidance of risky behaviors, higher aspirations, greater confidence, and improved relationships. Big Brothers Big Sisters has over 230 local agencies serving more than 5,000 communities across all 50 states. For more information, visit: www.bigbrothersbigsisters.org.