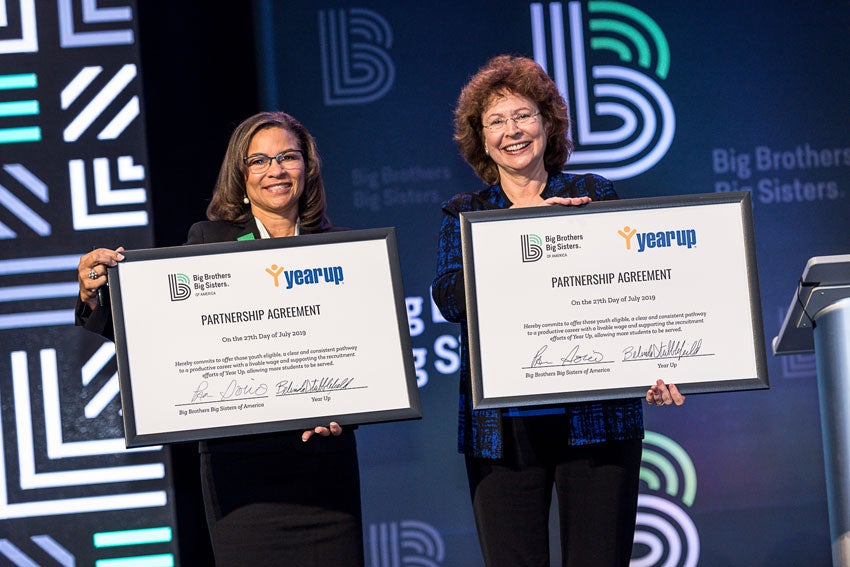 CHARLOTTE, N.C. (PRWEB) JULY 08, 2019
Continuing to expand its reach and provide even more young adults with access to economic opportunity, the nonprofit workforce development program Year Up has formed a strategic partnership with Big Brothers Big Sisters of America (BBBS), effective as of June 30, 2019.
The new partnership was announced on June 27, 2019, in Charlotte, North Carolina, where Year Up will launch its 18th market nationwide this August.
As part of the partnership, BBBS will host annual information sessions in Year Up markets for BBBS Juniors and Seniors ("Littles"), along with their Big Brothers and Big Sisters, where Year Up can share information about its program. Year Up staff will also meet with BBBS staff to discuss Year Up, what Year Up looks for in candidates and the benefits of the Year Up program so that BBBS can refer participants as appropriate. Year Up will track the number of BBBS Littles who apply and the outcomes of accepted students, and will report the results back to BBBS.
"Big Brothers Big Sisters of America and Year Up both serve Opportunity Youth who face challenges in accessing higher education and livable-wage careers," said BBBS CEO Pam Iorio. "By partnering with Year Up, Littles graduating from our program who are interested in business and technology will know how Year Up can help them launch a career at a top company."
One "Little" who transitioned from BBBS to Year Up is Teron McMillian. Teron was a "Little Brother" and applied to Year Up South Florida after completing high school. Through Year Up, he learned software development skills, interned for a financial services firm and was hired full-time as a Pega developer — and then became a "Big Brother" for another young person in his community. He currently lives in New Bern, North Carolina.
Year Up Founder and CEO Gerald Chertavian volunteered as a Big Brother throughout college and while working in New York City in the late 1980s. He was matched with David Heredia, a 10-year-old Dominican boy who lived with his mother and brothers on the Lower East Side. The experience led Chertavian to envision a youth program that became Year Up, which opened its doors in Boston in 2000. He remains close with David today, who now works in animation.
"My experience as a Big Brother helped me realize that every young person deserves opportunity, and it opened my eyes to the impact a caring adult can have in a young person's life. Just as importantly, it showed me the obstacles facing talented young people who lack access to resources and opportunities. Those experiences inspired me to found Year Up to ensure that every young adult has the opportunity to reach their full potential," said Gerald Chertavian, Year Up's Founder and CEO. "This new partnership with Big Brothers Big Sisters will create a pathway for many more young adults to get the skills, education, and support they need to be able to meaningfully participate in our economy."
Chertavian founded Year Up to create a demand-driven workforce development program that would provide top companies around the country with a pipeline of skilled talent. Last year, a federally-sponsored evaluation of Year Up showed a 53% increase in initial earnings for young adults randomly assigned to Year Up compared with similar young adults in a control group—the largest impacts on earnings reported to date for a workforce program tested in a randomized controlled trial.
---
About Year Up
Year Up is an award-winning, national 501(c)3 organization that enables motivated young adults ages 18-24 to move from minimum wage to meaningful careers in just one year by providing the skills, experience, and support they need to reach their full potential. Through a one-year, intensive program, Year Up utilizes a high-expectations, high-support model that combines marketable job skills, stipends, coursework eligible for college credit, and corporate internships at more than 250 top companies. Its holistic approach focuses on students' professional and personal development to enable young adults with a viable path to economic self-sufficiency and meaningful careers. Year Up has served more than 24,000 young adults since its founding in 2000, and will serve more than 4,700 young adults in 2019 across 25 U.S. cities including Arizona, Baltimore, Bay Area, Charlotte, Chicago, Dallas/Fort Worth, Greater Atlanta, Greater Boston, Greater Philadelphia, Jacksonville, Los Angeles, the National Capital Region, New York City/Jersey City, Puget Sound, Rhode Island, South Florida, Tampa Bay, and Wilmington. Year Up has been voted one of the "Best Non-Profits to Work For" by The NonProfit Times for eight consecutive years, and rated a 4-star charity by Charity Navigator for twelve consecutive years, placing them in the top 1% of tracked organizations.
To learn more, visit http://www.yearup.org, and follow us on LinkedIn, Facebook, and Twitter.
About Big Brothers Big Sisters of America
Big Brothers Big Sisters create and support one-to-one mentoring relationships that ignite the power and promise of youth. Big Brothers Big Sisters ensures that the children in its program achieve measurable outcomes, including educational success, avoidance of risky behaviors, higher aspirations, greater confidence, and better relationships. This mission has been the cornerstone of the organization's 115-year history. With 250 affiliates in all 50 states, Big Brothers Big Sisters has served nearly 2 million children ("Littles") in the past 10 years. Learn more at http://www.bigbrothersbigsisters.org.