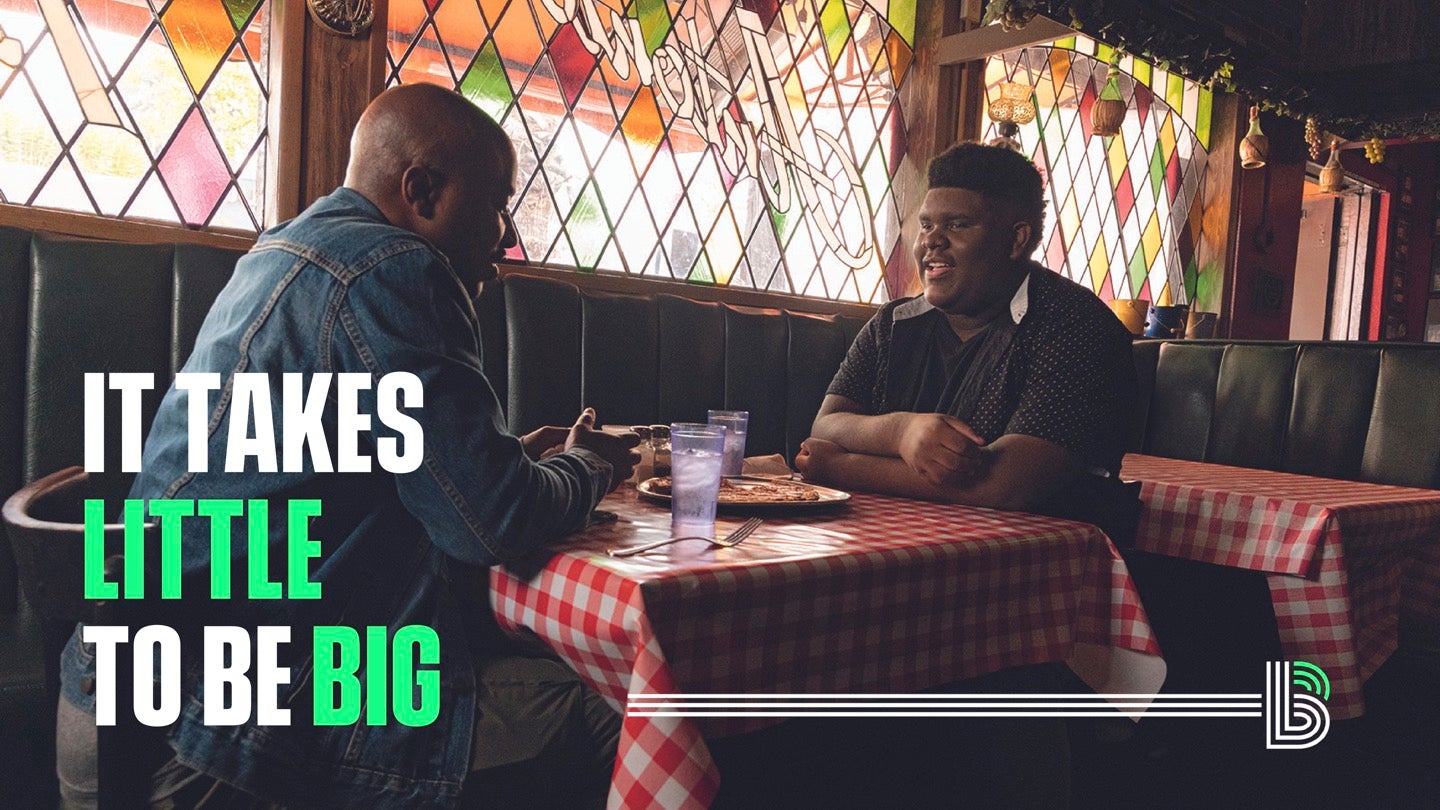 Big Brothers Big Sisters of America unites alumni, supporters, celebrities and partners nationwide to close the mentorship gap; Singer Songwriter Aloe Blacc releases campaign anthem "Never Let You Down"
---
TAMPA, FL, September 14, 2023 – Big Brothers Big Sisters of America (BBBSA), the preeminent one-to-one youth mentoring organization in the United States, has launched a bold new brand campaign "It Takes Little to Be Big," to challenge the myths and shift perceptions of mentoring and why now, more than ever, mentorship is critical to the success of kids today.
Today, one in three kids in America are growing up without a sustained, positive adult mentor in their lives and over 30,000 kids are on BBBS' wait list for a mentor. The gap between mentorship and youth who need it most continues to widen due to perceived barriers of the time and expertise needed to become a mentor. Understanding the critical need, BBBSA is set to engage and galvanize one million volunteers ("Bigs"), alumni, supporters, influencers and strategic partners to highlight the mentorship moments that inspire potential and bridge the gap between people and possibility.
Developed in partnership with Dentsu Creative, and renown director and photographer, Joshua Kissi, a new PSA, advertising, and digital content were created and feature real Bigs and Littles from the Los Angeles area. The campaign—running on TV, OLV, social and digital channels— brings authenticity to the forefront with BBBS matches and puts a spotlight on redefining the little moments of mentorship that can make a big impact on the lives of young people. Leveraging media, partners, and prominent voices, BBBSA will embed its mission and call for support into prominent pop culture events, experiences and across social media, music, sports, entertainment, and fashion platforms.
"BBBSA came to us with a very clear goal of attracting one million Bigs, alumni and supporters. There are any number of hurdles we need to overcome to convince potential Bigs and supporters to join the mission, but the number one barrier was time," said Kurt Fries, EVP, Executive Creative Director, Dentsu Creative. "That's where we decided to focus. By simply contextualizing how little time it takes– time we are already spending going to a movie, grabbing a cup of coffee or a slice– to make a big impact not only on the lives of these kids but on the lives of the Bigs, too."
In addition to the campaign PSA and creative, singer, songwriter, philanthropist and BBBS supporter Aloe Blacc released an original song and campaign anthem "Never Let You Down," inspired by the stories of matches across the country. The song is available for download on all streaming platforms, with a portion of proceeds supporting BBBSA.
"At its core, mentorship is about human connection, made up of formative moments that inspire curiosity, aspiration, and unlock potential in the next generation," said Blacc. "I've experienced the power of mentorship firsthand and it has shaped who I am. Every small act of encouragement, hope, and support has the potential to change lives, like it has changed mine. Through this campaign and 'Never Let You Down', we are demonstrating how mentorship is an essential part of life and how simple yet profound it can be."
A cornerstone of the campaign is "A Million Little Moments", a digital storytelling initiative on BeBigNow.org and BBBSA's social media platforms, that invites the nation to share their pivotal mentorship moments and experiences, no matter how small, using the campaign hashtag #BeBIG for each story. This tapestry of stories will serve as a testament to the significant impact and universality of mentorship moments.
"We believe in the power of mentorship—we've seen its lifelong impact for the millions of kids we've served, and on the lives of Bigs who serve as mentors," said Artis Stevens, president and CEO, BBBSA. "Today, Big Brothers Big Sisters is transforming what mentorship looks like in our country and calling on people in communities everywhere to join us in this movement and be part of something big. Through this campaign, our partners, alumni, and supporters will create access and opportunity for more kids through mentorship as we strive to close the mentorship gap and create lasting impact in countless lives."
BBBSA has also partnered with industry leaders to amplify the campaign and encourage the support of volunteers as well as donors. Clear Channel Outdoor has launched a series of "It Takes Little to Be Big" billboards in key U.S. markets including Chicago, Atlanta, Los Angeles, Dallas, and New York City. To extend the reach of the campaign across additional media channels, iHeartMedia, Comcast NBCUniversal, TikTok, Bounce/Scripps Network, Mediavine, and Fandom have provided pro bono support to further PSA and campaign content distribution. In addition, thanks to strong partnerships with Macy's, Express, and Merrell, the campaign will be amplified through their owned properties and partnership activations.
For more information, visit BeBigNow.org.