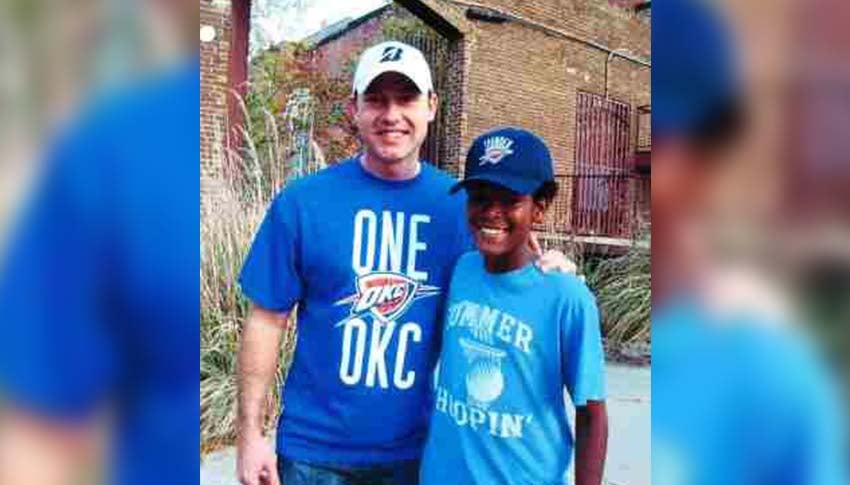 Big Brother Mark and Little Brother Jamial
People who live in the Wichita, Kansas area probably recognize Mark Davidson, if not by name, then by sight. Since 2005, he has worked in a number of capacities for Wichita-based NBC affiliate KSN-TV. He currently works as a co-anchor for the morning news show, Kansas Today. Now, he can add another title to his name: Kansas' Big Brother of the Year.
Since 2009, Mark has been matched with his Little Brother, Jamial. Mark credits much of his success as a Big Brother to the personal mentors he had growing up: his parents, his grandmother and a youth basketball coach.
"I wouldn't be who I am or where I am without them," he says.
Jamial, now 14 years old, is raised in a single-parent household by his mother, Kristin. She appreciates the impact that having a strong and constant male role model in his life brings to Jamial, noting that "I think he showed my son that actions of people and good qualities can still make you a good person in life."
For Mark and Jamial's first outing together, the two played basketball and discussed the important things, like their favorite sports teams, favorite ice-cream flavors and what video games they each enjoyed. Mark knew right then and there that their match would be something special.
Jamial has enjoyed learning from Mark and experiencing new things with him. Together, they have played video games, gone out to eat, shot hoops at the local YMCA and gone to events to help represent Big Brothers Big Sisters of Sedgwick County, hoping to encourage others in the community to become more involved.
"I've been to places I've never been, I've met people I'd never have met without Mark," Jamial said. "Mark has always been there for me, even after my dad left me…Mark was still there. I have learned a lot from Mark, like how to be a man, take care of a family, how to work hard to earn things and not just expect for someone to give you something."
Beyond his volunteering as a Big Brother, Mark uses his position at KSN to help promote awareness of Big Brothers Big Sisters, running a regular segment called "Give a Little."
Ultimately, Mark recognizes the importance of the impact that mentoring can have on children.
"I'm humbled and flattered to be associated with those determined to make a difference in the lives of young people," he said. "To know one life has breathed easier… if some years down the road, Jamial can reflect on our time together with that perspective, then we'll celebrate together our small piece in the mission of Big Brothers Big Sisters."