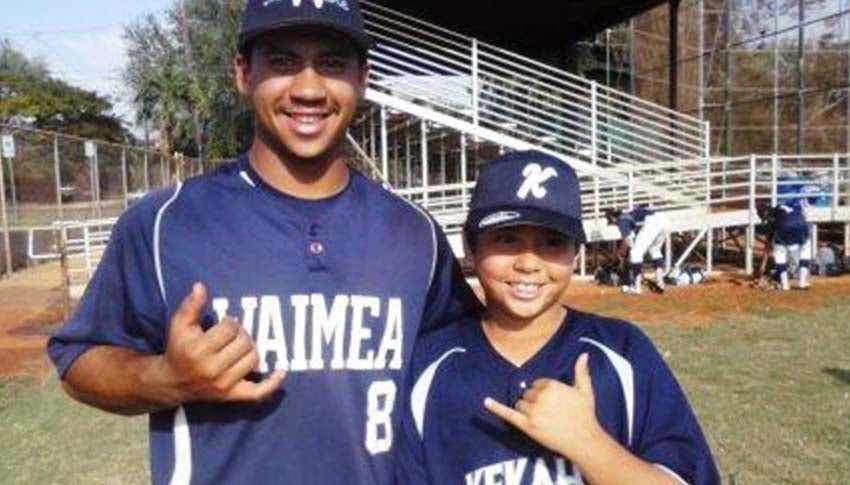 Big Brother Wyatt and Little Brother Blake
Little Brother Blayke comes home every Thursday with stories of his afternoon with Big Brother Wyatt. The smile on his face when he talks about his Big Brother shows just how much of a positive impact this friendship has already had on Blayke's life. The two have been matched since 2012 as part of the Big Brothers Big Sisters Hawaii program.
At the start, Little Brother Blayke and Big Brother Wyatt met weekly for afterschool mentoring sessions. After Wyatt graduated this past spring, the two decided to continue their match through Big Brothers Big Sisters Hawaii's community-based mentoring program, as a part of Big Brothers Big Sisters of Kauai.
Wyatt and Blayke share a passion for sports. According to Blayke, this is his favorite thing about his Big Brother. Wyatt demonstrates his support for Blayke by attending his baseball games. He even taught Blayke how to kick a football!
As testimony to his dedication and support for Blayke, during the final game of the 2013 season, many parents were surprised to see Wyatt and asked him, "Why are you here?" Without hesitation, Wyatt replied, "I came to watch my brother."
As Wyatt sat on the bleachers, cheering on his Little Brother, he gave Blayke a thumbs up and "Good job, buddy!" for all to hear. According to Blayke's mother, this was one of the most memorable days of his life – playing baseball, having his Big Brother in the stands, cheering for him.
"The Big Brothers Big Sisters of Kauai program has not only given my son a humble and respectful mentor and companion, but also a GREAT FRIEND FOREVER!" said Blayke's mother. "Wyatt will hold a special place in not only mine and Blayke's heart, but my family's heart as well."
Wyatt was previously honored as the Kauai Big Brother of the Year and his commitment to Blayke shows why he deserved this recognition. There are boys like Blayke all across the country who do not have someone to toss the ball with, or to come to their games; boys who need a male role model to look up to. Many have waited months, or even years, for their Big Brother to come along. Many will continue to wait. Through the support of volunteers and donors, we can work to shrink the time they are left waiting. Help to make a difference in the life of a child.