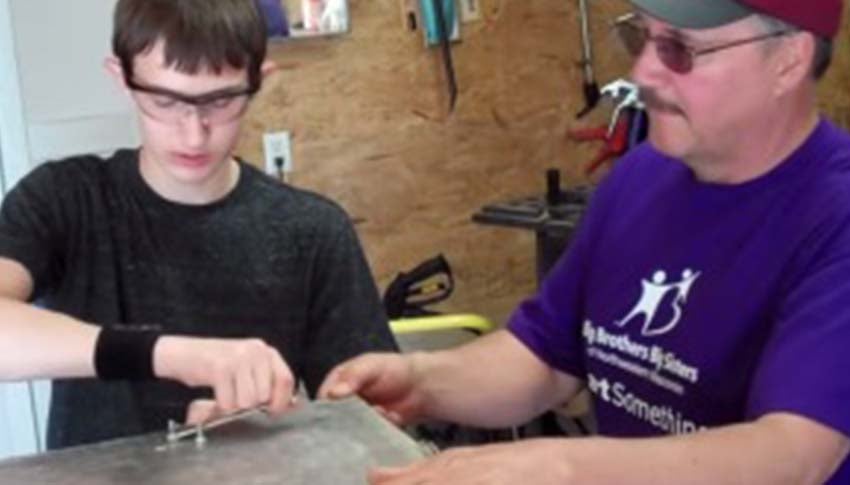 Big Brother Scott and Little Brother Ashton
At the age of fourteen, Ashton was matched with his Big Brother Scott as part of Big Brothers Big Sisters of Northwestern Wisconsin. Ashton grew up without a strong male figure in his life, and enrolled in the program with the hope of finding a mentor and role model. Two years later, their match is still going strong.
"I wanted to get involved, because I did feel that I had a lot to offer, and I wanted to share that with somebody," said Scott.
Ashton was apprehensive early on in the match, like any young person would be.
"At first, I was kind of iffy, because I really didn't know him," Ashton explained. "But as time went on, I actually felt very comfortable around him."
Ashton recognized that having a role model like Scott would be a positive experience for him. Scott understands that there are a lot of things that Ashton has not had the opportunity to learn.
"I think I've taught him a lot of things he needs to know in life," said Scott. "There are a lot of little things that so many kids nowadays don't know; they're not exposed to."
Scott has a shop at his house, where he and Ashton have been working on countless projects together. Ashton has enjoyed learning about working with tools, doing wiring, changing tires…all things he has never done before. He and Scott have enjoyed working on these projects, in addition to spending time outside fishing or barbecuing.
When asked if he had a favorite thing that he and Scott have done together, Ashton replied: "I honestly can't think of a favorite thing, because any time I spend with Scott is always better than the last."