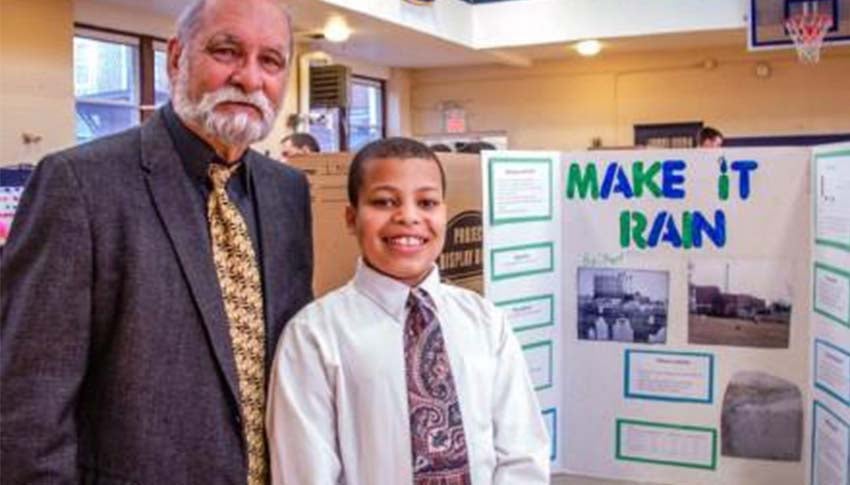 Big Brother Jack and Little Brother Nigel
A few years ago, Nigel's mother, looking for ways to help provide him with a strong male role-model, enrolled him in Big Brothers Big Sisters of Child & Family Services Big Brothers Big Sisters of Child & Family Services in New Bedford, Massachusetts. Before long, Nigel was matched with a local retired college professor, Jack. In the time they have been matched, Nigel and Jack have had phenomenal success as a Big Brother and Little Brother.
Jack and Nigel enjoy engaging in a variety of activities. Jack has introduced Nigel to cooking, skiing and sailing. Nigel spends time helping out, learning and working on Jack's boat. Jack has learned a couple of new things as well—Nigel has even introduced Jack to airborne snow sledding, much to Jack's enjoyment!
In 2012, Jack encouraged Nigel's mother to apply for her son's entrance to the Nativity Preparatory School. The school provides a challenging and supportive learning environment, and boasts a 99 percent high school graduation rate since its opening in 2000. Jack worked with both Nigel and his mother, coaching them on the application and acceptance process.
Nigel was accepted; however he was quickly presented with another problem: the school did not offer transportation for students and he lived beyond walking-distance to the school. Not wanting this to impede on an excellent opportunity for Nigel, Jack arranged for monthly bus passes, ensuring that Nigel would be able to get to school each day.
Since his acceptance in the prep school, Nigel has excelled and continues to thrive in the challenging academic environment. This past year, he has won multiple awards, including a prize at the Social Studies Fair and first place in the school Science Fair!
Nigel looks forward to his seventh grade year, and both he and Jack plan to continue their match through Big Brothers Big Sisters.
Jack's commitment to helping Nigel further himself through his education underscores the important level of impact that a Big can have on his or her Little. Choosing to support Big Brothers Big Sisters can help to deliver similar impacts to children facing adversity all across the country.