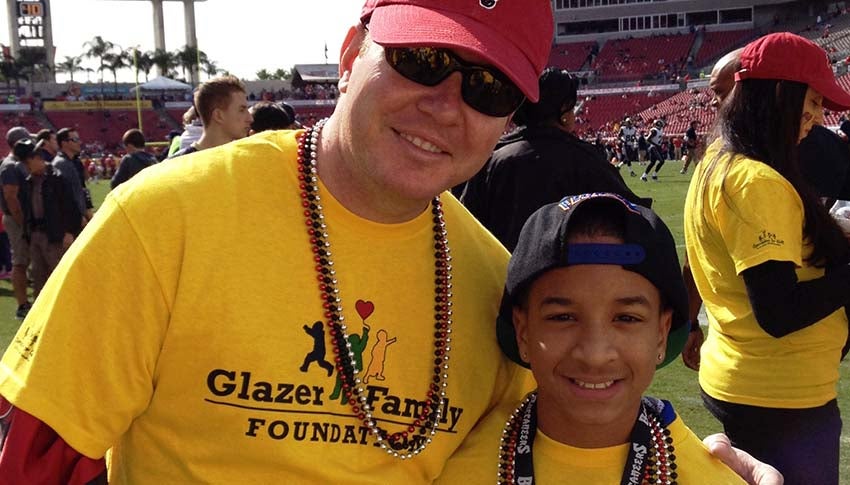 Big Brother James and Little Brother Devin
A little more than four years ago, Big Brother James first met and was matched with his new Little Brother Devin through their local program at Big Brothers Big Sisters of Tampa Bay. Over the past several years, the pair has enjoyed getting to know each other. But, even more impressive, the two have really bonded over enjoying various community service projects together.
Occasionally, James and Devin will work at a local food bank, organizing meals for those in need. While serving their community at the food bank, the two also have fun at the same time sorting food and chatting. Recently, James and Devin participated in a hospice charity walk. The "walk" ultimately became more of a "race," ending up with Devin showing off his athleticism and James trying to keep up!
It is great to see this pair having fun and giving back to their communities and learning how they can help those less fortunate. Additionally, they have had their fair share of other experiences too – like paintballing, Frisbee golfing and attending Tampa Bay Buccaneers games! James has really gone out of his way to open his Little Brother's eyes to different life experiences.
"I'm excited to be more of a sounding board as he gets older," says Big Brother James. "We like to joke around about Devin being a Big to my infant son when he gets older. I love the idea of Devin paying it forward and becoming a Big someday."
For his part, Devin says he enjoys spending time with James, and the two of them both look forward to what the future will bring for their match and their friendship.