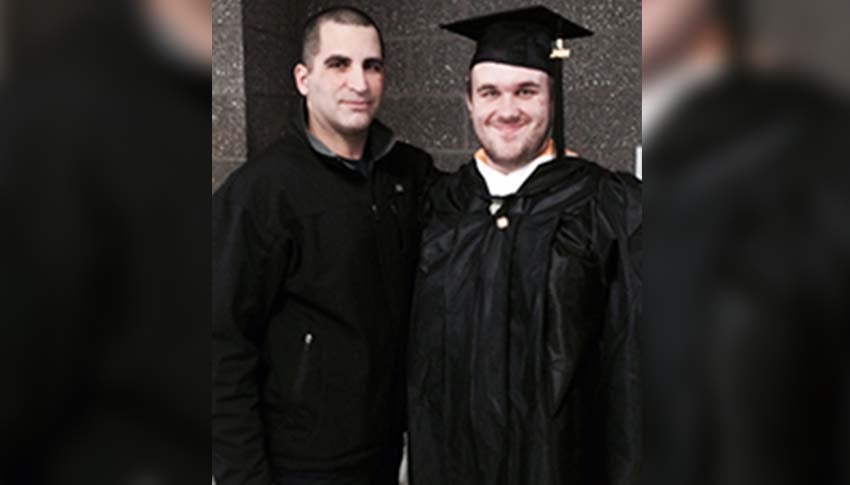 Big Brother Derek and Little Brother Robbie
A mentoring relationship can create a positive change in a child's life by being a role model and a friend. Child & Family Services' Big Brothers Big Sisters program gives children of the Greater New Bedford, Massachusetts area an opportunity to have a supportive mentor in their lives. Many times the program creates relationships that have long-lasting bonds continuing into adulthood.
A great example is the match of Little Brother Robbie and his Big Brother Derek. Matched in 2005, the duo is still very close and they keep in touch often. Recently, Derek attended Robbie's graduation from Framingham State University where Robbie received his bachelor's degree in speech and performance with a minor in journalism.
Before meeting Derek, Robbie was struggling academically in school, had weight issues, and was generally bored with his life. Upon being matched, Robbie finally met the challenge he was willing to conquer. Derek made him feel like he had someone who was challenging him for the better. "Derek motivated me," Robbie explained.
After some time of meeting with Derek, Robbie began to notice some major differences in his life. "I was a heavyset boy and the doctor said by the time I was 17, I could have diabetes," Robbie shared. With Derek's help, Robbie was able to lose 100 pounds! His grades also began improving. "He helped me pass middle school math," Robbie said. "He taught me until I understood it."
Most notable about the relationship between Derek and Robbie is the special bond they share. Throughout the years they have been able to spend quality time hanging out and going to Red Sox, Patriots and Celtics games. In 2007, Derek took Robbie to an unforgettable Red Sox game at the Mass Mentoring Night at Fenway Park. At the game, Robbie was unexpectedly asked to throw out the first pitch. "My heart was racing; I was excited; I was pumped!" Robbie said, grinning from ear to ear.
The first pitch at Fenway Park was a very important moment for Robbie and Derek. They both credit this occasion as the time they realized that through hard work, dedication, and the strong bond that they had formed, Robbie was now out of his shell and ready to grow. "It was a good feeling knowing that I have made a positive difference in his life and I will continue to be part of his life," Derek stated.
"Derek had a profound impact on my life," Robbie said. "He helped me keep my grades up, stay healthy and get into college." Robbie graduated from New Bedford Vocational High School in 2010, and continued his education at Framingham State to follow his dream of becoming a sports broadcaster. "In college I was on track to graduate in six years, but with Derek continuing to push me I finished in four-and-a-half years," Robbie said.
The relationship between Derek and Robbie is a testament to what mentoring can do to change a life. Derek's positive influence gave Robbie a better opportunity in life. Robbie is now a successful and educated adult who has a bright future ahead of him. Their bond remains strong and they continue to express the importance that their relationship has played in each other's life.