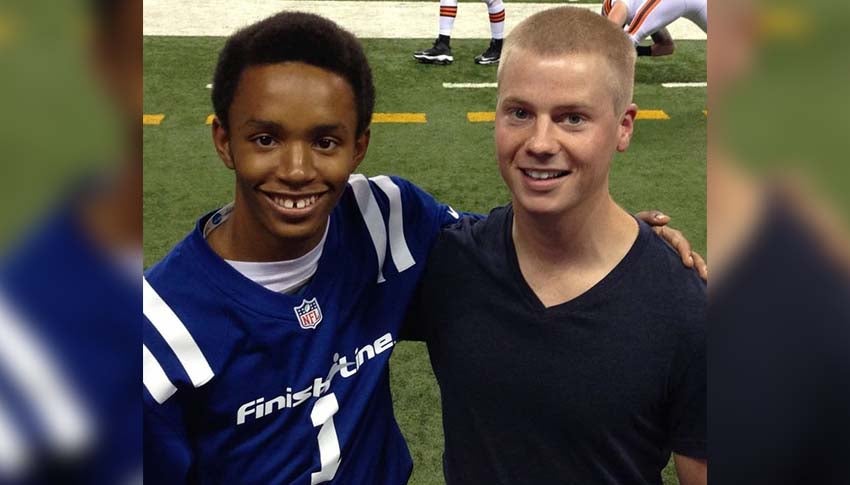 Big Brother Matt and Little Brother D'Angelo
In the fall of 2008, Matt was a college freshman at Butler University (BU) in Indianapolis. Matt was driven, a "go getter," and someone who wanted to make a difference. He signed up to be a Big through Big Brothers Big Sisters of Central Indiana shortly after starting at BU. He was soon matched with his Little Brother D'Angelo, a 12-year-old who was not excited about the program and was lacking in some areas. D'Angelo showed little enthusiasm toward life after high school, mainly due to his poor academic performance.
Matt quickly learned D'Angelo's struggles and saw that he was actually incredibly intelligent and eager to learn, he just needed the motivation to push himself to succeed. D'Angelo didn't have someone to talk about college and the experience that college brings. Matt saw this as an opportunity to connect with D'Angelo. Many of their outings together were purposefully spent at BU. These visits to the campus gave D'Angelo a new perspective about what college was about. As they would walk through campus, Matt offered guidance to D'Angelo about life and encouraged him that college was within his reach.
During Matt's senior year of college, he became the President of "Bulldogs Being Bigs," a club that primarily aims to get Butler students interested in volunteering as Bigs and to organize activities for local matches to enjoy. D'Angelo spoke at one of the meetings to share his initial point of view of the program, and talked about how his negative perception of the program was no longer there. He mentioned how much he learned from Matt, as well as how excited and nervous he was.
"Today, D'Angelo is a completely different person than in 2008. The shy, reserved boy with low self-esteem who I met in October 2008 is nowhere to be seen. In his place stands a confident, determined young man who is excited to see what the future holds," said Matt. D'Angelo now has the motivation to do well in school, and even found two new passions through school: choir and speech team. D'Angelo said that in middle school he always wanted to join the speech team but he was afraid of what people thought of him. "Matt helped me overcome that fear. He let me know if that if I have the confidence, right information and details to back it up, I can make an amazing speech."
Another resource Matt used to understand D'Angelo was D'Angelo's mother. Matt would talk to her to learn things from her perspective and see areas where Matt could be a positive influence. D'Angelo's mother is grateful for her son's Big Brother. "He taught D'Angelo to keep a positive attitude and an open mind. D'Angelo feels that he can be anything he wants in this world, and I have Matt to thank for that."