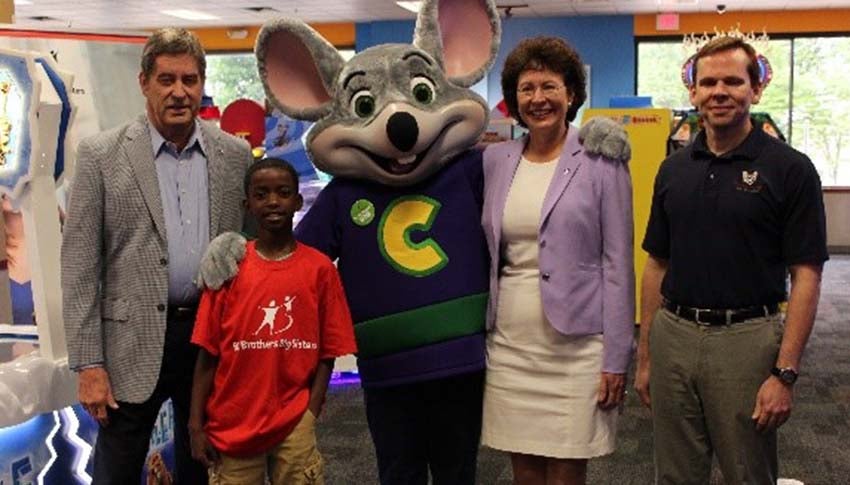 Big Brother Seth and Little Brother Ryan
Little Brother Ryan, now 11, had been on the waiting list for a Big Brother since age six. He recently got a big surprise. Ryan was selected to be the honorary Little for the Chuck E. Cheese's April 14th Celebration campaign. Chuck E. served as his official Big Brother during the event. Ryan was so excited to be selected, especially since his favorite foods are pizza and nachos.
Ryan got more exciting news the next day when he was introduced to Seth Boyd of Dallas, Texas, who is now Ryan's Big Brother. Seth made sure their first outing was special and memorable with a visit to the local fire station. Ryan's mom, Kanessia, said she is so happy he got his match. She can't believe how they are already bonding and becoming "buds."
The Big Brothers Big Sisters program has impacted Ryan's entire family. Ryan has three sisters and one little brother. His 13-year-old sister is also in the Big Brothers Big Sisters program and is excelling with the mentoring she receives from her Big Sister.
Ryan hopes with Seth's help he can go on and be the first in his family to go to college. His favorite subject in school is science. He loves animals and knows the proper names for many of them. Just ask him, and he can tell you plenty of details about his favorites!
He also wanted to make sure we mentioned in his story that he wants to be a famous basketball player and then a veterinarian. This young man has BIG dreams and now a Big Brother and a Big Mouse to help make those dreams come true.