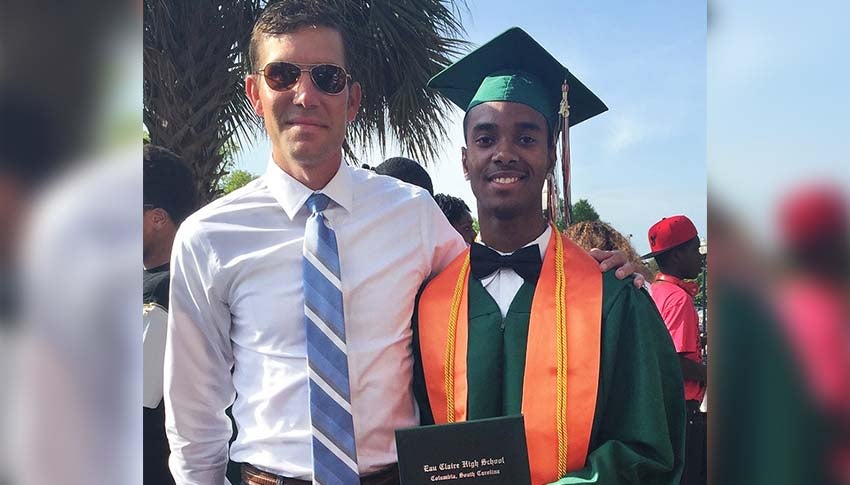 Big Brother Grant and Little Brother LaBruce
There are many indicators to determine if a match is successful. Are the Big and Little comfortable around each other? Are they both getting something positive out of the match? Do they enjoy their time together and want to continue to grow their relationship?
On September 25, 2006, LaBruce first met his Big Brother Grant. Almost nine years later, Grant has been privileged in watching his Little Brother walk across the stage at his high school graduation to accept his diploma, with honors. "I have been able to watch LaBruce grow up. In fact, I have known him longer than I have known my wife. He brings me joy and makes me a better person."
Grant loves spending time with LaBruce and commented how over the years their choice of outings has evolved. "Years ago, we would spend a lot of time at EdVenture Children's Museum. Now we go to a lot of University of South Carolina basketball and baseball games."
LaBruce and Grant were asked why being a mentorship was important. For Grant, his answer was automatic. "There are a lot of kids out there who don't have a role model. And without any guidance it is easy to go in the wrong direction." Grant also added that "anyone can be a mentor and you will get as much or more out of the experience than you will ever believe possible."
When the same question was asked of LaBruce, his answer mirrored his Big's. "A mentor will guide you to do the right things and help you stay focused." Staying focused is exactly what LaBruce has done.
After being on the honor roll since the fourth grade, years of mentoring and hard work have paid off. This fall, LaBruce will be heading to Midlands Tech College on a Life Scholarship that he earned after graduating in the top 30% of his class and maintaining above a 3.0 GPA. LaBruce said that he wants to major in Graphic Design with a goal of becoming an architect.
Nine years in the making, this match has been a success every step of the way. Bigs with the dedication like Grant, and Littles with the drive like LaBruce make our job easy and match graduation a celebratory occasion.