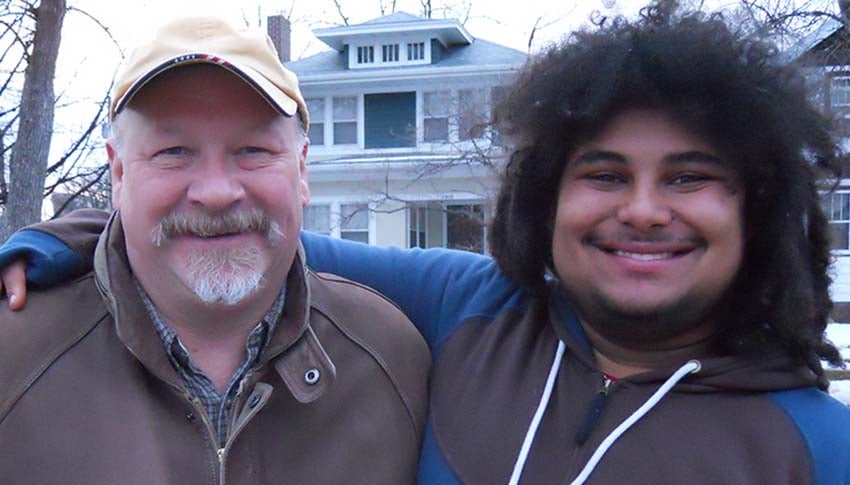 Big Brother Mark and Little Brother Sammy
Raising three sons by yourself is no easy task. After Big Brother Mark's sons soon grew up, he found himself wanting to give back and do activities that he did with his sons when they were younger. Mark wasn't scared or concerned about the any potential difficulties, family background or behaviors. He simply wanted to help a child who desperately needed a mentor. Big Brother Mark was matched in 2008 with his Little Brother, Sammy.
Sammy had many challenges growing up. Sammy's father was deported from the U.S. when Sammy was just one year old. He also has severe ADHD, and was often bullied and made fun of. Little Brother Sammy's mom knew that he needed the support of someone to go out and do male-oriented activities that she simply could not do with him. When the match started, the only male figure in Little Brother's Sammy's life was his grandfather, who was wheelchair bound and was limited in the activities that they could do together.
Sammy and his mother have moved four times since the match started, which Big Brother Mark states, "I feel as though I am the only stable relationship he has." As their time progressed, they began to try more new things, have more meaningful conversations and spend more time together.
Mark has introduced his Little Brother to his family and has made Sammy and his mom feel like they are part of their big family. "Mark has opened up his home to me and my son and made us feel like we have more family than just each other," said Sammy's mother.
Big Brother Mark understands that there is a fine line of being a father figure to his Little Brother, but also someone he feels is on his side. "Mark has, without a doubt, been a father figure in my life and I know I can talk to him about anything a son would talk to his dad about, but also can talk to him as a friend and best friend. I think it's the best of both worlds," Little Brother Sammy stated.
When they first met, Little Brother Sammy had few interests or hobbies. That has now changed thanks to his Big Brother. They have enjoyed going bowling, riding go-carts, going to the movies, and even tried hunting and fishing. Something that Little Brother Sammy has grown a great interest in is old world war items like World War II memorabilia. Another activity that Little Brother Sammy really enjoys is learning how to fix things around the house, yard, and even doing some basic car maintenance such as changing the engine oil. Through these activities, Little Brother Sammy is now striving to graduate high school and hopes to go into the Army and then one day become an attorney. Little Brother Sammy is excited to say "I was a follower my whole life and now I am a proud to say I am a leader!"