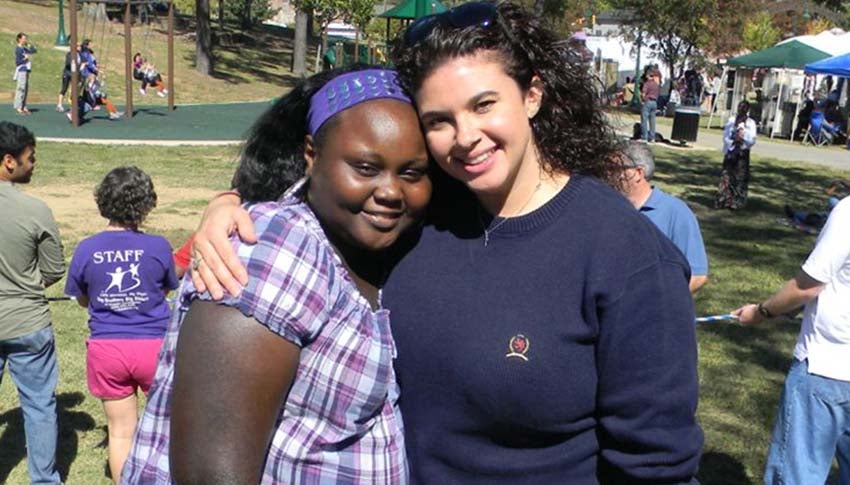 Big Sister Brianna and Little Sister Hope
Little Sister Hope's mom knew that her daughter needed guidance to ensure Hope would stay focused on school and have a more positive outlook on life. Hope was matched with Big Sister Brianna in 2012. Brianna wanted to find a way to give back to her community and have a direct impact on an individual's life, instead of just donating money for a cause. Since their match started, Big Sister Brianna has worked to ensure her Little Sister that they will be keeping their relationship for a long time.
As a 13-year old, Hope had trouble understanding how to appropriately spend and save money. Given Little Sister Hope's background, Big Sister Brianna has put an emphasis on doing "real world" outings in addition to the fun outings. Brianna mentioned that she has talked to Hope about the importance of saving money, and they have gone to the bank, written checks and balanced a check book. They have even renewed tags at the local courthouse, and discussed car insurance and basic car maintenance. "I want to show her that there is a much larger world than what she currently knows," stated Big Sister Brianna and feels that these basic activities doing just that. To keep things fun, they like to get their nails done, grab dinner, then watch a movie. Big Sister Brianna and Little Sister Hope also enjoy bowling and riding go-carts.
Little Sister Hope has certainly grown, thanks to the support of her Big Sister. She has come to know the importance of forming positive habits as she works hard to achieve every goal that she has. One of their favorite outings involved going to an Auburn University football game. This was a huge opportunity for Big Sister Brianna to showcase what a university has to offer to her Little Sister. They went a little early to take a tour of the campus, talk about scholarships, and discuss how if she works hard and stays in school, she can go to any college she wants. Little Sister Hope has realized that she has control over her own future and all the successes to come.