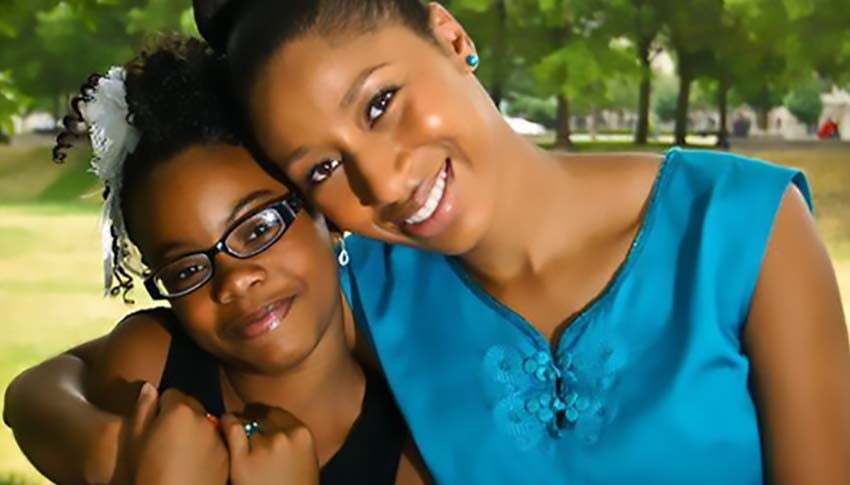 Big Sister Esther and Little Sister Donyae
After graduating the program with her first Little, Big Sister Esther was looking to continue being a Big Sister and help another child. Esther was matched with Little Sister Donyae, who was a sweet, shy and polite eight-year-old. Little Sister Donyae's mom saw a need for her daughter to be influenced by someone in the community and give her extra support as she grows up. She also wanted someone who would enjoy being a kid, support Donyae with her interests and talents, and above all, someone who would serve as a trusted friend. From the beginning of their relationship, Big Sister Esther was there for her Little Sister. The two also shared interests in reading, discount shopping, fashion and cheerleading. They reminded each other of the importance of fun, laughter and staying young.
Little Sister Donyae has a passion for the arts and her Big Sister has encouraged and supported her by attending many school plays, concerts and dances. This encouragement has led Little Sister Donyae to find the confidence to do many new things, such as try out for cheerleading and making the squad. Another great example of how Esther has encouraged her Little Sister was when she got glasses and refused to wear them after she got teased by her peers. Esther heard about this and on their next outing, she asked to see Donyae's glasses. She immediately complimented on how cute they were and how it was a shame that she didn't want to wear them. Her little sister then got the confidence to start wearing them, so Esther made it a point to compliment her Little on her new glasses in every outing.
As Esther and Donyae nurtured their relationship, car rides became a big part of that growth. "Our quiet car rides on the way to a destination with her sitting in the back have turned into true conversations "Big and Little" sisters have. We talk about friends, family, the ups and downs of life, being friends with the right people, death, wondering why some people say they love us, but never show it, and wondering why we can't take the pain away and make everything better for those that love us and show us love," stated Big Sister Esther. She is very proud of her Little Sister and the young lady she is becoming.
Donyae went through a few struggles early on, but her mom has been so grateful for Big Sister Esther in being there for Donyae. Donyae's mother shared, "Esther has been very supportive and understanding when trying to help Donyae with her goals and struggles as a teenager." Big Sister Esther's constant support has certainly made an impact in Little Sister Donyae's outlook in life and finding the strength to keep moving forward, no matter the struggles.