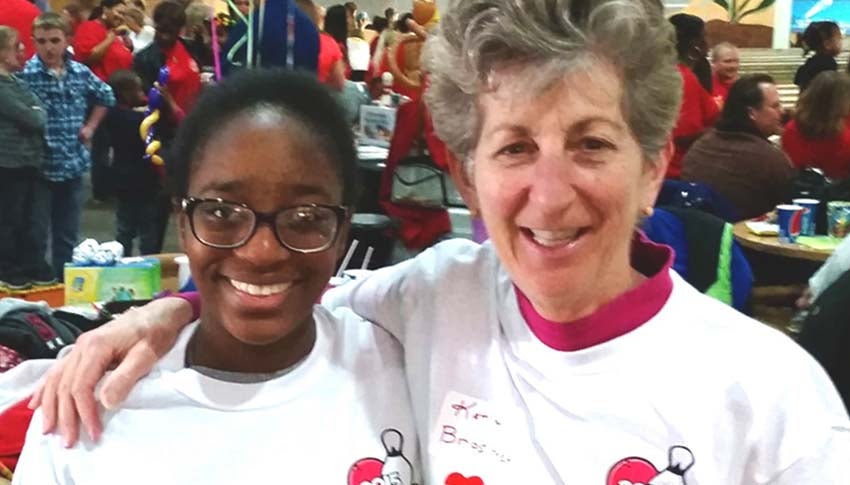 Big Sister Katie and Little Sister Daijah
When her second match came to an end, Katie wasn't sure she wanted to sign up to mentor another Little. This would be her third Little Sister. She had been a Big Sister for more than 15 years already, and she'd given so much of herself and her time to her first two Little Sisters. Her last match, which lasted 11 years, had been especially challenging. Despite how long her matches had lasted, she questioned whether she even knew how to be a successful mentor.
But a void was left after that second match ended, and Katie realized she missed mentoring. In 2002, Daijah became Katie's third Little Sister.
"She has gone from a quiet little girl with the cutest giggle, to a confident, articulate, very reflective young woman with the same cute giggle," Big Sister Katie says.
Daijah's mother signed her daughter up for the program when she was just five, and now Daijah and Katie have been matched for over 12 years. When they were first matched, they baked cookies and went to the library. In her teen years, Daijah learned to drive with Katie's help, and Katie steered her towards attending college.
Daijah's mom says she knows Katie's influence has been key to her daughter's successful navigation of her teen years. "We know as a young teenager, there's peer pressure, and boys, and teenage pregnancy. I did not want Daijah to take that route that I took – becoming a teenage mom," Daijah's mom said. "Having someone so extremely positive in Daijah's life made a major impact. Daijah has maintained honor roll the whole time in private school, while maintaining a job and participating in sports."
"Patience, perseverance, and consistency are all that is needed to be a successful Big."

-Big Sister Katie
Little Sister Daijah has also developed a strong social consciousness. "She has very definite opinions about the rights and wrongs in our community, country and the world, and I have enjoyed our talks and discussion about these issues," Big Sister Katie says. Little Sister Daijah credits her Big Sister for her confidence in her decisions and her willingness to speak her mind, especially on social justice issues. "I am passionate about doing my part to make the world a better place, and I know that Katie helped inspire this in me," she says.
When Daijah was nearing the end of high school, her mother faced one of the hardest decisions of her life. She was offered a job in North Carolina. Could she leave her daughter in Ohio to finish high school? Should she pull her out of the private school that Daijah had painstakingly chosen, where she was excelling?
"The decision became easy with Katie's support," Daijah's mom says, "because I knew Katie would see Daijah through until the last day of high school, with hopes of watching her walk into college on her first day."
Big Sister Katie helped her Little Sister with her college applications and financial aid, and today, Daijah is a student at North Carolina A&T, where she plays the trumpet in the marching band.
After being involved with Big Brothers Big Sisters for more than 30 years, Big Sister Katie says being a mentor has made her a better person. She no longer doubts that she has what it takes to be a successful mentor. "Patience, perseverance, and consistency are all that is needed to be a successful Big."