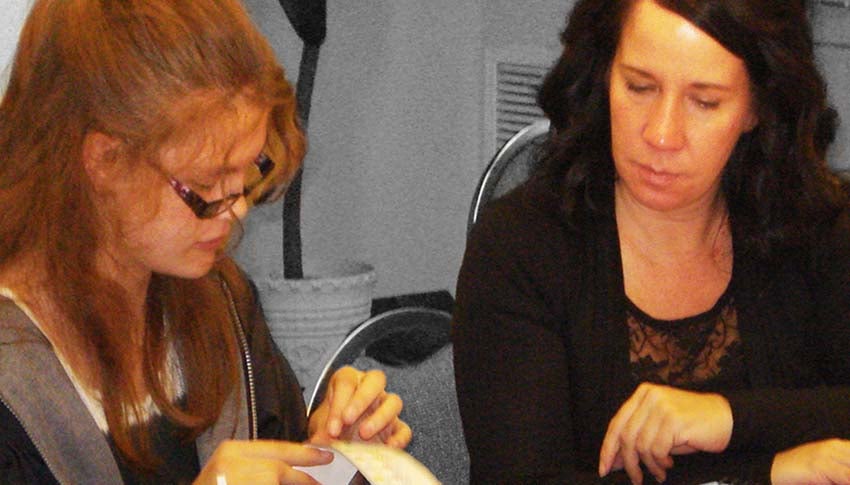 Big Sister Cinnamon and Little Sister Heather
When Little Sister Heather's older siblings moved away, she felt abandoned. "She was feeling sad, angry, and having behavior outbursts at school to the point that she was losing friends and being made fun of," her parents say.
A child with a developmental disability and a speech impairment, Heather needed an understanding, patient support network. "Heather was missing out on growth outside our circle," Heather's mom says. "We felt she needed more than just her dad and I. She needed to feel loved and important outside our house."
Heather's parents enrolled her at Big Brothers Big Sisters of Central Oregon, and more than four years ago, she was matched with her Big Sister, Cinnamon. The company Cinnamon works for, Umpqua Bank, supports the community by allowing employees paid time off each week to do volunteer work. Some employees limit their volunteer work to work hours, but Cinnamon sees her Little Sister on Heather's schedule.
"The time I spend with Heather gives her parents a rest from the constant caring and needs that come with having a handicapped child, and it gives me a rest from my everyday responsibilities in a busy, noisy world," Cinnamon says.
Spending time with Big Sister Cinnamon has helped Little Sister Heather work on her self-esteem, emotional resilience, and life skills. People sometimes have a hard time understanding her because of her speech impairment, but she is better at dealing with that now, too, her parents say. "She has so much more confidence speaking to people and doesn't get angry if they don't understand her the first time," Heather's parents say. "We feel these gains are a direct result of Cinnamon's involvement with Heather."
" It is a privilege and an honor for me to be a part of Heather's life and to watch her grow and change. It is also a humbling experience for me to understand on a small level what it means to care for a child with Heather's unique needs." – Big Sister Cinnamon
Heather has overcome many of the challenges she faced that led her parents to enroll her as a Little Sister four years ago. Her self-esteem has improved, and she now exhibits model behavior at school. "She has many friends with and without disabilities, and is a healthy, happy, beautiful young lady," her parents say.
In the time Little Sister Heather and Big Sister Cinnamon have been matched, they have gone horseback riding, visited a petting zoo, painted ceramics, and seen a live concert in the park. One of their favorite activities to do together is spend time in the kitchen following recipes and preparing meals. Cinnamon wanted to make sure Heather was learning life skills to ensure her independence, so she began helping Heather practice cooking skills. "Cinnamon is my friend and I love her," Heather says. "We make soup together and have dinner together."
Being creative, kind and patient help Cinnamon as a mentor. Cinnamon says she finds ways to work through Heather's challenges and that ultimately, she benefits from having a Little Sister as much as Heather benefits from having a Big.
"Heather's parents sought out Big Brothers Big Sisters because they wanted Heather to matter to someone else besides just them," she says, "and I volunteered for Big Brothers Big Sisters because I needed to do something that mattered to someone."