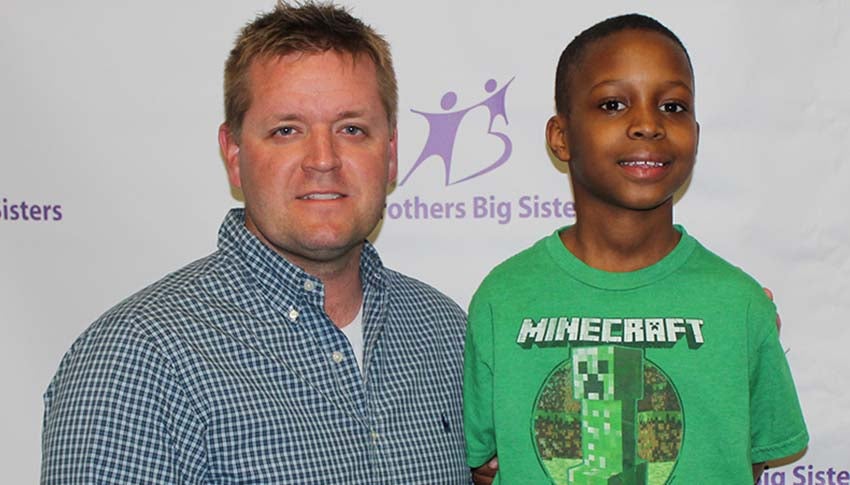 Big Brother Wes and Little Brother Tra
Little Brother Tra's mom needed something to change. She was an unemployed single parent with three kids. She had only her GED. She and her kids lived in public housing. She wondered whether signing her children up for Big Brothers Big Sisters would make any difference. She figured it was worth trying, and through Heart of Illinois BBBS, her son Tra was matched with Big Brother Wes.
Little Brother Tra was nervous. Even at 5, he had been wishing for someone to come into his life to spend time with him, someone to help him accomplish his goals. Would this stranger be that person? His mother had the same worries. She wondered whether this match would be long-term or whether her son's new Big Brother would fade out of her son's life.
"We immediately interacted like we'd already known each other," Big Brother Wes says. "Just as I would interact with my boys." As a father of two, he knew what kinds of things young boys like to do, and he made an effort to do simple, fun activities with Tra one-on-one and to include him occasionally in activities he did with his wife and boys. They spent time together hiking, biking, going to parks, having water fights, going sledding, having snowball fights, playing hide-and-seek, playing board games, attending BBBS events, going to dinner, and, Wes says, "comparing epic burps."
" I also encourage parents to sign their children up so that they could have the best Big Brother or Big Sister, like me, that will make life make a little more sense and feel more love with more people raising them."
– Little Brother Tra
Doing these activities, ranging from skill-building to pure silliness, has bonded Wes and Tra together over the five years they have been matched. As their relationship has grown and evolved, their conversations have too. Recently, they began discussing college and the expectations for grades and studying, and the potential for scholarships. "Tra already understands how things he does today lay the foundation for his future," Wes says.
With Tra matched with a Big Brother, and as she felt comfortable with their friendship, Tra's mom felt newly confident herself. "Now that I was at ease, I began to work on me," she says. "I applied and started my associate's degree at ICC." When Big Brother Wes was with Tra, Tra's mom used that window of time to study.
In the time that Tra has been matched with Big Brother Wes, Tra's mom has not just started college – she has earned her bachelor's degree and begun pursuing her master's in business. "We couldn't have done this without Big Brothers Big Sisters giving me and my family a chance," she says.
Little Brother Tra has also been meeting his goals. He is on the honor roll, and he was elected class president. He was even selected to give a speech to welcome the Governor of Illinois when he visited Tra's elementary school. Big Brothers Big Sisters "has been a starting point in my life that I needed, and at the right time," Tra says.