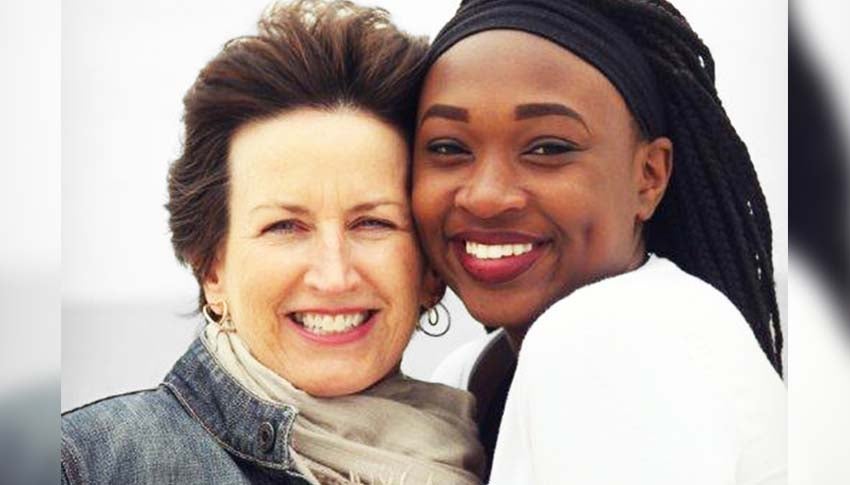 Big Sister Laurie and Little Sister Dasha
Little Sister Dasha admits that for a long time, she saw school "as a joke." She was not convinced she should spend time studying. She associated school with being bullied, and her grades suffered because she was not taking it seriously. Big Sister Laurie had to work hard to make sure Dasha understands why school is important and she has shown her Little Sister that she can excel.
"School has been a challenge for Dasha, so we have used our time together to problem-solve regarding school issues," Big Sister Laurie says. "I was able to get Dasha into a tutoring program through Communities in Schools to help with her studies."
Dasha says that Big Sister Laurie helped her see that her grades would impact her future. Dasha and Laurie visited a college campus together, and they have explored some possible career paths. Little Sister Dasha says she wants to be a traveling nurse or a flight attendant.
For over a decade, Little Sister Dasha and Big Sister Laurie have been matched through Big Brothers Big Sisters of Northeast Florida. Dasha's aunt, her guardian, decided to enroll Dasha soon after she assumed custody of Dasha, who was just 6. "I was unsure as to how I could improve her situation and life," her aunt says. "I was not sure how to help her cope with the loss of having a mother to care for her. I found out about Big Brothers Big Sisters and reached out."
I'm excited to see what the future holds for this special young woman, and I know I want to be part of that promising future.
– Big Sister Laurie
Big Sister Laurie has seen Dasha through some big childhood moments. She was there when Dasha was struggling with school. She helped her deal with being bullied. She took her to the DMV to pick up her driver's handbook and helped her study for her permit. Then she sat patiently in the passenger seat and helped Dasha learn to drive.
These big moments and everyday situations gave Big Sister Laurie and Little Sister Dasha the chance to learn something new about the world and about one another. When Laurie took Dasha kayaking for the first time, she turned it into a lesson about wind direction and tidal changes. Bike rides when Dasha was young were also lessons about telling right from left.
When Little Sister Dasha was 15, her Big Sister Laurie took her to a local restaurant. She helped Dasha fill out a job application and encouraged her to introduce herself to the manager when she dropped it off. "By the time we got home, she had a call to inform her that she was hired," Big Sister Laurie says. For over a year now, Dasha has been working as a hostess and a food runner, and is learning many valuable skills. "We use her work experiences to discuss how to interact with customers and fellow workers, and how to use these experiences to determine the pros and cons of future career choices," Big Sister Laurie says.
By making sure Little Sister Dasha learns a lot in little moments and is supported through big moments, Big Sister Laurie has had a big impact. "As a guardian of a child, I cannot emphasize enough how helpful it has been to show my niece that there are many people in the world who create your family," Dasha's aunt says. "Laurie has definitely become one of ours."