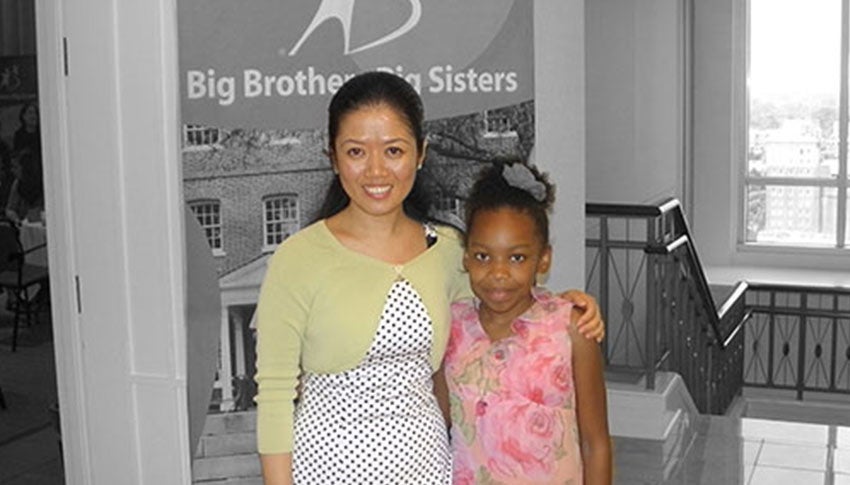 Big Sister Angie and Little Sister Taniah
Taniah's single mom was going to school, working full time, and raising her three kids. She knew her children needed more adult role models, so she enrolled all three as Littles at BBBS Services, Inc. in North Carolina.
Big Sister Angie was dealing with a sort of homesickness. She felt like something was missing in her life because she wasn't giving back. "People can usually fulfill that need by giving to their family members," she says. "However, as a first-generation immigrant and with the rest of my family in China, I didn't have that luxury." She tried other volunteer opportunities in her community, but nothing allowed her to genuinely connect with the people she was helping.
When Angie participated in a community service project through her job, she met Taniah. They felt instantly connected. They became Little Sister Taniah and Big Sister Angie after that, and have been matched for nearly four years now. Taniah says Angie is the perfect Big Sister for her. "I love that my Big is unique and can always make me laugh," Taniah says. "I am pretty sure she can stand in a crowd of 100,000 people and I'll know exactly who and where she is because of how unique she is."
"I admire Angie because she takes the time out of her day to help with my homework and introduce me to new things."
– Little Sister Taniah
Big Sister Angie and Little Sister Taniah have played countless games, run in the 5K Color Run, put on fashion shows, and danced to every kind of music. Angie also makes sure Taniah has the opportunity to explore what she might want to study in college, and what kind of career she might want to have as an adult.
Angie has also allowed Taniah to visit her job and see what she does every day. "Opportunities like that show Taniah that she can be successful," Taniah's mom says. Not only does Angie sometimes tutor Taniah, she also communicates with Taniah's teachers, attends Taniah's school concerts, and teaches her about where her family lives in China. Taniah is excited to learn about the culture of where Angie is from. "Angie has introduced me to her culture by teaching me how to speak Mandarin," Taniah says.
Through the years, Taniah has struggled with self-confidence and academics, especially math. Big Sister Angie has helped her work on both. "One thing that I admire is Angie's devotion to Taniah's education," Taniah's mom says. With Taniah's end-of-grade exam in math coming up, Angie and Taniah took a break from the fun activities they enjoy doing together to focus on math. Angie worried because Taniah was having such a hard time mastering the material. "Fortunately, neither of us gave up," she says. "The few weeks leading to the exam, we didn't play at all and spent all our time working on prep questions. The hard work paid off. Taniah got a B! I know it's not an A, but for us it felt like A+!"