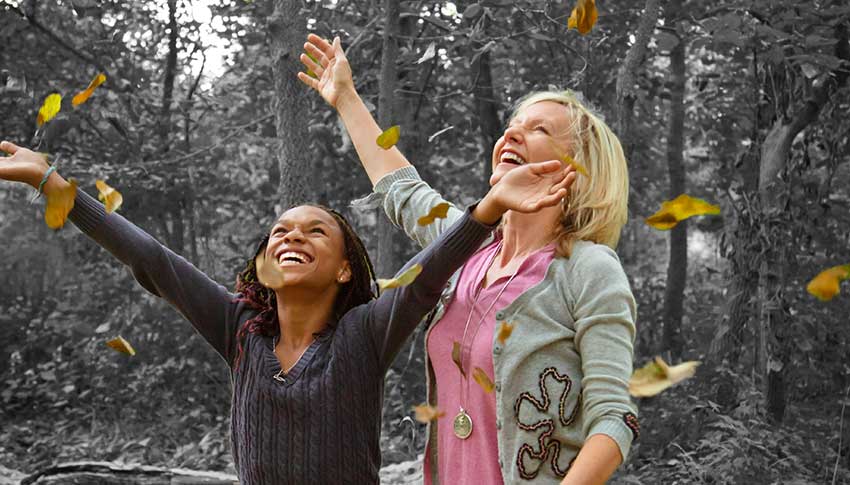 Big Sister Michelle and Little Sister Parasia
When Little Sister Parasia was 7, she was standing in her family's living room when she was narrowly missed by something coming through the wall – a stray bullet. "She still talks about how scared she was that day," Big Sister Michelle says.
A member of Parasia's immediate family was incarcerated for gang activity, and there was no way for her life to avoid being touched by violence. Little Sister Parasia's mom realized the odds were against her daughter.
She knew Parasia was seeing some scary things in her neighborhood and that she would need help making sure her daughter beat the odds. She enrolled Parasia as a Little Sister with Big Brothers Big Sisters of the Midlands seven years ago. "As a young single mother of four children, it was difficult for me to have one-on-one time with each of my children," she says.
At the same time, Little Sister Parasia's mom was realizing she needed a Big for her daughter, Big Sister Michelle was realizing she needed a way to connect to her community and give back. She had served on committees and hosted fundraisers, but something was still missing. "My work didn't feel personal," she says. "It felt disconnected from the people and causes I most wanted to help."
"Every time someone asks me who she is, I say with confidence and pride, 'That's my sister.'"

– Little Sister Parasia
To connect with Parasia, Michelle has taken her to do fun things, like going horseback riding, seeing the "Bodies" exhibit at an Omaha museum, and going out for ice cream on a cold, snowy day, and also to do service projects, like working in food pantries. "We build a friendship and love forged on fun and service that carried us through the difficult times," Michelle says.
About four years ago, Parasia's family was in the process of buying a Habitat for Humanity home. When Parasia's family was away, the house they were renting caught on fire. They lost everything, including their family dog.
Michelle stepped up. "She did so much for us when our house caught fire and fell down," Parasia says.
For helping Parasia's family and for her service as a Habitat volunteer, Habitat for Humanity of Omaha named her their 2015 Power Woman of the Year. "Michelle was the ringleader in helping coordinate all of the many donations to help my family start over," Parasia's mom says.
Through those tough times after the fire and during Parasia's transition to adolescence, Big Sister Michelle stayed committed to their match. "She has, at times, like any teenager, been moody, unresponsive, and stubborn. She has had failing grades and has gotten into trouble at school." To get through those times, Michelle says she worked as a team with Parasia's mom to support and guide Parasia.
Now, Little Sister Parasia is a thriving high school student. "Her grades are B's and above, she has a good relationship with her teachers, and she truly understands the importance of her education and of staying out of trouble," Michelle says. "College is her goal."