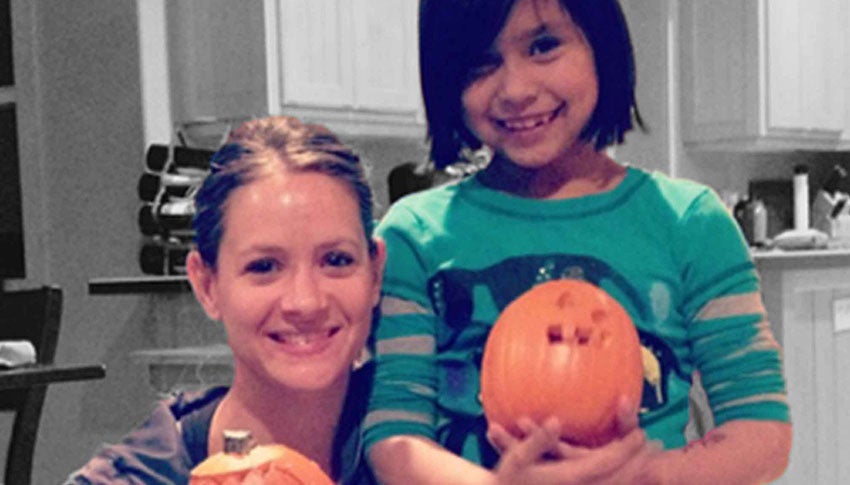 Big Sister Katy and Little Sister Trina
Little Sister Trina and her two brothers were adopted when Trina was 3. She had been in and out of foster care for her whole life. She was quiet and withdrawn.
Three years after her adoption, Trina's mom brought her to Big Brothers Big Sisters of Central Oregon so Trina could be matched with a Big Sister.
"We were unsure of getting a Big for her, as we didn't know if they would stay committed to Trina," her mom says. "Knowing her pain of being tossed back and forth between birth mom and stranger, she needed a stable and loving Big."
Big Sister Katy was matched with Little Sister Trina, who was 6 at the time. "The first time I saw Katy was at Baskin-Robbins 31 Flavors," Trina says. "I'm pretty sure I got chocolate chip mint."
"Being Trina's Big Sister has been a privilege. I hope to encourage Trina to do good things and push her to do better with the opportunities in her life. I know she does the same for me, without even knowing it."

– Big Sister Katy
Katy had considered becoming a Big for a long time before she officially volunteered. She served on the Board of BBBS of Central Oregon and thought about what it would be like to mentor a child herself. She held off because she was nervous. She asked herself dozens of anxious questions. "Was I good enough? How could I change a life? What could I offer a Little Sister? Did I have the time? Would she like me?"
When she met Trina for the first time at that ice cream shop, though, those questions disappeared. "I realized I didn't need the answers to all those questions," Katy says. "Rather, I made a commitment to focus my energy on helping someone else in whatever way I could, to be present for her."
In the past four years, Little Sister Trina and Big Sister Katy have spent countless hours baking cookies, doing crafts, walking Katy's dog, reading, and talking. Being able to open up to Katy has helped Trina gain self-confidence. "Trina was shy and reserved over the first part of our match, very different from her outgoing, spunky self today," Katy says. "Over time I've seen her open up, talk to strangers, order her own dinner at a restaurant, try new activities she wouldn't [try] before, even begin to like school more."
When Little Sister Trina talks about Katy, it's clear that she values her Big Sister's consistency as much as her foster mom does. "Katy is so amazing because she doesn't ever give up on being my Big Sister even though she is so busy and works so much," she says. "I want her to be my Big Sister as long as I can have her. As long as I know her."