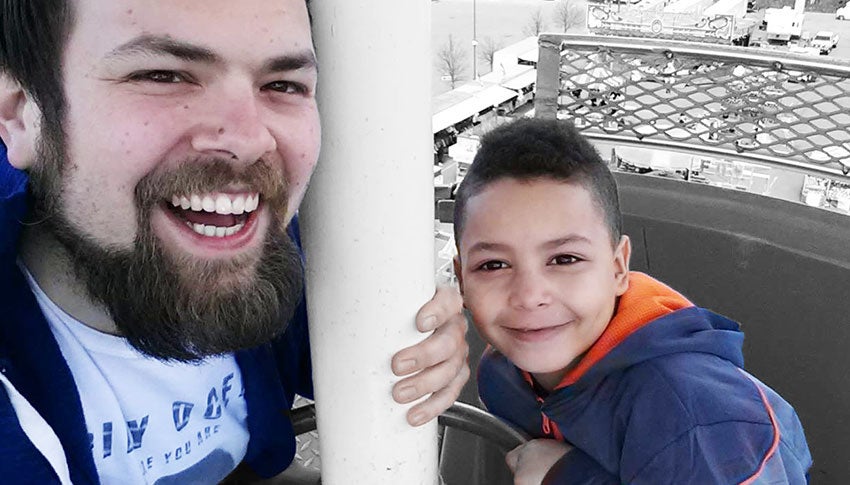 Big Brother Adam and Little Brother C.J.
When Little Brother C.J.'s grandmother first took custody of C.J. and his younger sister, she struggled with C.J.'s attitude. She knew he needed a positive male role model, so she enrolled him as a Little Brother through Big Brothers Big Sisters of the Ocean State in Rhode Island.
It wasn't long before C.J. was matched with Big Brother Adam. Hanging out with C.J. became one of Adam's favorite things to do. The two love playing video games and eating "sticky chicken" together.
"Adam is really fun to be around and funny," C.J. says. "Adam calls me if I do not feel well, and he really cares about me."
"He has taught me more about myself than I could have ever imagined."

– Big Brother Adam
But C.J.'s grandmother didn't turn to BBBS of the Ocean State just for C.J. to have someone to have fun with. She was looking for a "positive male role model," and Adam is definitely that.
He models caring for others and asking about their feelings, and he encourages C.J. to do the same. When they are out at dinner, Adam often suggests C.J. choose a treat for his sister. After two years of being matched, 10-year-old C.J. has matured and changed.
"The biggest accomplishment I see is in how C.J. treats others, especially me and his sister," C.J.'s grandmother says. "He used to have very little patience and thought mostly of himself. Now, he's always thinking of me and his sisters."
Having fun with C.J. and teaching him lessons, is a big part of Adam's life. His passion, though, is movies. He is the director/founder for the 401 Film Fest, through which he has raised more than $3,000 for Big Brothers Big Sisters of Ocean State. But he continues to point to his match with C.J. being the most important thing to him. "Mentoring C.J. has been the most positive, fulfilling thing I have ever done," he says.
C.J.'s grandmother says that now, she couldn't be happier with how C.J. is growing up. "He has matured so much, and I know Adam made this happen."