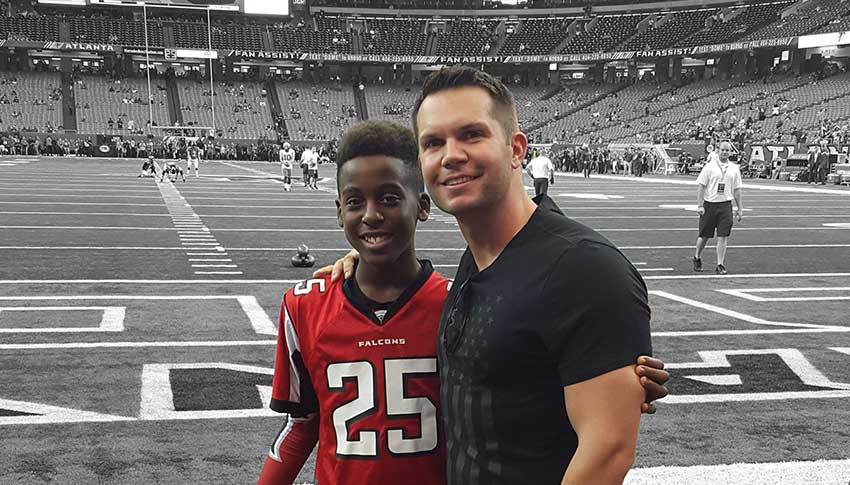 Big Brother Michael and Little Brother Jaylen
Little Brother Jaylen was getting in trouble at school and earning low grades, and his mother was struggling to raise him and his two siblings.
"I was single and wasn't working. His father was not around," she says. "There is a lot of crime, and children weren't graduating. I wanted more for my children."
Hoping for some relief, she enrolled both of her sons as Little Brothers through Big Brothers Big Sisters of Metro Atlanta, and Jaylen was matched with Big Brother Michael.
Things started to change for Jaylen at school and at home. "His entire morale has gone up," his mom says.
"I admire EVERYTHING about Mike! I really want to be just like him when I grow up."

– Little Brother Jaylen
When Jaylen's school had an event called "Donuts with Dad," he invited Michael. "Going to the school that day and hearing him tell everyone how we were 'brothers' and watching them try to make sense of it was literally the sweetest, most surreal and proudest moment of my life," Michael says.
Now, Jaylen tries to follow the rules at school. He works hard at his schoolwork. He even won a school-wide spelling bee. But Little Brother Jaylen says the biggest change has been in how he interacts with others. "Mike has taught me a lot," Jaylen says. "He has taught me how to respect people and how to treat other people how they treat me."
A couple of years into their match, Michael and Jaylen had an important conversation. Jaylen's brother's Big Brother had left the program, and he was now without a Big. Michael talked to Big Brothers Big Sisters and informally took on mentoring Jaylen's brother, too. Then Jaylen's twin sister needed a Big Sister. So, Michael introduced Janiyah to his girlfriend, who became Janiyah's Big Sister.
Even though there are now three siblings on their outings sometimes, Michael is conscious of making sure he and Jaylen still have one-on-one time together. "I cannot wait to watch the three of them graduate high school, move on to the next chapter, and to remain part of their lives for as long as I live," Michael says. "I look forward to the day they become 'Bigs' and ask me for advice."