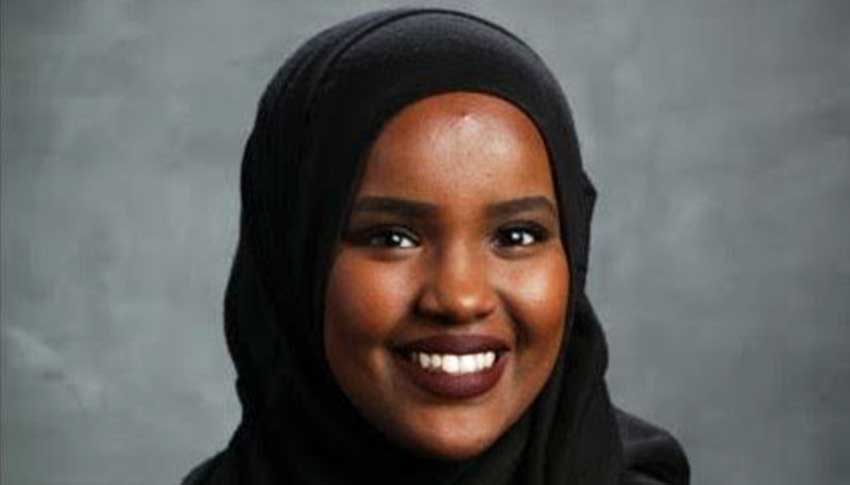 Little Sister and Rising Star Student Asma
This summer, Minor League Baseball and Esurance named Little Sister Asma an "Esurance Rising Star Student" and awarded her a $5,000 scholarship for college expenses. She accepted the award during an on-field ceremony before the Salt Lake Bees game, her hometown Minor League Baseball team, on May 12, but her journey to becoming a scholarship winner began long before she even stepped foot in a classroom.
Approximately 18 years ago, Asma's mother fled Somalia, making her way to the United States, toting three toddlers and pregnant with twins Asma and Anisa. She had to leave her husband behind in Somalia. Two years later, they would all be reunited in America.
"You have little kids, no husband, and you don't know who to speak to," Asma's mom says. "It was very hard."
Growing up, Asma faced challenges of her own. She always excelled at school, but dealt with bullies who teased her for her skin color, religion, ethnicity, and language skills. A teacher saw how much Asma and her twin sister were being picked on, and she referred both girls to Big Brothers Big Sisters.
The twins' first matches were with Big Sisters who were also twins themselves. They had other School-Based Big Sisters throughout elementary school and then transitioned to the Community-Based program in middle school. Asma says her involvement with Big Brothers Big Sisters helped her accept herself.
"Each Big Sister allowed me to embrace my own identity," Asma says. "Just having the presence of someone who cared about me outside my family was so important."
Now, with a scholarship in hand, Asma is headed to college this fall to study neuroscience. This summer, she's participating in an internship program for surgical technology. She wakes up when it's still dark out in Salt Lake City and heads to the hospital to start her day. The job of a surgical technologist is to label the medications so the patient receives the right one during surgery, sanitize the surgical tools and hand instruments to the surgeon.
"Just being in the operating room makes me happy, it's amazing. And I'm getting a feel of how being a surgeon is," Asma says.
Seeing how Big Brothers Big Sisters affected her life has led Asma to want to support other girls in the same way. She won the Miss Africa Utah scholarship pageant in her senior year of high school, and while she could have used the scholarship money for tuition, she chose instead to use it to create a curriculum for girls.
"It's a six- to eight-week curriculum to encourage minority females to be themselves, unapologetically," she says. "I want to teach these girls that they can be themselves and they are beautiful."
The curriculum has been her side project throughout the summer and will continue into her freshman year in college. Part of her motivation to keep her grades up and excel is her mom, who she describes as her best friend. "Part of my way of paying her back for everything she did for us, for bringing us here, is obtaining that education and being successful, so that she knows her struggle and coming to the U.S. was worth it."
Seeing her children succeed was once only a dream for Asma's mom. Now, it is a reality as she sees her daughter start college.
To meet our other 12 2017 Esurance Rising Star Students, click here.