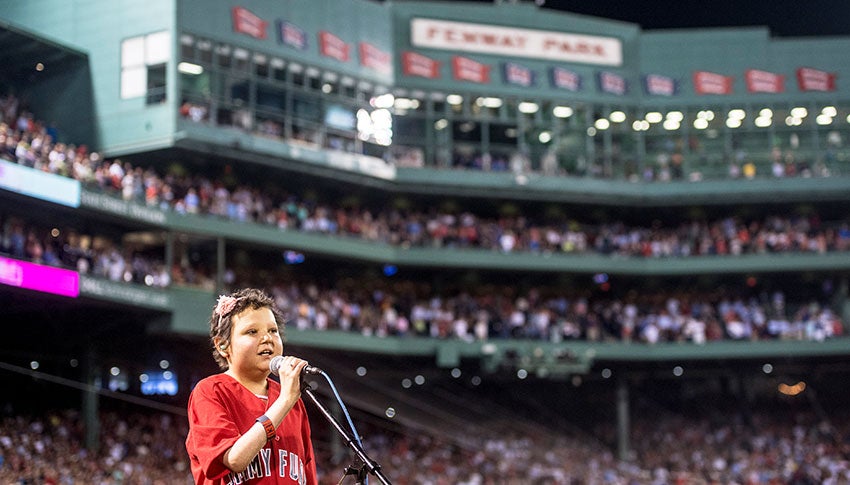 Little Sister Hannah
Little Sister Hannah has been practicing singing "God Bless America" for a month. Last night, she sang the song in front of 36,000 fans at Boston's Fenway Park.
One of her dreams is to be a professional performer, and after hearing her own song played on the radio and singing at Fenway, she is well on her way. But her bigger dream is to use her career to fund a foundation to help children like her – children who have cancer.
"Kids who have cancer, it's really tough for them and their families," Hannah says. "I want to help them, financially and emotionally, and make the experience better, and fund research."
Little Sister Hannah was first diagnosed with a form of leukemia when she was 2 years old. She's been in remission and relapsed, and a year ago, she was diagnosed with another form of leukemia, which she contracted from her bone marrow donor. She has spent most of her childhood in the hospital, but even now at 14, she is still positive, giggly, and warm.
"It's not easy for her, it hasn't been an easy road," Hannah's mom says. "And she does get really down, but then she bounces up, and she is just amazing, her strength, and her will are just amazing."
"That's my drive. I'm doing it for other kids. An I feel like I'm their voice, so I feel like I need to be extra confident."

– Little Sister Hannah
Three years ago, Hannah's mom enrolled her as a Little Sister through Big Brothers Big Sisters of the Ocean State. Hannah had been getting bullied and was struggling with her self-confidence. She was matched with Big Sister Brianna, and the two say they are perfectly matched.
Big Sister Brianna has visited Hannah in the hospital countless times, and now that Big Sister Brianna has studied to become a nurse, Hannah says they can talk about medical stuff. "Their relationship is so strong," Hannah's mom says.
When BBBS of the Ocean State was looking for a match to feature in a promotional video for ALEX AND ANI's new CHARITY BY DESIGN bangle set that would benefit Big Brothers Big Sisters, called the Big and Little Dipper Set of Two, Hannah was chosen out of more than 500 kids to represent BBBS of the Ocean State. She had to talk her Big Sister into it.
"She did it just for me. She doesn't really like to be the center of attention or anything," Hannah says. "I just told her some tips, like how to be confident on camera."
Hannah was a pro, and they shot the video in one take.
She made a big impression on the ALEX AND ANI team. They helped spread the #HeySuperstar hashtag on social media and encouraged their followers to send messages of support and love to Hannah. Tens of thousands of likes and retweets have followed, and she says each one makes her smile. ALEX AND ANI also gave her a tour of their Cranston, Rhode Island, headquarters, have sent her countless care packages in the hospital, and organized a blood drive in her honor. "They have done so much for me," Hannah says.
Hannah is constantly thinking of ways to do more for other kids like herself. Every September since she got her first bone marrow transplant at age 6, she has tried to raise awareness at her school for Childhood Cancer Awareness Month. "She makes cupcakes for her whole school with the childhood cancer awareness symbol on them, and we order stickers and pins for the school to wear," Hannah's mom says. Hannah gives a speech about being grateful to be in school and about appreciating health. She gives facts about childhood cancer and is open to questions and dialogue.
Singing at Fenway Park, she looked confident and proud. That's part of her personal mission, though, to inspire other kids. "I want to show them that you really can do anything, and don't give up, and just follow your dreams."
Hannah's performance of "God Bless America" at Fenway Park: