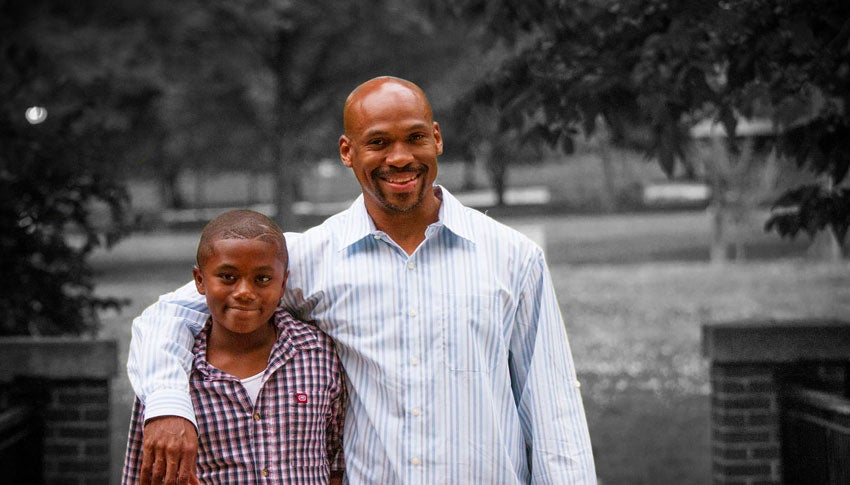 Big Brother Cynric and Little Brother Kameron
Big Brother Cynric often thought about how his life would be different if he'd had a mentor, or if he could go back in time to mentor himself. Before becoming a Big, he thought mentoring was for people who had it all figured out. "I always felt like being a mentor was a thing I should do as a man and as someone who cared about their community," he says. "But for a long time I didn't think I was the right guy."
The more he thought about it, he decided that maybe his mistakes could make him an even better mentor.  "It was those mistakes that pushed me to sign up," he says.
Cynric enrolled as a Big, and he was soon matched with Little Brother Kameron. Their first meeting was over ice cream at Cold Stone Creamery.
"I was nervous at first," Kameron says, thinking back to when he was seven.
"He treats me with so much respect and he acts like he is truly my real brother."

– Little Brother Kameron
Growing up, Kameron was having trouble making connections with people. At school, he was bullied and left out of activities. At home, his single mom didn't have time to spend with him one-on-one time because he had so many brothers.
Big Brother Cynric remembers getting one-word answers to all his questions in the early days, but after being matched for seven years, he now says that, Kameron "shakes his head or rolls his eyes" at all of his jokes. The two have bonded over playing video games and watching movies, and Little Brother Kameron even says that he enjoys raking leaves and mowing the grass.
"I like doing yard work with him because it teaches me how to maintain a yard using different tools," Kameron says.
Little Brother Kameron has grown a lot from the boy who was nervous over ice cream, and he gives a lot of credit to Cynric. "Now that I have my Big, school is great," he says. "He helped me get through those tough times, and now I'm confident in myself."
Cynric says he knows his relationship has had affected Kameron, but that the biggest impact may have come from his mistakes. "I can tell – by what he says – that Kam thinks about the mistakes I made when I was in his shoes and how I dealt with it (or didn't), when he figures out how to handle problems in his own life."
Editor's Note: The photo first posted with this match story was not the correct photo for the match in the article. The photo was updated on 9/29/17 and is now reflective of the match in the story. We regret the error.