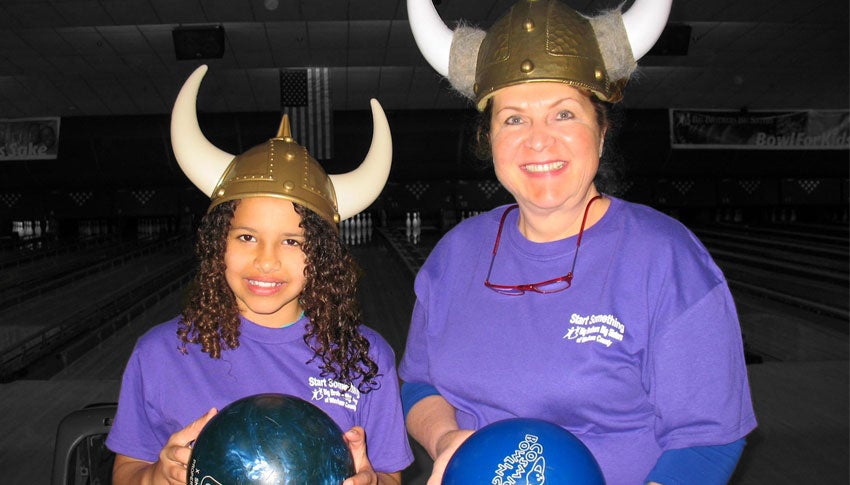 Big Sister Diane and Little Sister Jaelynn
For over 18 years, Diane was the owner/operator of a hair salon. For years she heard clients talk about their experiences of being a Big, and three years ago, she decided to become one herself. "I took the plunge and contacted Big Brothers Big Sisters of Windham County," she says.
At the same time, a single mother of four children was signing up her daughter Jaelynn to be a Little. "My mom and I thought I needed someone to hang out with and to go see new places, try new things," Jaelynn says. Mom and daughter got exactly that when Big Brothers Big Sisters matched Jaelynn with Big Sister Diane.
On their first outing the two bonded almost immediately. "We went out for ice cream and I was comfortable right away," Jaelynn says.
A lot of their first outings included going out for ice cream, but the match really came to life when they started cooking their own food in the kitchen. Jaelynn loved to learn new things and Diane was happy to teach her. "We have produced dozens and dozens of hand-decorated cookies, chocolate-covered Oreo truffles and even apple pies," Diane says.
"I want Diane to be a lifetime friend."

– Little Sister Jaelynn
However, Diane hasn't been doing all the teaching in the kitchen. Back at home, Jaelynn has taught her siblings how to make truffles as well, telling them all about learning to make them with Diane. "I know the truffle recipe she taught me by heart," she says.
Last winter, the two took on ice skating, seeing it as a learning opportunity for both of them. They started with ice skating training aids, and made it a challenge to see who would shed them first. "Of course, Jaelynn was quickly skating circles around me as I was hesitant to let go of the training aid," Diane says. Luckily, Jaelynn did slow down to help Diane get up to speed.
Nowadays, Jaelynn helps out Diane at her hair salon by organizing her shelves. She gets paid for her time, but she doesn't take the money home right away. Instead, she puts it in special envelopes. "Each envelope is for something different – college, car, nail polish, clothes, and beauty supplies," Jaelynn says. "My college envelope has the most money in it, because I want to go to college and learn to be a veterinarian."
The match has been more than anything Jaelynn or her mom expected. "Diane is one of the most loving and caring individuals I have ever had the privilege of knowing," Jaelynn's mother says. "She is a great role model for my daughter."
Jaelynn and her mom are thankful for the role Diane has played in Jaelynn's life, but Diane says she has gotten even more joy and satisfaction out of the match than Jaelynn.
But all involved owe a thanks to Diane's hair salon for not only being the place that helps Jaelynn save for college, but for also being the place where Diane was first inspired to become a big.