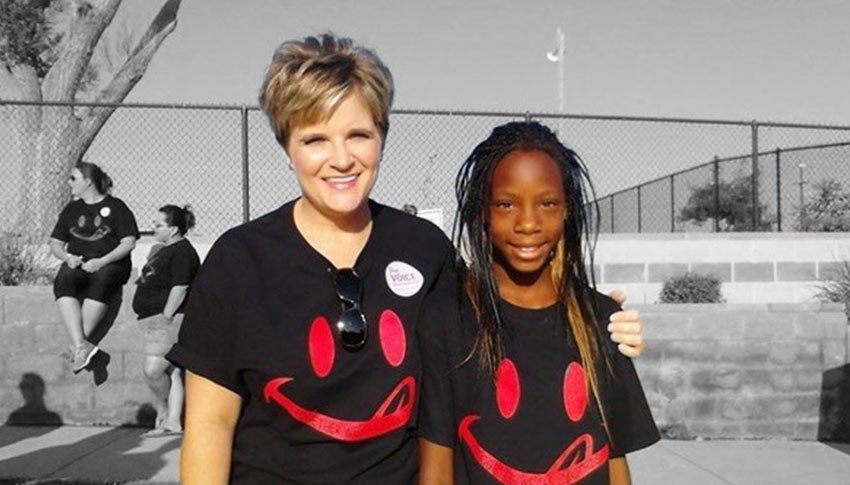 Big Sister Keri and Little Sister Kiana
Becoming a Big requires a drive to give back.  Bigs dedicate time and energy to mentor a child who needs a role model. Big Sister Keri had that drive when she signed up to be a Big, and at her first match meeting, she found out her Little Sister Kiana had it too.
Big Sister Keri had been told that Kiana didn't talk much, so she was a little nervous about that first meeting. Keri wanted to bring her somewhere familiar and comfortable, so they went to McDonald's. They played on the restaurant's playground and worked up an appetite, but Kiana ate only a few fries. She divided her meal into sections, naming off each of her six brothers and sisters, saving food to bring home to them. "At her young age, she cared more about others than herself," Keri says.
Through the 11 years they have been matched, Big Sister Keri has continued to nurture Kiana's instinct to care for others. Together, they have found ways to give back to their community. They have gardened at a food pantry's farm, baked cookies for the homeless, and visited with nursing home residents. "Keri and Kiana participate in volunteer activities throughout Lubbock, and they have inspired the rest of our family to give back," Kiana's mom says.
"My Big Sister Keri has been a positive influence in my life by molding the person I am today."

– Little Sister Kiana
Big Sister Keri and Little Sister Kiana have also worked through some struggles Kiana was having with her behavior and her schoolwork. At one point in their match, Kiana was tested and was found to be reading far below her grade level. Big Sister Keri helped her enroll in tutoring and encouraged her to keep at it, even when her tutoring sessions were on Saturday mornings.
"Some Saturdays were harder than others, but she did really well with her studies," Big Sister Keri says. "She is making better choices and talks about her concerns for her siblings and fellow students."
Her behavior at school has improved, and now, Kiana reads at grade level.
"Keri has always been there when Kiana needed help, whether it was making better decisions, learning new skills, or exposing her to new opportunities," Kiana's mom says.
Kiana says Keri has also changed her perspective and helped her dream bigger. "I am scared of heights, but I want to be in the Air Force," Kiana says. Keri told her not to let her fear keep her from doing something she is passionate about, and it made all the difference. "Now, I am still a little afraid of heights, but I know I can overcome it when I become a pilot one day."
With her drive to give back and her belief in herself, the sky is truly the limit for this selfless future pilot.