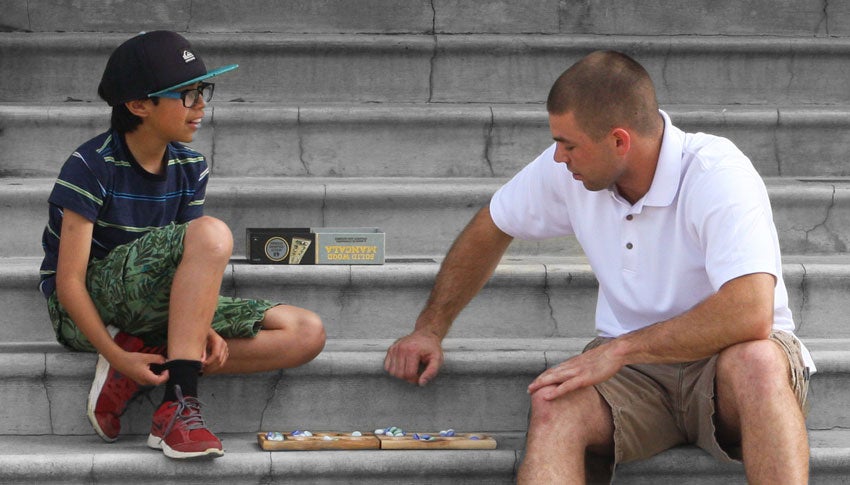 Big Brother Jacob and Little Brother Arual
Little Brother Arual was at a crossroads. He had big dreams about playing sports and earning scholarships, but he was also tempted to give in to peer pressure from the wrong crowd. His mom was determined to find something to pull him onto the path towards a brighter future. "I was so worried that he might get more involved with these kids, that I had trouble staying calm about it," she says. "I was asking Arual, 'Why?! Why?! Why are you hanging around them? He would not listen to me, so I reached out for help." She enrolled him as a Little through Big Brothers Big Sisters of San Luis Obispo County, and he was matched with Big Brother Jacob.
"When he says, 'Oh, you got this,' I feel like I have hope."

– Little Brother Arual
Right away, Arual's mom says she knew that getting her son a Big Brother was a good decision. "As his mom, I can get emotional about some things because I care so much about his safety and his future," she says. "So, he's not confident to say much when he's speaking to me." When Arual was considering following his friends and making poor choices, Jacob stressed that his future would be affected.
"There was a time when my friends wanted me to do bad stuff with them. I was really thinking about trying it," Arual says. "But Jacob got me thinking about the risks involved instead. I don't want to do things that are bad for my health when I'm trying to earn a basketball scholarship. I don't want to have trouble on my record that keeps me from getting into my favorite colleges." Arual wants to go to Florida State or Oregon, and he says he knows he has to focus on his big goals.
Now, Arual is doing well in school and pursuing his dream of going to a great college. "My grades are pretty good now. I'm doing really well in math," Arual says. "I'm not quite where I want to be in my other classes. I want my grades to be even higher, because I have higher aspirations for myself."
Jacob recognizes that he met Arual at a critical time in his adolescence, when he could have taken a different path. "Middle school is a dynamic time," he says. "It's easy to go one way or another."