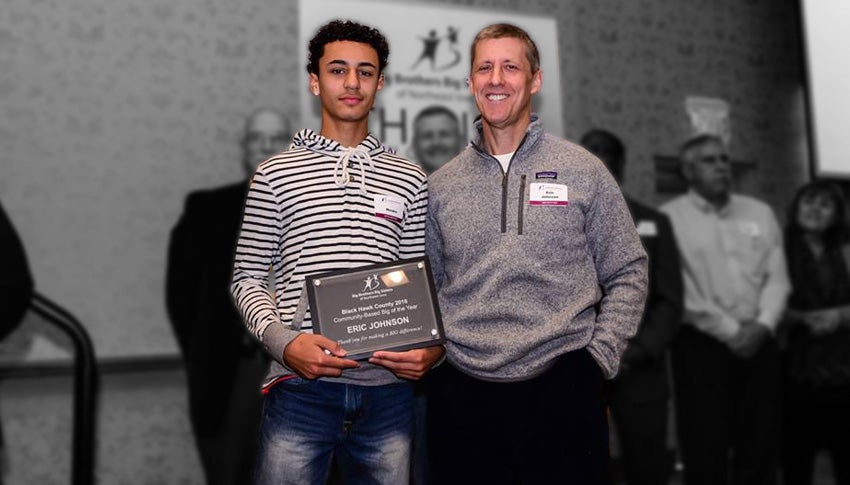 Big Brother Eric and Little Brother Mondre
Little Brother Mondre was in fifth grade when his mother looked into getting him a Big Brother through BBBS of Northeast Iowa. Mondre's father was not in the picture, and she felt he needed a positive male role model in his life.
"We hit the jackpot with Eric," Mondre's mother says.
Eric signed up to be a Big after the youngest of his two daughters left for college. He had a lot more time on his hands, and rather than spend it perfecting his golf swing or building a man cave, he decided to get involved in a young man's life.
"I have come to realize that my life is generally more fulfilling when the focus is on others and not solely on myself," Eric says.
"Neither one of us are the type that want to sit around and talk about our thoughts and feelings, but through our consistent interaction those do come out."

– Big Brother Eric
Big Brother Eric and Little Brother Mondre immediately bonded over their shared interest in sports. They played basketball one-on-one, threw darts, and attended sporting events. Eric took Mondre to his first Iowa Hawkeyes football and basketball games.
Eric knew Mondre loved sports, but one of his goals was to expose Mondre to as many other experiences as possible. When he noticed that Mondre was choosing the same restaurant every time they went out to eat, he pushed him to try new places. "We agreed that we would not eat at the same restaurant twice," Eric says. "That has led us to dozens of different dining experiences – some great, and some not so great, but always a new experience."
Eric also pushed for Mondre to be exposed to college. Whenever they went to watch the Hawkeyes play, Eric wanted him to have fun, but he also wanted Mondre to be able to picture himself among the students. "I don't want college to seem like something that is unattainable or outside his world," Eric says, "but instead, something that he sees others not unlike himself doing and realizes it is something that is possible for him."
Mondre says creating opportunities to try new restaurants and visit a college campus are only a couple of the things Eric has done for him. He gives Eric credit for showing him how to work out and how to use proper manners. As a lawyer, Eric has also shown Mondre the importance of having a good job. Mondre says that Eric has taught him so much, he could write a book about everything he has learned from his Big Brother.
"He has definitely become more than just a Big Brother," Mondre says. "He is family to me, and I know that he will always be a part of my life."
Eric echoes that sentiment, saying that that he started his mentoring journey believing he would have an impact, but that it has turned out that his life was impacted just as much.
They both hit the jackpot.