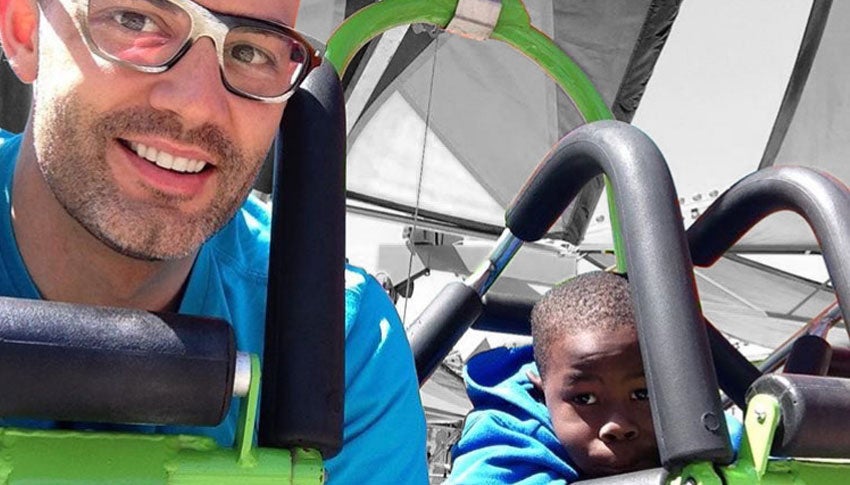 Big Brother Jason and Little Brother Donovan
Big Brother Jason wasn't always a perfect role model. When he was young, he started down the wrong path. He repeatedly landed in juvenile detention, and he bounced to various group homes. When he was 12, he was matched with his own Big Brother through Big Brothers Big Sisters of Eastern Missouri.
At age 14, he found himself being tried as an adult. His Big Brother was there in the courtroom. "What he said to me changed my life," Jason says. "He looked me in the eye and said, 'Things are really bad right now. But someday, it will be better. I believe you'll be okay."
Hearing that and knowing that his Big Brother had faith in him was life-changing, Jason says. "I held onto the fact that someone else believed in me, and if my Big Brother believed someday things would get better, it was possible."
Jason proved that his Big Brother was right. And years later, after turning his life around, he became a Big himself, and he was matched with Little Brother Donovan. Both were on the verge of big life changes. Jason was about to embark on a big entrepreneurial project, a donut shop, and Little Brother Donovan was about to start kindergarten.
Donovan's mom wanted her son to have a Big Brother to introduce him to new experiences and provide guidance. "It is challenging to provide my son with the adequate male influence he needs, because he's the only boy in the home, but Jason fills the void," she says.
Donovan has struggled with his self-confidence, and Jason has helped him believe in himself. "When I took him to his first football game, as we watched the players on the field, I told him he could do that," Jason says. "He looked at me wide-eyed and almost bewildered, and said, 'You think I could do that?" The next week, Donovan told his mother he wanted to start playing football and running track.
"Jason takes time out to come to my school and have lunch with me, and that's something that really makes my day."

-Little Brother Donovan
Donovan has also learned about entrepreneurship and business from his Big Brother. Jason's donut shop, Strange Donuts, has been a success, and Jason brings Donovan in to learn about management, baking, philanthropy, and accounting.
Jason also uses Strange Donuts to recruit volunteers and support Big Brothers Big Sisters of Eastern Missouri and the St. Louis community. He started "Strange Cares," a program that provides scholarships for Big Brothers Big Sisters Littles who have a dream they want to pursue after high school. "What we're doing with Strange Cares is scholarships for kids, but not in the conventional sense," Jason says. "We don't care if it's hair school or Harvard, if you want to be a print maker or a tattoo artist, we want to help make these dreams possible."
Donovan dreams of being successful like his Big Brother, and he's on a good path so far. "His grades have improved from C average to A's and B's, and he is excelling in sports, making it all the way to compete in state championships," Jason says. "He has had this in him the whole time, but he just needed to hear the words to believe it."
Jason is happy to provide those words to his Little, just as his own Big Brother did many years ago.